Now in its third year the New European Economy Awards were established to celebrate excellence, achievement and best practice in the international finance and commerce milieu.
Created to identify and celebrate the leading service providers across the Europe and beyond, the NEE Awards are presented to industry leaders, individuals, teams and organisations that represent the benchmark of success in financial services and related industries
The NEE awards panel is chaired by Editor Michael Ansner and assesses a broad range of criteria via some of the most experienced operators in business and journalism. The panel have been briefed to maintain independence and avoid the usual award pitfalls of bias.
Rather than the usual sequence of back-slapping, the NEE Awards have a more salient objective – to celebrate good service, irrespective of the size and scope of the recipient candidate. It is our mission to spread the word and eradicate the humdrum obstacles of international business and champion innovative service providers across worldwide commerce.
The NEE awards are an independent programme designed to recognise and promote excellence. Our panel of experts will consider criteria like company size, service quality, depth and breadth of practice, commitment and reputation. It's our mission to create an inclusive and truthful picture of quality service providers rather than a landscape dominated by large global network blue-chips.
Of course, our aim is not to positively discriminate in favour of smaller firms, but provide recognition for quality of service from end users. As such, the key virtues for voters to consider are innovation, originality and quality of product, as well as evidence of market development and excellence in client representation.
Now that the categories have been announced votes are invited from users of the site – as well as being requested via email blasts from the New European Economy database of over 40,000 industry decision-makers.
We believe that it's important to build confidence within our network and create trust more readily between users and providers – and your votes are helping to smooth out the creases and bring the New European business community closer together.
New European Economy Business Awards Winners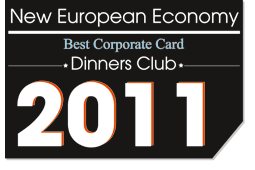 Best Corporate Card – Diners Club
Diners Club Global Vision management information system gives users immediate access to what your staff is spending on travel and expenses. It's absolutely secure and available worldwide 24 hours a day, 365 days a year.
"Many large corporations spend a significant portion of their budgets on accommodation each year, but more and more companies are looking at ways to control their expenses spend," says Diners Club EVP, Tom Edgerton. "We provide our corporate clients with very sophisticated on-line MIS tools which can highlight, for example, non-compliance in class of travel or size of car or staying with non-approved hotel chains."
To increase infallibility and accuracy, Diners Club's unbeatable interface factors in fluctuations and variables like airfares as well as logistics for management visits with regular updates. Extensive configuration options also enable to tailor the expense management system to company specifications, facilitating better control over the expense process.
"They're practical tools based on real-world client experience – and they're proving hugely popular," says Edgerton.
We agree they're the best in the business and that's why the award is theirs.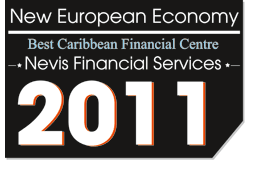 Best Caribbean Financial Centre – Nevis Financial Services
The sugar plantations that first brought investors to Nevis are long gone, but investors still flock here for the island's modern day industry – offshore financial services.
Occupying just 36-square-miles of land in the Caribbean Sea, the tiny island of Nevis would fit into Greater London over 100 times – but its stock in trade has far more in common with London's Square mile. This tropical paradise in the Lesser Antilles punches way above its weight when it comes to business matters – and more to the point, the savvy internationally investors who put their money where their money works best for them.
"Nevis is recognized for its superior value by private investors, says the island's Permanent Secretary in the Ministry of Finance, Laurie Lawrence. "It offers a full range of services and products, including asset management and protection, company formation and administration, insurance, foundations, mutual funds administration, offshore banking, investment management, and trust services."
Indeed, the main attraction of Nevis and nearby Saint Kitts is that investors can maximize on their corporate and personal wealth management portfolios with the support of competent registered agents, attorneys, accountants, a range of banking institutions and asset management companies – and here comes the most important bit – swathed in the balmy breeze of a tropical paradise.
It comes with the blessings of the IMF, World Bank and OECD. You can add ours to that list as well…
Most Innovative Investment Agency – NRW Invest
You expect investment agency CEOs to be confident about their patch – often bleeding into the margins of overstatement. But you could never level that charge with Petra Wassner, CEO of NRW.INVEST. When she explains that her region's economy accounts for almost a quarter of Germany's gross domestic product, you know that it isn't embellishment.
"Our federal state generally reflects the overall economic situation in Germany," she says – and it's correct. According to official figures, 28.4 % of all foreign investments are concentrated in North Rhine-Westphalia, weighing in at EUR185 billion. On top of the more recognisable names there are more 13,000 foreign companies operating their German or European HQs from NRW. They aren't here by chance, and they aren't likely to drift away once the debt crisis abates, indeed the existing gravity here is likely to bring more.
"We continue to see traditional investor countries such as the USA and Japan at a high level and we are now the leading location for the Chinese economy in Europe," Wassner says. "Following locations by companies such as Huawei and Sany Heavy Industry we can assume that the investment volume and the employment market effect will increase with Chinese investments in the future."
For NRW.Invest that's a job well done.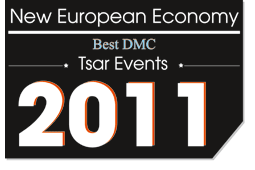 Best DMC – Tsar Events
With a reputation as one of the World's Most Beautiful cities, Saint Petersburg is the city of Pushkin and Dostoevsky, Tchaikovsky – and the birthplace of the Russian Revolution. It's also the best new location for meetings and incentives – thanks to the innovative organisational talents of Tsar Events.
The city is filled with architectural gems and communist-era relics from Russia's recent past. Imagine holding a congress for 1,000 inside the gorgeous neo-classical Smolny Cathedral; Exclusive out-of-hours admission to the Hermitage – the Tsars' Winter Palace; or even a sit-down lunch for up to 600 people inside the Artillery museum served by waiting staff in full military attire.
Obviously it would be impossible for an outsider to access, but Saint Petersburg based fixers Tsar Events have brimming contacts books and the key to the city's finest venues. As the only Destination Management Certified Professionals in Russia, they can organise all your company's requirements – hotels, venues, entertainment, and travel.
Best Destination – Croatia
Anyone who's familiar with Italian cuisine will find the food here strangely familiar – there's pasta, prosciutto, olive oil, rosemary in abundance, and straightforward adherence to seasonality. You could almost be in Italy.
Croatia's province of Istria is the new Tuscany – is as much a part of the Mediterranean's Olive Oil Belt as Tuscany, Andalucía, or Provence. It's just that most people don't realise it.
Istria is a land that inspired James Joyce and Jules Verne, and National Geographic Traveller has also taken note and added to the collective consciousness of Croatia's cool by listing listed Istria in their 20 Top Destinations for 2012. The list includes cities, countries and natural landmarks which according to National Geographic, deserve the title of the most wanted places on the planet.
Meanwhile, another part of Croatia that's basking in the warm glow of media praise – namely the island of Hvar, an increasingly popular destination for tourists, which makes Conde Nast Traveller's lists of top 10 islands.
Croatia still offers excellent value for money when compared to other Mediterranean destinations. And with fabulous new hotels like Radisson Blu in Split and Hotel Lone in Istria Croatia offers superb opportunities for business travellers and bona fide tourists alike in the run up to EU accession.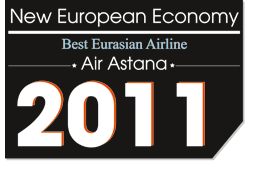 Best Eurasian Airline
Currently operating a fleet of 25 aircraft on 27 different international destinations, Air Astana is going from strength to strength. As Kazakhstan's leading international carrier, the airline continues to experience strong traffic growth on its Asian network. As a result, the airline is planning to boost frequencies on existing long haul scheduled services from Almaty to Bangkok, Delhi and Kuala Lumpur from December, as well as launch a new scheduled service to Hong Kong in early 2012 and initiate a winter season only service to Ho Chi Minch City, Vietnam in late 2012.
"Expanding political, business and tourism links between Kazakhstan and Asia continue to drive strong traffic growth on services to the region, with increased feed from Central Asia into the expanding Almaty hub also making a significant contribution." said Peter Foster, President of Air Astana. "Immediate frequency increases on existing services and the launch of new services to Hong Kong and Ho Chi Minh City in 2012, reflect the fact that Asia is playing an increasingly important part in the strategic long-term development of Air Astana."
All long-haul services will be operated by Boeing 757 / 767 aircraft, with the Business class cabin featuring lie-flat beds and KCTV personal in-flight entertainment system. In short, it's an operator that really is going places…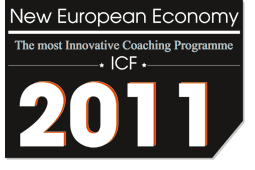 Most Innovative Coaching Programme
Business leadership and coaching courses might seem like frivolity, but it could mean the difference between success and insolvency. After all, making money in the good times is easy – but maintaining momentum during a downturn often requires a little corporate soul searching.
"Companies are being expected to do more or achieve more with less," Says Ed Modell, President of the International Coaching Federation. "They have a very limited budget for professional development programmes, but this is exactly when professional coaching can be vital to an organisation."
"The ICF found that companies that use or have used professional coaching for business reasons have seen a median return on investment of seven times their initial investment. Organisations typically see gains in teamwork, communication, employee performance, and enhancement of leadership skills."
In fact, the ICF determined professional coaching produces at least $1.5 billion (USD) in worldwide revenues. We rate them enough to give them an award; you should seek out the ICF's services…
Congratulations go out to the winners, heartened cheers to the runners up, and a huge thank you to all readers who participated