Dubrovnik Travel DMC, specializes in the organization and orchestration of meetings, incentives, exclusive groups and events. With its forty highly trained, multilingual and experienced young professionals, in their Dubrovnik, Split and Zagreb offices, DT provides complete support to clients and partners throughout Croatia and its neighboring countries.
Since its establishment in 1998, Dubrovnik Travel successfully operates all contracted programs, delivering a full range of service to its clients, while trying to bring innovative ideas to the table and exceed expectations. Their specialized services cover every aspect of program development and execution from the earliest planning stage through to the final day of the event. Specialized services include: creative programs with innovative and cost effective solutions; recommendation of the best destination fulfilling a particular group's needs; venue selection services; accommodation booking; conference budget planning; registration service and management; fast quotations with fair prices; orientation visits; development of detailed itineraries; efficient and reliable personalized services; supervision and coordination of the program by senior office staff during operations; social and partner programs; promotional and print material; buses and boats of the highest available standard and much, much, more.
Dubrovnik Travel expands outside the boundaries of Croatia, providing services within the South East European region. Together with local DMC partners, DT ensures that unique tailor made proposals for groups and events in Montenegro, Bosnia and Herzegovina, Albania, Serbia and Slovenia will be provided in the shortest period possible and always in accordance with DT's standards of excellence. This co-operation affords regional solutions for logistically demanding or geographically diverse programs.
DT's exposure expands globally with representative offices worldwide including coverage in Italy, France, Spain, Russia, United Kingdom, USA, Brazil and Australia. Memberships in specialized associations such as EUROMIC, SITE, MPI, MEETADRIA, ICCA and the Croatian Convention & Incentive Bureau, keep DT in tune with current market trends, continually expand its sales channels and maintain its image as an experienced and passionate destination management company. Continually striving for excellence, Dubrovnik Travel was certified with ISO 9001-2008 in 2009, guaranteeing that they provide a superior quality of service; while in 2011 DT has won two prestigious national business awards and was recognized by the regional media as THE meeting industry leader.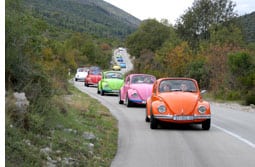 No matter what the event or the occasion, Dubrovnik Travel will always provide a memorable and tailor-made solution in Croatia.
One of Dubrovnik Travel's most unique selling points is its realization of the event ship Sea Star project. Partnership with the unique ship serves as an example of innovation and market driven positive business practices. The M/S Sea Star adds a mobile dimension to meetings, presentation and expeditions, and changes the way meeting planners think about meeting rooms. It is a multipurpose event ship with a capacity of up to 400 people. Based in Dubrovnik, it is the first such event and multipurpose ships in the region. MS Sea Star is available throughout the length of the East Adriatic coast upon request making it ideal for intra city transfers, and an extraordinary floating venue with endless possibilities.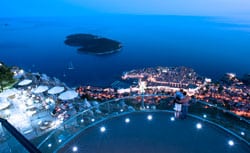 The newly refurbished 45m ship features three decks and is ideal for organizing congresses, exhibitions, seminars, workshops, weddings, entertainment and fine dining experiences. The majestic sundeck spans over 150 square meters and allows a 360 degree breathtaking view of the famous Croatian Riviera and Islands, with all natural and historic sites. MS Sea Star features a fully air-conditioned and completely furnished salon spreading over two decks, with its main hall with dance floor accommodating up to 200 people, the additional gallery accommodating 150 people and VIP lounge an additional 50 people.
The ship's cruising speed of 12 knots provides easy access to Croatia's multitude of nearby islands and ports, while the built in stabilizers ensure a comfortable ride.
Let Dubrovnik Travel help you plan your next event at sea aboard the M/S Sea Star.