Interview with Gerhard Gizler, CEO of Niedersachsen Global GmbH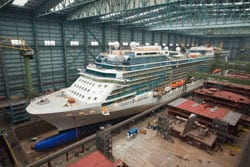 1.) Niedersachsen is a federal state that has the potential to be an excellent location for companies and investors from all over the world in many different industries. What are the main industries that you have?
Many companies and industrial regions with an international reputation are situated in Niedersachsen, whether we're talking about fantastic cruise ships, advanced developments in the automotive industry or renewable energy looking to the future.
Internationally-known companies such as Volkswagen, Continental, TUI, Airbus, Salzgitter Stahl, Meyer Werft Papenburg, AGRAVIS and NORDMILCH, and thousands of small and medium-sized companies are all enjoying success at international level.
The state's major industries include the whole of the mobility sector (especially the motor industry, including suppliers, aeronautics and the logistics sector), machine construction and the steel and chemical industries. We also have the marine industry, the energy industry, the highly-productive food and agriculture industries.
Niedersachsen is the "Volkswagen state", with Europe's largest motor vehicle cluster.
Our major industrial pillar is the car industry with its suppliers, dominated by the Volkswagen Group (VW) based in Wolfsburg. The car industry and its suppliers employ a total of 160,000 people in Niedersachsen, with 100,000 of those employed in the VW plants in Wolfsburg, Braunschweig, Emden, Hanover and Salzgitter. Heavy utility vehicles are made in Niedersachsen, too; buses, trucks and components come from MAN in Salzgitter. Almost a million vehicles roll off the production line in Niedersachsen every year. Big suppliers such as Continental, Varta and WABCO reinforce Niedersachsen's top position.
2.) What makes Niedersachsen special as an investment location for the future? What special advantages does it offer?
Niedersachsen has the second-largest area of all German federal states and is fourth-largest in terms of population, at eight million. Its central position at the heart of the European Union and its excellent transport connections, have allowed Niedersachsen to become the hub between Northern and Southern Europe and between Eastern and Western Europe and an optimal location for serving markets, customers and suppliers within the EU as well as in Eastern Europe.
Niedersachsen means "mobility by land and water and in the air". We have excellent transport infrastructure with our roads, railways and waterways. Our motorway connections extend from Scandinavia to Italy on the north-south axis, and from Amsterdam, Paris and London via Berlin and Warsaw to Moscow on the east-west axis. A truck travelling from Niedersachsen can reach around ninety million EU citizens within five hours. Niedersachsen's nine ports (Brake, Cuxhaven, Emden, Leer, Nordenham, Papenburg, Oldenburg, Stade and Wilhelmshaven) with their excellent waterway connections to the hinterland via inland ports, inland terminals (inland waterways) and road and rail networks, as well as its proximity to Bremen, Bremerhaven and Hamburg, mean that it has a density of ports that is unique in Europe. To improve the situation even further, the new JadeWeserPort in Wilhelmshaven (JWP) will be operational as of 5 August 2012. It will then be possible to process the latest generation of container ships (with a load of more than 14,000 standard containers) through what will be the only deep water port in Northern Europe (apart from Rotterdam) that is independent of tides and accessible without long waiting times.
The world's largest trade fairs, CeBIT and HANNOVER MESSE, have put our state capital, Hanover, the site of the 2000 World Fair, on the map as one of the world's major trade fair locations. This means that Niedersachsen can offer an excellent environment for business and international joint ventures.
3.) What is it that makes Niedersachsen special in the area of logistics?
In the area of logistics we combine excellent connectivity with main national and international transport routes and excellent links via a network of logistics hubs covering the whole region with excellent conditions meeting the requirements of inward investors and land availability catering for what is needed.
The logistics industry employs around 220,000 people, making it one of the biggest industries in Niedersachsen. As well as this, leading systems service providers and logistics service providers operating in Germany and internationally guarantee a high level of quality of service in catering to every requirement. Some six hundred individual investments have been made in the logistics sector since 2000, offering ample evidence of how attractive we are as a location.
Transport and logistics are a decisive factor these days in choosing a suitable location. This is why a large number of distribution centres have been built all over Niedersachsen in the recent past. Not only SMEs, but also large companies like Bosch-Rexroth, Continental, MAN, Mercedes, MTU and PSA have invested here and organise their European and worldwide spare parts supply from here. This is because Niedersachsen not only offers a favourable geographical position for transport and excellent infrastructure; it also offers solutions for a great many logistics problems. A good example of this is the high and very heterogeneous logistics requirements of the automotive industry, but also those of highly-specialised niches such as the textile industry. Continuing to secure good conditions for inward investment and ongoing optimisation of the logistics infrastructure goes hand-in-hand with the development of adequate land availability in Niedersachsen. KomSIS, the local government location information system, among other sources, provides a general overview of current land availability.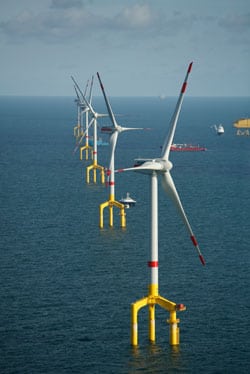 4.) Niedersachsen's energy industry is highly developed, too. Could you tell us something about that?
Niedersachsen's flat profile and energy wealth have made it a powerhouse of energy and transport technologies over the last hundred and fifty years. Niedersachsen produces the largest quantity of natural gas in Germany. The E & P (exploration and production) technology developed here is used throughout the world.
Niedersachsen is Germany's number one wind power state and leads in all power technologies, not only research and development and the construction of plant and components, but also the transmission of power. Niedersachsen is excellently endowed in the future technology areas of onshore and offshore wind power, bio-energy and geothermal power. Its geographical and geological advantages mean that Niedersachsen's wind power and biomass can produce a high proportion of the power generated overall in Germany. More than forty percent of all wind power plants in Germany are already being made in Niedersachsen now. More than 6,600 megawatts of output have been fed into the grid from wind power in Niedersachsen, accounting for one-quarter of total annual output in Germany in 2010.
The state also has a leading position in Germany and Europe in generating electricity from biogas. At present, some thirty percent of electricity generated in Germany comes from power stations in Niedersachsen. Well-known research institutes such as the German Wind Energy Institute (DEWI) in Wilhelmshaven and the Institute for Solar Energy Research in Hameln, also contribute to making Niedersachsen one of the drivers of innovation in the energy sector.
The expansion of renewable energies has been dominated up to now in Niedersachsen by the use of onshore wind power on land. Large capacities have already been exhausted, but there are always more resources. These include the repowering of old plants (replacing older wind power generation plants with new and more efficient machinery). The state of Niedersachsen has set itself the goal of accelerating and supporting this process. It is anticipated that new plants and repowering older ones will enable up to an extra 7,500 mW of wind power output to be generated in the onshore area by 2020. Its flat landscape and location on the North Sea coast mean that Niedersachsen also has enormous potential for increased use of offshore wind power. Large companies such as Cuxhaven Steel Construction, Ambau GmbH, the Norddeutsche Seekabelwerke in Nordenham and the world market leader, ENERCON, are based in Niedersachsen.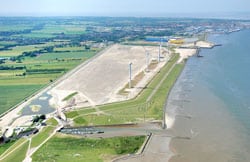 According to a current study by the Norddeutsche Landesbank (Nord L/B, on behalf of the Institute of North German Industry) entitled 'Energieland Niedersachsen' (Niedersachsen – the Energy State), Niedersachsen will continue to hold a leading position in the energy industry in Germany over the next few years. It is precisely in the central sectors of the most important industry of the future that Niedersachsen shows great potential, which may initiate even more impetus for growth. Both the coastal locations and the rural areas are investing great hopes in the production and generation of energy. The study also shows that not only wind power, but also the generation of power from renewable raw materials, whether in the form of heat, electricity, gas or fuel, has experienced a remarkable boom in Niedersachsen over the past few years. Biogas is currently primarily being used in cogeneration plants for coupled electricity and heat generation. Feeding treated biogas into the natural gas grids is becoming ever more important. There has been a lot of talk recently about using it as fuel as well.
So companies and investors should take advantage of the momentum building up in Niedersachsen because no other federal state has invested as much in infrastructure or has as much energy!