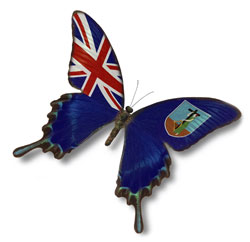 Think sunshine, think vibrancy, think blue seas, think business opportunities, think Montserrat. Montserrat, a beautiful island in the Caribbean Sea, south east of Puerto Rico and this month's cover story, deserves to be mentioned again. Seventeen years ago the island of Montserrat was 'the Emerald Isle of the Caribbean', an upmarket getaway for anyone lucky enough to have the cash to splash. After the devastation of Hurricane Hugo, and the subsequent Soufrière Hills volcanic eruption in 1995, the island has begun to restore and rebuild. Several fierce eruptions demolished Montserrat's only town and harbour, Plymouth, the airport, and the majority of the industry and agricultural areas. Two-thirds of the 12,000 population left the island, but now there is optimism in the air.
It's had its ups and downs but the direction is clear for this little island
The eruption caused ineffable economic damage to the small eastern Caribbean island, and while it is still recovering, there is an unspoken positivity surrounding the on-going re-development that is planned. Montserrat made, and continues to make, vast economic headway since the volcanic eruption. The island is a self-governing British overseas territory and thus received generous support from the UK government and the European Union to try and rebuild the national economy and the commercial market. The Government of Montserrat values new foreign investment and hopes that this development of a new city will entice and encourage foreign investors to start up business and re-ignite Montserrat's economy once again. Would your company benefit from setting down roots here?
I think the answer is yes. The time has now come to reinvent the island. There is a serious regeneration project underway, backed by the government and inhabitants alike. The new capital at Little Bay, to replace Plymouth, is hoped to be near completion by 2017, and is set to offer lucrative investment opportunities. Montserrat is unique because it is one of the few places in the world that man co-exists with an active volcano. However, this is not the only reason Montserrat is unique. Read on to discover why the island is currently ripe for investment……
The weather is usually on target in Montserrat, but the economic climate is also currently suitable for growth. The International Monetary Fund backs this up by predicting an increase in economic development in the area. With growth of just 0.5% in 2011, Montserrat needed an economic boost and it got one. Montserrat's economy is projected to grow by 5% this year, which is a huge positive leap. There are many other incentives for companies hoping to expand and take advantage of this prime location to set up business, not least the ideal geographic location. The special trade agreements between Montserrat and the United States, Canada, and other parts of the Caribbean open up huge possibilities and potential markets for any business willing to take a chance. Also, as a British dependent territory, Montserrat has open door access to the European Union.
The Caribbean is not without challenges with issues regarding to muted growth and high debt. The government want to tackle these issues with economic improvements such as reforms and restructuring to increase competitiveness and inspire private sector investment. The Government of Montserrat plans to re-establish the island to its past status as a distinctive destination for progressive businesses, those who want to reap the benefits of shrewd foresight of investing, before information is widespread about this treasured business location.
The local government is interested in exploring the possibility of encouraging foreign direct investments into the country to help with this enterprising transition from past to present Montserrat. Foreign direct investment will have a positive impact on the economy in the area and promote economic growth, so the "Foreign Direct Investment in Latin America and the Caribbean 2011" report was well received. The report affirmed that Foreign Direct Investment is at its highest to date in these areas.
There is also help from outside agencies in Montserrat's recovery back to its previous glory as a self-sustaining economy. The board of directors of the Caribbean Development Bank (CDB) has approved a strategy outlining the Bank's programme of assistance to Montserrat for 3 years, from 2012 to 2015. These initiatives will contain advice on strengthening human capital; improving employment prospects and developing economic expectations in the region. This will enable Montserrat to prosper once again, to reach economic stability, and to attract foreign direct investment onto the island.
As an overseas territory of the UK, Montserrat has access to support from overseas. A memorandum of understanding (MOU) between Britain's Department for International Development (DFID) and Montserrat, summaries a variety of improvements the government must accept to qualify to obtain increased capital investment and technical support from the UK. As with all reforms and assistance there has to be a final goal for the projects. The MOU wants to see the private sector taking over more than 50% of the GDP in Montserrat by 2020. Local and foreign direct investment will assist in reaching these targets.
The government want to tackle these issues with economic improvements such as reforms and restructuring to increase competitiveness and inspire private sector investment.
What industry should re-locate here? Cable & Wireless, Barclays and the Royal Bank of Canada are examples of foreign companies already set up in Montserrat. As a small island, Montserrat can focus on a specific industry, without becoming too reliant on any one single sector. So, be your business in banking, finance, insurance or electronic data management, to name but a few make sure you look towards Montserrat for your next investment. With a stable government and great developmental potential, look no further for your business expansion. So what is the government doing to encourage FDI and allow for simple, problem free business start-ups?
The Montserrat government embraces expat investments and it has made it easy to buy business and domestic properties. All the monetary matters are settled through US dollars and with good infrastructure and the hospitable inhabitants your company will start off on the right footing! The population, currently estimated at 5,164, are English speaking so there are no language barriers to the US and European markets. The government's optimism and readiness to grant incentives and general support to foreign direct investment is a pulling power unmatched elsewhere. The incentives provided include tax holidays, duty-free imports, and the right to send your investment and profits home.
Yes, Montserrat's economy was damaged by the volcano, but is certainly repairable, and will come back even stronger. So don't delay, start to focus your investment and your business expansion opportunities in the Emerald Isle, to experience the Caribbean at its best.