The Big Frieze – heating up the art market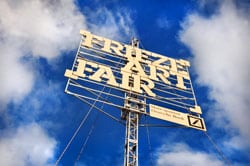 The dealer on the stand at Casey Kaplan can barely contain her joy. "The experience has been overwhelmingly positive," she gushes. "We've sold everything. We've sold to museums, foundations, new collectors – we're very happy."
It's a similar tale from Daniela Zarate the representative at the Mexican gallery kurimanzutto who talks excitedly of sales and presence in London. "It was perfect. We've met lots of International collectors, curators and institutions, and we were delighted to sell a work [by Jimmie Durham] to Tate."
The closing reports of rampant sales were fleshed out by the White Cube gallery who sold Damien Hirst's' The True Artist Helps the World by Revealing Mystic Truths, for £3.5m.
Equally effusive is Andrzej Przywara of Foksal Gallery Foundation in Warsaw, who was glowing over a sale to another highly visible institution. "The fair was one of the best ever," he says. "We're especially happy that we sold all the works from our stand. I'm really proud that we sold the Paulina Olowska drawings to MoMA."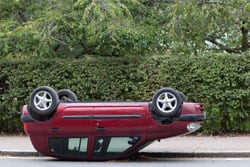 There's a conceit that art sales reflect disposable income. If that's the case, then surely the continued proliferation of an art scene must be the sign of a healthy economy, mustn't it? Well, either that or the organisers put something in the Evian at Frieze.
Held every October in Regents Park, The Frieze Art Fair is the brainchild of Matthew Slotover and Amanda Sharp, two Oxford Graduates, who – according to their own mythology – met at a bar mitzvah. Their empire has grown from what Slotover describes as a 'sophisticated fanzine' launched in 1991 and produced from their parents' houses, into one of the world's most influential contemporary art concerns.
Of course, frieze (their iconoclastic lower case spelling) the magazine is still in operation and its mixture of verbose exhibition reviews and high-brow pop-cultural commentary as influential as ever. However, it's the art fair that forced the Frieze brand into fashionable conversation – with a capital F.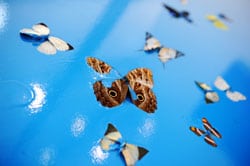 Having just completed its eighth year, Frieze is now a firm fixture in the diaries of billionaire art collectors – among them, the French luxury goods magnate François Pinault, US property mogul Eli Broad and Russian oligarch Roman Abramovich. Comparatively impoverished fashion and media celebrities, from Giorgio Armani to Gwyneth Paltrow and David Bowie are regular visitors, too.
Slotover and Sharp have risen from upstarts to the upper echelon – ArtReview magazine now list them in the top 25 of their annual list of the 100 most important people in the contemporary art world. Wall space at Frieze – for galleries and artists alike – is hotly contested and can signify the difference between success and failure. 500 galleries applied to exhibit at the fair, but the selection panel granted permission to just 173 of them.
"Frieze reinforces the fact that London is the most pivotal art city in Europe," says Tim Marlow Director of Exhibitions at White Cube – the London gallery that expanded hand in hand with its crack squad of 'Young British Artists (YBAs)' like Damien Hirst, Tracy Emin, and Sam Taylor-Wood. Incidentally, this is the gallery who's owner Jay Jopling ran up a £50,000 champagne bill for a party thrown during the 2005 Frieze Art Fair.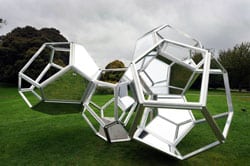 The Frieze Art Fair 2010 flung open its doors to clamouring crowds just days before the British Chancellor, George Osborne, was to unleash his Comprehensive Review on an anxious nation. The reaction amongst the dealers after Frieze closed five days later was completely at odds with the pessimism being felt amongst many retailers in Britain. But then Frieze Art Fair is no ordinary sales floor…
The Private viewing day, before the general public is allowed to enter is split into three tiered categories – each with an allotted entry time. The first at 11pm is dedicated to the most wealthy collectors – the high rollers who will buy on a whim and the alpha collectors like Charles Saatchi expanding their already monumental collections. Next come the art consultants, dealers and auction house executives who have a vested interest in making and generating transactions. Finally, collectors lower down the food chain will mix with artists, lesser gallery staff, and fashion and media hangers-on to network as photographers snap away at the cosmopolitan set in attendance and fashion journalists jot down details of handbags, shoes, faces, and other cultural signifiers into their notebooks.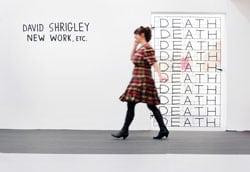 The closing reports of rampant sales were fleshed out by the White Cube gallery who sold Damien Hirst's' The True Artist Helps the World by Revealing Mystic Truths, for £3.5m. While other London galleries like Lisson and Hauser and Wirth took £800,000 for a black fibreglass Anish Kapoor sculpture, and a Paul McCarthy sculpture for £750,000, respectively. At the lower end of the scale, Galerie Fortes Vilaca sold both editions of Sala de Lectura (Reading Room) by Los Carpinteros for $200,000 each.
It doesn't matter whether you are familiar with the works or not. The subtext is obvious: this is one economic miracle that didn't turn to dust during the financial meltdown…
According to figures from The Guardian newspaper, the Frieze Art Fair draws the same number of visitors as London's most popular tourist destination, Tate Modern. That's around 12,000 people through the gate every day during this year's tenure in Regent Park. Another newspaper estimates that the art on display this year had a combined value of £230m – but just 2,000 punters of the 60,000 plus visitors in attendance actually purchase art. Patrons are clearly the fair's lifeblood, but the success of Frieze owes just as much to the art loving public – being that so many of them are willing to pony up the £27 for entry.
"We've always been interested in making art accessible to as many people as possible and when you put out a large event in a major city, with a beautiful park, you can do it in a way that makes it very appealing to visit," says Amanda Sharp.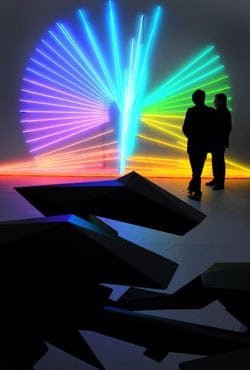 "With the leading contemporary art galleries from 29 different nations gathered in one place, you can see where she's coming from: "In just one day you can see work by more interesting, important, innovative artists than you can in every museum show throughout a year. There are probably about 2,000 artists represented at the fair – so for someone who wanted an overview of contemporary art today, this is probably a very good place to start."
Organising an art fair isn't an original idea – there are dozens around the world – the odd thing is that there wasn't an art fair in London.
"England was probably the only country that didn't have an international contemporary art fair," Sharp points out. "We had fantastic museums and a fantastic contemporary art gallery scene in the early 1990s."
She explains that the hesitation was due to a long-standing belief that the taxation system and other customs obstacles weren't conducive. The sea change came, partner Matthew Slotover says, when "London became a place where a lot more people began to live from all over the world. A lot of those people were either collectors, or the children of collectors."
Slotover and Sharp have risen from upstarts to the upper echelon – ArtReview magazine now list them in the top 25 of their annual list of the 100 most important people in the contemporary art world.
It converged he says with the opening of Tate Modern, in 2000, and an explosion in London's global focus for financial service. "It was the first time the whole of the art world came to London. We realised – actually, it would work; they would come."
Sharp takes up the baton: "There was the development of interest in contemporary art in a much broader mainstream. People were going to museums to see shows, international collectors began to have a pied à terre in London or move to London as the economic centre becoming more and more vital. It seemed so obvious there was a gap for it."
From taking the initial leap to opening the first fair in 2003 took about two years, Sharp says.
"Our reputations were established and people knew us well and our contacts forged from the magazine helped, which is why we had 135 galleries involved from the very start. Architect David Adjaye designed the first three fairs, bringing a sense of theatre and spectacle, but also a respect for what the art needed."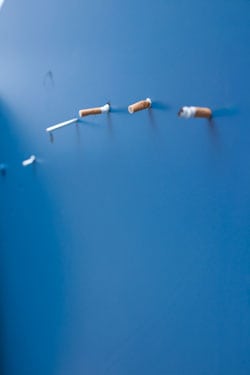 The art fair's premier status was confirmed immediately – coinciding perfectly with the bull market stampeding into action in and the global markets were entering their most potent period. London was snapping at New York's heels for dominance as the world's financial centre; but the Frieze Art Fair successful inauguration in tandem with a burgeoning new gallery scene meant that London's reputation for contemporary fine art was indomitable.
Until, September 15th 2008, that is, when high finance and high art both looked suspiciously like a high wire act. As Lehman Brothers fell in New York, Sotheby's in London was eyeing their descent with horror. The Bond Street auction house was gearing up for the most audacious sale in the history of art – Damien Hirst's Beautiful Inside My Head Forever.
The artist had controversially bypassed his representatives – the Gagosian Gallery and White Cube – and taken his creations straight to auction. The decision to sell 223 works without paying a hefty commission to his dealers, would have been a bold move when the art market was looking strong, but as the sky was falling in, it looked like slow motion suicide. And the world's media had the event under the microscope…
But the gamble paid off. Hirst's sale raised £111m and exceeded all expectations. As the global economy went into meltdown, Hirst set a new personal record of £10.3m for one artwork and 24 of the lots sold for more than £1 million. Less than a month later, the sixth Frieze took place and reality had kicked in.
"With the financial markets in turmoil we were aware there was concern about sales," Slotover and Sharp said in a press release at the time. "We are pleased, therefore, that the sales the galleries have been reporting have exceeded expectations. Collectors from across the globe continued to travel to the fair."
It doesn't give much away and there's little evidence of big ticket items, but the crowds still came and kept the Frieze vessel afloat. Two years on from the crash and the markets are still lurching, but judging by the current mood and reports from Frieze, it's back to business as usual.
So what then is the secret to their continued success?
"We just see that we manage the balance between income and expenditure correctly. We didn't do a five-year plan when we set out. We were enthusiastic, optimistic and knew it would work if we did it right."
If only the genii at Lehman's had seen it the same way…