Today's Tomorrow Starts Here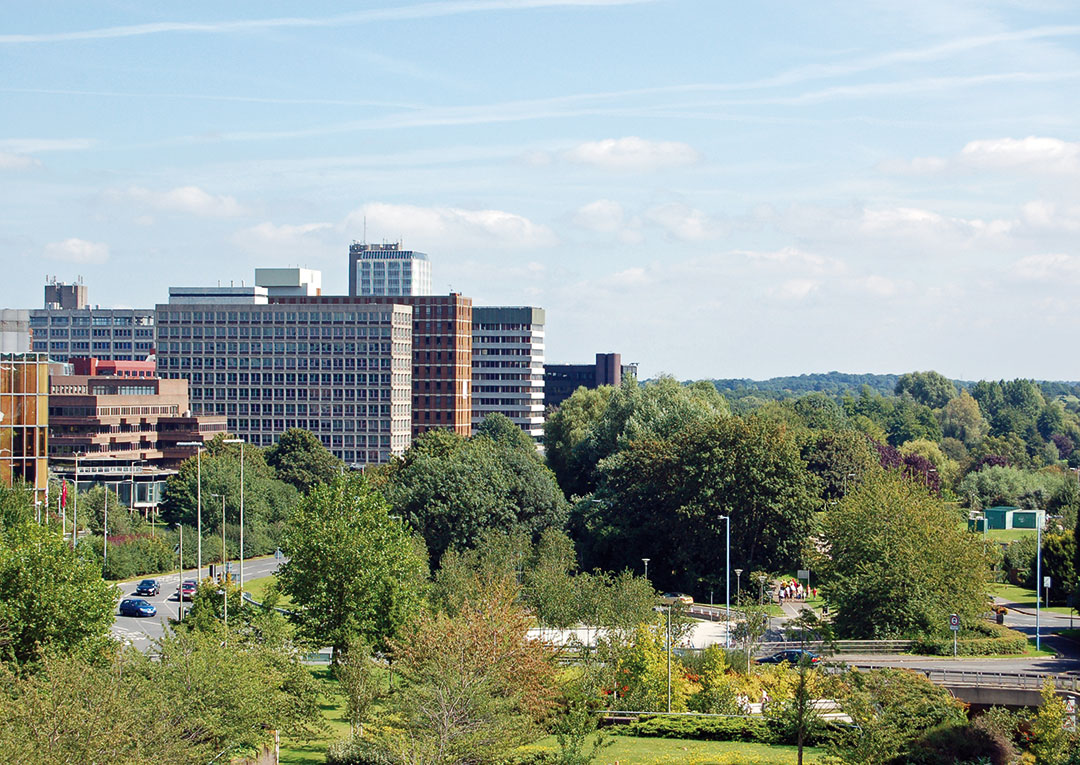 A few miles across the English Channel from France and Belgium you'll find the South East of England, one of the country's most attractive and prosperous regions. It's also home to Basingstoke, an economic powerhouse that punches well above its weight, surrounded by beautiful English countryside but still within an easy hour's reach of London.
Over a century after Thomas Burberry, founder of iconic fashion brand Burberry, opened the doors to his first store, this once market town saw the sixties and seventies remap its core to help accommodate the London overspill, resulting in its rise as a place of economic importance in the UK with many world known brands like The AA, AXA Wealth, De La Rue, Sony, Fujitsu and Motorola making it their home.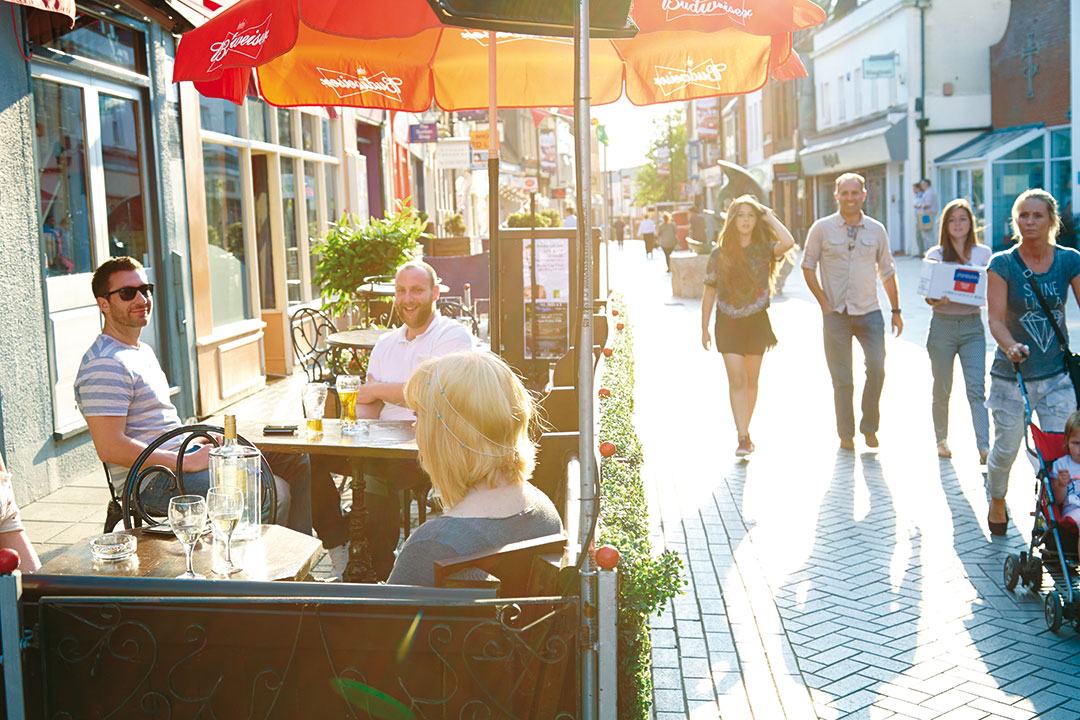 Take a drive through the town centre and you'll see the townscape etched in its business DNA. The distinct outlines of office blocks of all shapes and sizes punctuate the skyline, alongside the illuminating tower of Festival Place – the regions retail offer combining 160 top brands with food and leisure opportunities – all knitted together within an impressive network of tree lined road links and pockets of green open spaces.
But never a town to rest on its laurels and retain the status quo, today you'll find an energetic hi-tech business centre that will see a total of £430 million investment in transforming for a successful future over the next 10 years. And with its eye on the future as changing technology shapes the way we live, work and play – it's no surprise that Basingstoke is growing as one of the UK's hotspots for technological innovations.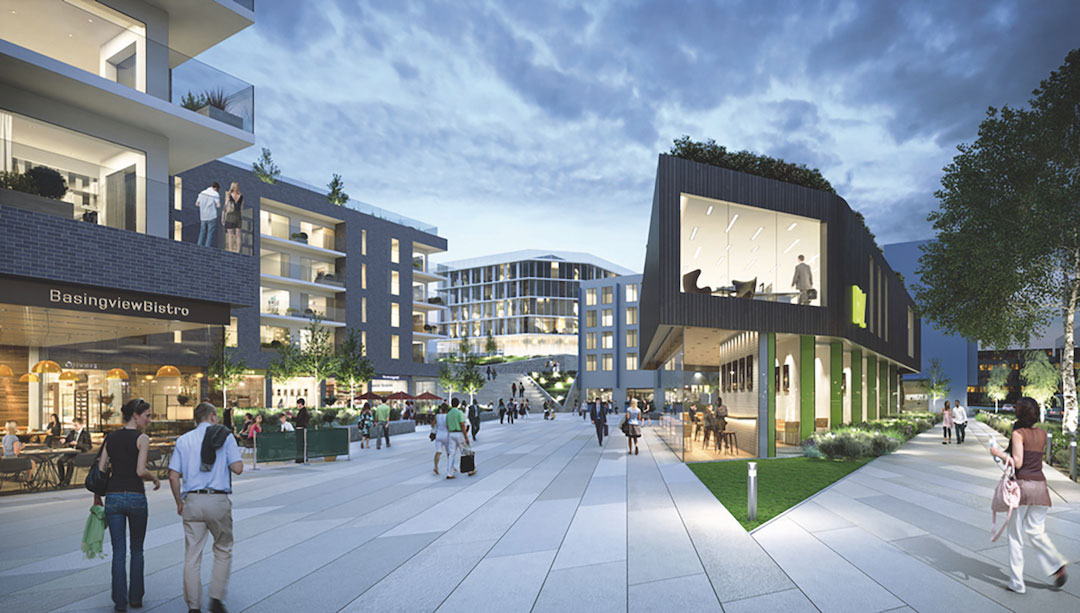 Located within the Enterprise M3 Sci-tech corridor – an economic asset of national importance and home to thousands of innovative, high-tech companies capable of leading the world in areas including digital media, 5G and cyber security -Basingstoke has been chosen as the only location outside of a university campus to set up a world-class incubation hub for businesses – thanks to SETsquared, the No.1 university business incubator on the globe.
This enterprise partnership of the universities of Bath, Bristol, Exeter, Southampton and Surrey brings rich tech capabilities and an innovative ecosystem of knowledge assets and expertise to help support the launch of new high-tech businesses. Space-based satellite technology and 5G mobile data are just two of the latest innovations being used to help new tech start-ups in Basingstoke.
Aiming to support the launch of 20 new high growth companies over the next five years, the hub supports budding entrepreneurs of the future – putting them right at the cutting edge of new and vital next generation technology and by linking them with research, facilities and business support services. The business incubator in the town means that entrepreneurs can connect with experts in the hi-tech field and gain valuable support, helping to speed up the growth and success of start-up and early-stage companies.
Adrian Braine, SETsquared Entrepreneur in Residence, highlights the growing momentum for technology in the town "Basingstoke's vision and technology heritage creates an exciting opportunity for budding entrepreneurs. We are thrilled to be at the heart of a vibrant tech community enabling a new wave of companies that are at the forefront of technological innovation."
Companies here also benefit from Basingstoke's close proximity to London, strong infrastructure and highly skilled workforce. And as commercial property prices in Central London start to push businesses to rethink their geographical location, Basingstoke continues to offer a competitive cost base – desk space is 75% lower per annum per desk than London prices.
Not just a hotspot for innovation, Basingstoke also delivers a rare quality of life for those living and working here. What better advocates for the town than the 96% of residents who agree that the area is a fantastic place to live. And it's easy to see why. With a great retail offer at Festival Place, truly exciting leisure facilities (skydiving anyone?) and a nationally respected concert hall and beautiful English countryside all around – it's no wonder that the area is ranked as one of the best places to live in England. 
 And with London just 45 minutes by train, three international airports within an hour's reach and quick access to the south coast ports, Basingstoke really is a business location option that is impossible to dismiss.
 Contact www.basingstokebiz.com