Costa de Lisboa – Meet Portugal's Rising Star for Conferences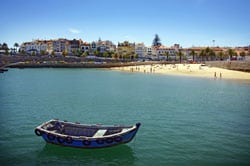 Romantic, cosmopolitan and packed with entertainment, Lisbon and its surrounding coastal region are great destinations for a well-rounded conference trip. Diversity is the region's hallmark. It has extensive beaches ideal for sunbathing or water sports, UNESCO World Heritage sites, picturesque rural landscapes and, of course, an excellent infrastructure for conferences. Lisbon is the only European capital located both on the river and on the coast, and the nearby cosmopolitan resorts of Estoril and Cascais offer a blend of business and pleasure with 19th-century charm.
Lisbon is the capital and financial centre of Portugal. According to the International Congress and Convention Association, Lisbon was the 12th most popular city in the world for meetings in 2011. It has become a competitive business tourism destination as a result of its top venue centres, well-developed infrastructure and the value for money perception of the destination. Lisbon's Congress Centre is located halfway between the city centre and the historic Belem district, making it convenient for those who want to do some sightseeing, while the Lisbon International Fair is a large and modern exhibition centre in the Parque das Nações district.
The coastal area surrounding Lisbon is ripe for business tourism. Boasting a unique character, Estoril and Cascais are where Lisbon meets the sea.
Alternatively, many of the city's major hotels offer purpose-built facilities for meetings and other events. Lisbon's many 5-star hotels represent real value when compared to similar accommodation in other European nations. A week at a 5-star hotel in Lisbon can be about the same price as just one or two nights at a luxury hotel in other European capitals. Moreover, former palaces, mansions, convents, monasteries, castles, grain warehouses and wine and port cellars are all often used for meetings and provide an eclectic alternative to traditional venues.

Two major infrastructure projects are set to positively affect the travel market in coming years in Lisbon and surrounding areas. The new Lisbon airport will be finished by 2017 with a capacity for over 30 million passengers, and the establishment of high-speed train by 2015 will link Lisbon to key destinations in Europe as well as other cities in Portugal.
The coastal area surrounding Lisbon is ripe for business tourism. Boasting a unique character, Estoril and Cascais are where Lisbon meets the sea. Considered to be the Portuguese Riviera, these two towns are full of glamour and charisma. They offer a great diversity of attractions and experiences in a setting that is exceptional in terms of nature, culture and heritage. The history of the area is one of exploration, discovery, travel and trade, meaning that any event held there will already have the spirit of progress at its core.
Once a drowsy fishing village, Cascais today welcomes visitors from around the world as one of the richest playgrounds in Portugal. This quaint town has an impressive historical heritage, and a wide variety of cultural activities ensures that visitors are never bored. Nature is also an important attraction. Green spaces are fundamental for the ecological balance of the region. The Parque Natural Sintra-Cascais is a unique space for the protection of species and a key location for leisure activities connected with ecotourism.
Major surf and bodyboard championships are held every year, attracting tourists from all over the world.
Meeting venues in Cascais lure delegates with world-class hotel facilities, pretty cobblestone streets and brightly painted buildings. Reflecting the area's rise as a major MICE destination, the Atlantic Pavilion, a few miles from Cascais, is the premier meeting venue in the Lisbon area. Top-class hotels offer excellent retreats with meeting facilities, sightseeing tours and facilities for health and spa enthusiasts. Cascais is also becoming a popular golf destination, with over 10 golf courses nearby. Surfing, sailing, windsurfing, and kitesurfing are popular in the region due to favourable weather, wind, and sea conditions. Sailing lessons are available at the Cascais Naval Club, which is located next to Cascais Marina.
There are numerous top-quality restaurants for business travellers to enjoy in Cascais. Portuguese recipes are characterised by their use of a wide variety of spices, including piri piri (a spicy chilli pepper), vanilla, cinnamon and saffron. Cuisine from the Cascais area has Arab and Moorish influences and an old tradition of almond and fig sweets. Portugal has Europe's highest fish consumption per capita, and the omnipresent bacalhau (salted cod) is one of the main ingredients in Portuguese gastronomy and is considered the national dish. Also popular are fresh sardines (especially grilled), octopus, squid, cuttlefish, crabs, prawns and lobster. You might want to try some of these at the Michelin-starred Fortaleza do Guincho restaurant in Cascais, which offers arguably the best seaside dining experience to be had in the region.

Interesting cultural highlights in Cascais include the Museum of the Sea, which was built in 1879 under Prince Carlos and has collections spanning aquatic archaeology, Portuguese navigation and exploration and traditional fishing. The Museu Condes de Castro Guimarães is housed in a historic villa with gardens and features and array of tapestries, paintings, furniture and other art objects. The lgreja de Nossa Senhora da Assuncão is a graceful 16th-century church featuring ancient tile work on the facade and exquisite altars.
Just north of Cascais, Praia Grande beach is the Portuguese capital for water sports. The sea here has moderately big waves that are ideal for both novice and experienced surfers. It offers great swell all year round, so enthusiasts can enjoy the sea at almost any time they want. Major surf and bodyboard championships are held every year, attracting tourists from all over the world. The 3rd edition of the International Bodyboard Film Festival took place at Praia Grande at the end of August 2012. You can, of course, hire water sports equipment there, and when you've finished playing in the waves, you can potter off to inspect the dinosaur footprints in the rocks at the southern end of the beach.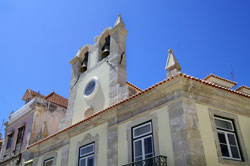 In nearby Estoril, culture and entertainment are a constant, supported by diverse and high-quality accommodation, including some of the best hotels in the country. The Casino do Estoril, the largest in Europe, is one of the most important entertainment venues in Portugal. It offers visitors a huge selection of fun events, from the many different forms of gaming to various daily shows. It also offers several function rooms, bars and restaurants for meetings and conferences. During World War II, Estoril was a centre of spies and diplomatic secrecy, and this provided the region with a cosmopolitan atmosphere and sophistication.
The wide selection of leisure activities in Estoril is complemented by superior facilities for working meetings. A long tradition in organising business tourism events, from seminars and conferences to international level meetings, has led to the development of an extensive range of services and support facilities, including the modern Estoril Congress Centre. The Estoril Convention Bureau (www.estorilmeetings.com/en) is a non-profit organisation that focuses on the promotion of congresses, conferences, seminars, fairs and promotional trips and combines this activity with the excellent infrastructure available in the region, like the Estoril Congress Centre.
Estoril has helped Lisbon become one of the fastest growing golf holiday destinations in Europe and it already boasts some of the best golf courses in Portugal. Oitavos Dunes Golf Club is a stunning natural links golf course, and Penha Longa Hotel and Spa Resort and Praia D'El Rey Resort provide superb golf courses and exceptional accommodation.