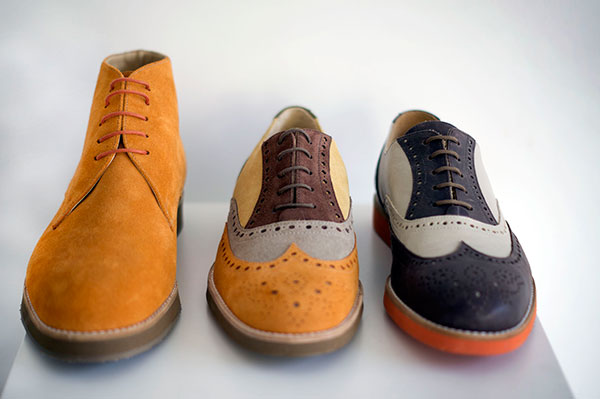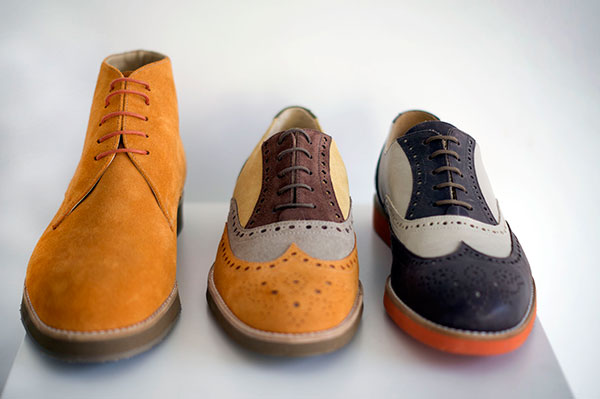 London was once the ground zero of bespoke craftsmanship – New European Economy  reports on how Tim Slack is on a mission to re-instate the capital's lost traditional skills.
What makes a classic? Style and quality are the obvious the driving forces, but there's a certain amount of alchemy that comes into the equation, and British design and culture critic Stephen Bayley offers his insight: "It takes time to become a classic," he says. "If there's one definition of this abused term, it's about resisting the inevitable ebb and flow of taste and fashion. Classics can't be invented, they evolve. They have to win approval and slowly acquire value." When husband-and-wife team Tim and Fiona Slack began re-interpreting a British sartorial classic in 1970, little did they know they'd still be producing it today. Back then, trading as Walkers Shoes, members of art-rock band Roxy Music seized upon the Slack's bright colour blocked blue suede five-hole Derby shoe with its canary yellow sole.
"Unusual combinations like yellow and blue makes for a great English classic, all of which is part of the ethos of the brand,"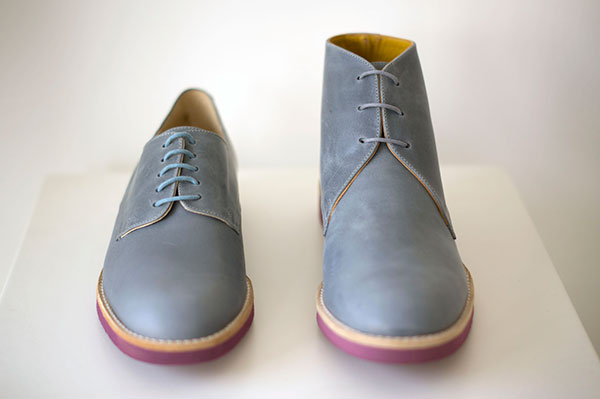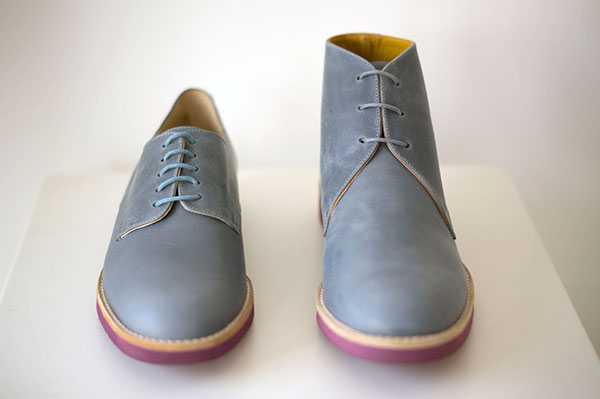 As the most fashion-forward of all the 1970s glam rock bands, these subversive shoes achieved instant cult status – something that they've managed to maintain ever since. T&F Slack's Derbys are still as startling as they were 40 years ago. Only now the fan base extends far beyond the readership of the NME and boutiques from London to Tokyo and back via Los Angeles stock T&F Slack's shoes. "Unusual combinations like yellow and blue makes for a great English classic, all of which is part of the ethos of the brand," says Tim from his Notting Hill shop. Opened in 2009, it's now a place of pilgrimage for hipsters of all persuasions. Slack embraces eccentricity and specialises in challenging flavours – but laments that customers often aren't challenging enough. "We have to encourage them to wander away from the made-up shoes on display. Even though we have lots of skins, materials and colours to show them, they tend to want to stick to what they can see in front of them." Slack's swatch books feature countless skins and fabrics with more than 40 upper and welt combinations. Toss that with a salad of over a dozen combinations of sole colours and the possibilities are limitless. T&F Slack have full control over the creative process, having opened a 500 sq/ft factory in March 2009, making on average 150 pairs per month.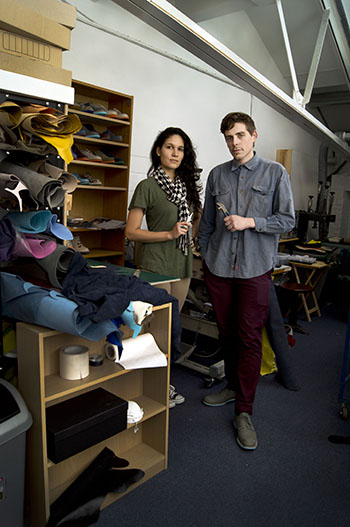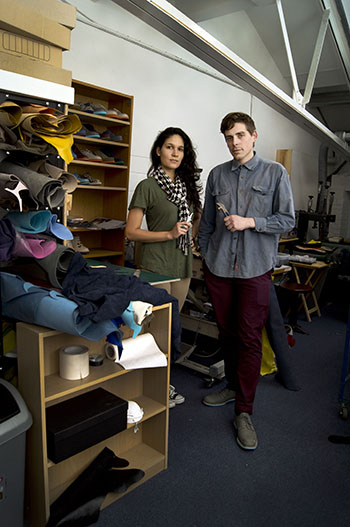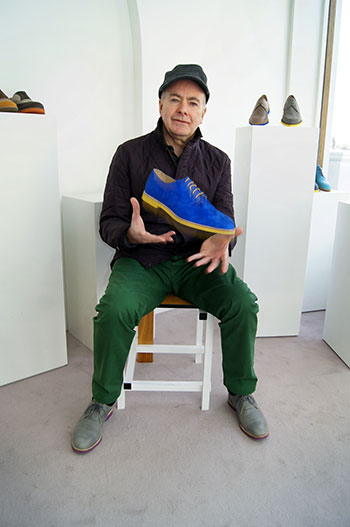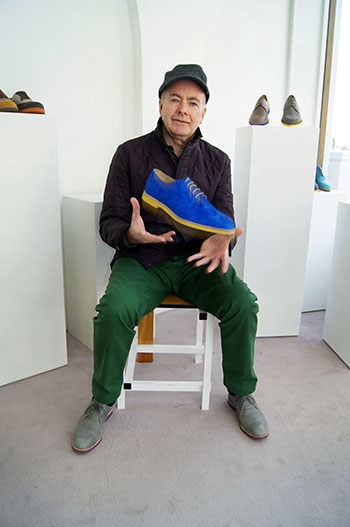 The workshop features what Tim considers to be 'manufacturing museum pieces' – that is machinery salvaged from shoe factories, as well as simple, modern machinery that have customised to meet their needs. T&F Slack Shoemakers had a long term objective to harness what little was left of London's long tradition of shoemaking. "Our goal was to help pass on these important skills to the next generation," says Tim. "So far we've managed to track down craftspeople in the East End of London who now mentor the young men and women who work for us – mostly graduates of Cordwainers College, the famous London college that specialises in shoes." It's probably obvious by now that Tim Slack isn't a man given to resisting indulgence, and T&F Slack have developed a new side to their business, and yes, it's another of Tim's passions – road cycling. Custom frame building, like bespoke shoemaking and tailoring, is another example of a disappearing craft that once had London as its epicentre. Slack has spotted a gap in the market and an opportunity to reverse this trend.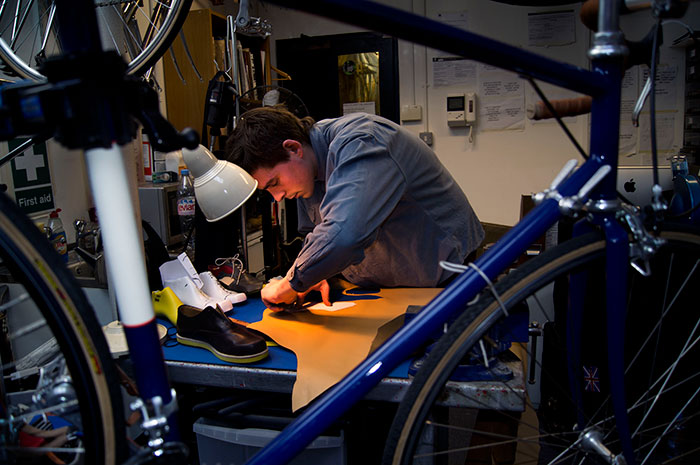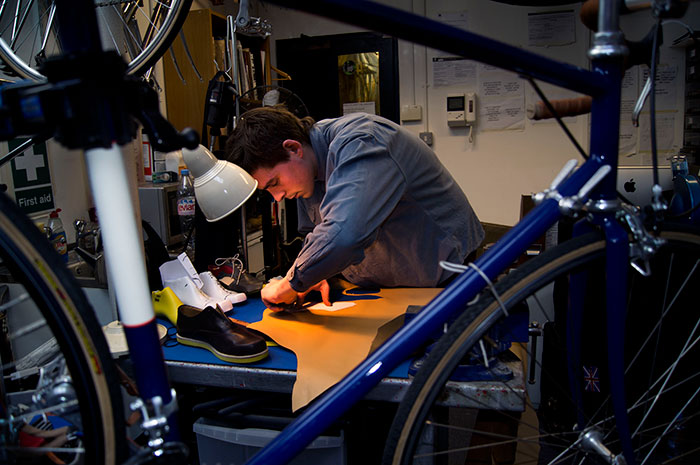 Slack cycling make bespoke steel frames, beautiful old-school leather cycling shoes to wear with or without clips, and a limited cycling clothing line. Their prices for a custom build start at £450 for a simple track frame in classic Reynolds 631 tubing. Manufacturing in Britain is undoubtedly a shadow of its former self, but Tim and Fiona Slack are positive proof that their small-but-beautiful business model of artisan craftsman plying their trade to select audience around the world is a viable one.
All it needs is a little time, integrity, and an eye for a classic design…