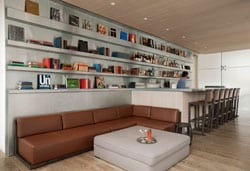 NEW YORK – The most architecturally significant hotel to rise downtown in recent years, The Cooper Square Hotel is at once a pioneer and a sign of a changing neighborhood.
Each rooftop along Cooper Square tells a story, and many are visible from the hotel's fresh vantage point. The striking, 21-story fritted glass hotel offers 145 rooms and suites with unobstructed views of the city, and the penthouse – with its wrap-around terrace and floor-to-ceiling windows – is one of the most spectacular spaces in downtown New York.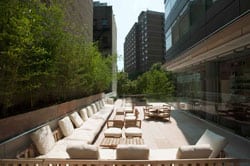 The Cooper Square Hotel marks the New York City debut of several outstanding talents: the first New York structure by acclaimed building designer Carlos Zapata, the first New York project by Milan's admired interior designer Antonio Citterio and red flower's first exclusive scent and full amenities line. In winter 2011, The Trilby opened in the hotel's ground floor. A sophisticated bar and eatery, The Trilby is a casual hangout that reflects the inviting, eclectic spirit of the neighborhood.
Grand and daring, The Cooper Square Hotel allows for spacious outdoor areas and unusual discoveries at every turn. Citterio's elegant and timeless interiors and exacting attention to detail complement the building design to create an atmosphere that's at once stylish, warm and original.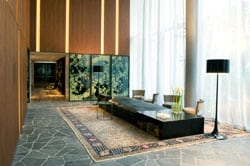 Visitors to the hotel feel as if they are staying at a friend's house. With no check-in desk, guests are greeted by a host and escorted to their rooms. The library features a cozy bar and fireplace, and an intimate screening room on the second floor contributes to the feeling of a lavishly appointed home. Landscape architect Nathan Browning's incredible outdoor spaces include a backyard garden under a canopy of trees and a lush dining patio that create a secluded haven in the city. Featuring rustic wood seating from John Houshmand, the private garden is a scenic spot for cocktails and offers a direct view of the hotel's art wall, a public art piece commissioned by the hotel. A second floor indoor-outdoor bar overlooks the garden.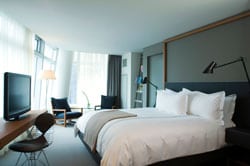 The hotel features furnishings by B&B Italia that are both modern and comfortable. Red flower has created Wanderlust – a signature scent inspired by the freedom of travel – that is found throughout the hotel in personal amenities and candles. Guest rooms offer an eclectic selection of books from Housing Works, and amenities such as bathrobes for a variety of moods: traditional terrycloth for comfort, silk for luxury and a Japanese cotton yukata robe for relaxation. The minibar is stocked with a rotating selection of well- curated items, such as things by Tina Thor, a custom Tina Thor jewelry line and the Pretty Pak, a Cooper Square Hotel-exclusive Loraine make-up kit. Stacy Morgenstern Igel of Boy Meets Girl ® has designed a t-shirt exclusive to the hotel's mini-bars and workout guru David Kirsch's signature vitamin packs are also available. The stylish staff uniforms were created by New York fashion designer Steven Alan.
"Cooper Square represents one of this city's most vibrant and authentic neighborhoods," says Klaus Ortlieb of MK Hotels. "We are thrilled to be a part of this culturally rich and diverse community and particularly proud of the people who have come together to create this hotel."
In a neighborhood undergoing a renaissance, The Cooper Square Hotel redefines modern luxury with intrepid design, well-appointed amenities, and a keen attention to comfort and service.