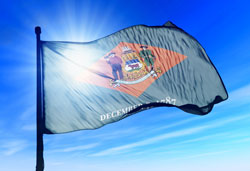 Delaware is the best place for companies from around the world to make an American home. More than one million business entities, including more than 50 percent of all US publicly-traded companies and 65 percent of Fortune 500® are incorporated in Delaware. Companies select Delaware because we provide a comprehensive business environment, modern and flexible corporate laws, a highly respected judiciary; responsive, accessible and transparent government officials and superior customer service-oriented staff in the Delaware Division of Corporations. CNBC's Top States for Business survey consistently ranks Delaware as the most business-friendly state in America.
Our streamlined processes and clear expectations make it easy to get up and running quickly. Business leaders can expect personalized attention—and very little red tape. The experienced staff of Delaware's International Trade and Development Group proactively promotes the growth of business in Delaware by identifying expanding international businesses and initiating contacts with firms from around the globe. One of the group's chief activities is to assist companies in establishing and expanding their business in the profitable US marketplace. The U.S. Department of Commerce reports that the average portion of workers in foreign-owned companies in Delaware is 15 percent (the national average being 11 percent). According to the Information Technology & Innovation Foundation's 2012 State New Economy Index, Delaware ranks second in the nation for attracting innovation and global companies.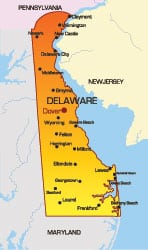 Business leaders can expect personalized attention—and very little red tape. Business-Friendly
International companies with US offices in Delaware include AstraZeneca, Barclays, DuPont, HSBC, Air Liquide, Dassault Falcon Jet, Nestle, Allen Harim and WL Gore. Delaware is ranked first in industry investments in research and development and is one of the top states in the nation for the number of patents issued per capita. Delaware's high-quality workforce and innovative research and development environment provide excellent opportunities for technology-based business growth.
New fuel-cell technology
We bring our decision makers together quickly to meet the needs of fast-moving, innovative companies. For example, Bloom Energy has built its new, high-tech manufacturing hub in Delaware. The new investment could create up to 1,500 high-tech jobs between the company and its suppliers to manufacture Bloom Energy Servers, which are already helping to power companies like Google; FedEx; Coca-Cola and Wal-Mart. Bloom's Energy Server™ is a new class of distributed power generator, producing clean, reliable, affordable electricity at the customer site.
Low cost of doing business
• Attractive incentives for new and expanding business include corporate and property tax relief and foreign trade zone deferment for US customs duties.
• Advantageous tax structure, with no sales tax or VAT.
• Low cost of living with the lowest median property taxes in the region.
• Fiscally responsible, with an AAA bond rating.
• Room to grow, with competitively priced office and industrial space and land to build.
• Healthy, diversified economy, including advanced materials, clean energy, life sciences, manufacturing and professional services.
Quality of life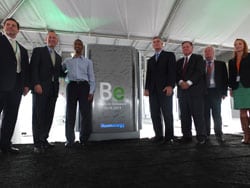 Educational institutions in Delaware offer a broad range of high-quality education, research and training. The cooperation among the business community, Delaware State Government and educational institutions offers a major advantage for businesses thinking of locating operations in the United States. Convenient access to major metropolitan areas (Washington DC, Philadelphia, Baltimore, New York or Boston), the beaches on the Atlantic Coast and tax-free shopping adds to the superior living environment and excellent lifestyle. Employees can enjoy all the benefits of the East Coast lifestyle, while saving to invest in their families. Your company will have all the benefits of an excellent location, while saving to invest and grow.
For more information, contact: David Máthé, Deputy Director
 International Trade and Development Group

Tel: + 1 302-577-8467

Fax: + 1 302-577-1176

Email: david.math@state.de.us