Electrolux Brings Unique Dining Concept To London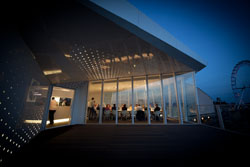 The Cube by Electrolux is now open at The Southbank Centre in London from 1st June and will run until 30th September 2012. The unique dining concept is a celebration of Electrolux Professional expertise, and brings together some of the most pioneering and innovative chefs in the UK.
The Cube by Electrolux is an initiative developed by Electrolux, a global leader in domestic and professional appliances and a company chosen by almost 50% of Europe's Michelin star chefs to supply equipment to their kitchens. Following successful visits to Brussels and Milan, The Cube by Electrolux is positioned on top of the Royal Festival Hall from June to September 2012 offering incredible views of the capital and truly unforgettable food to match.
Award Winning Chefs Supported by Electrolux
Double Michelin star chefs Sat Bains, Claude Bosi and Daniel Clifford will be joined by the winners of 'Ramsay's Best Restaurant 2010' and Michelin star holders Jonray and Peter Sanchez-Iglesias, as well as Scotland's Michelin star chef, Tom Kitchin. All of the chefs are supported by Electrolux daily in their own restaurants.
The chefs, who have been handpicked from around the British Isles, will present a unique menu using locally sourced ingredients to complement the incredible setting, as well as giving guests the chance to interact and watch their food being prepared. Serving a minimum of five courses, dishes will be accompanied by specially matched wines and unique sound and light concepts, to make the experience one to remember.
The Cube by Electrolux seats just 18 guests around one table allowing them to watch their meal being prepared in an open plan kitchen, which is equipped with state-of-the-art Electrolux domestic as well as professional equipment. As part of the experience, each chef will also offer their hints, tips and techniques for guests to apply when entertaining at home for friends and family.
From its enviable position at Southbank Centre, the semi-transparent structure – which has been created to represent Electrolux's Scandinavian heritage – will provide guests with outstanding views over the Thames including Westminster and The London Eye, which can be enjoyed both inside and from a large outdoor terrace.
Graham Bremer, head of marketing at Electrolux UK said: "Electrolux has 90 years of professional expertise and is used by almost 50% of Europe's Michelin star chefs. The learning from our professional business is integrated through intuitive shortcuts within our new domestic Inspiration Range. The range plays an integral part of the culinary experience within The Cube by Electrolux and shows that fantastic food can be created easily when using the right tools.
"We are thrilled to be bringing such a fantastic line up of our partner chefs together for guests to enjoy and learn from".
Visits to The Cube by Electrolux are priced at £175 per person for lunch and £215 for dinner Monday to Sunday. To book a table and find out more visit www.electrolux.co.uk/Cube/London.