Emden Sets Sail for a Green Future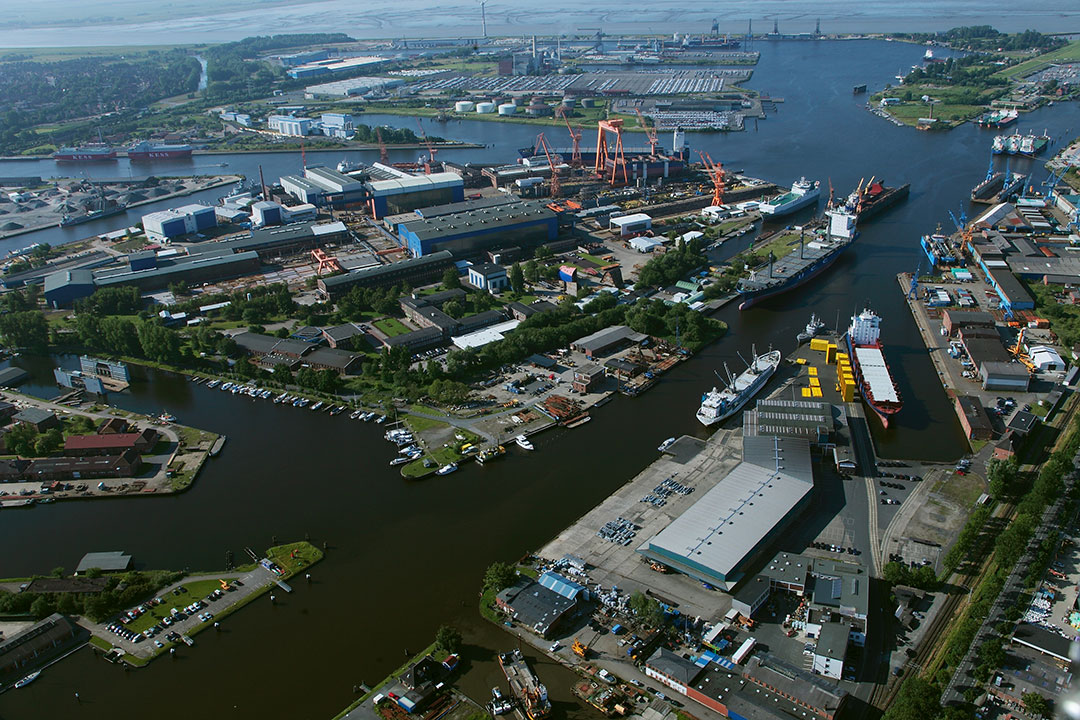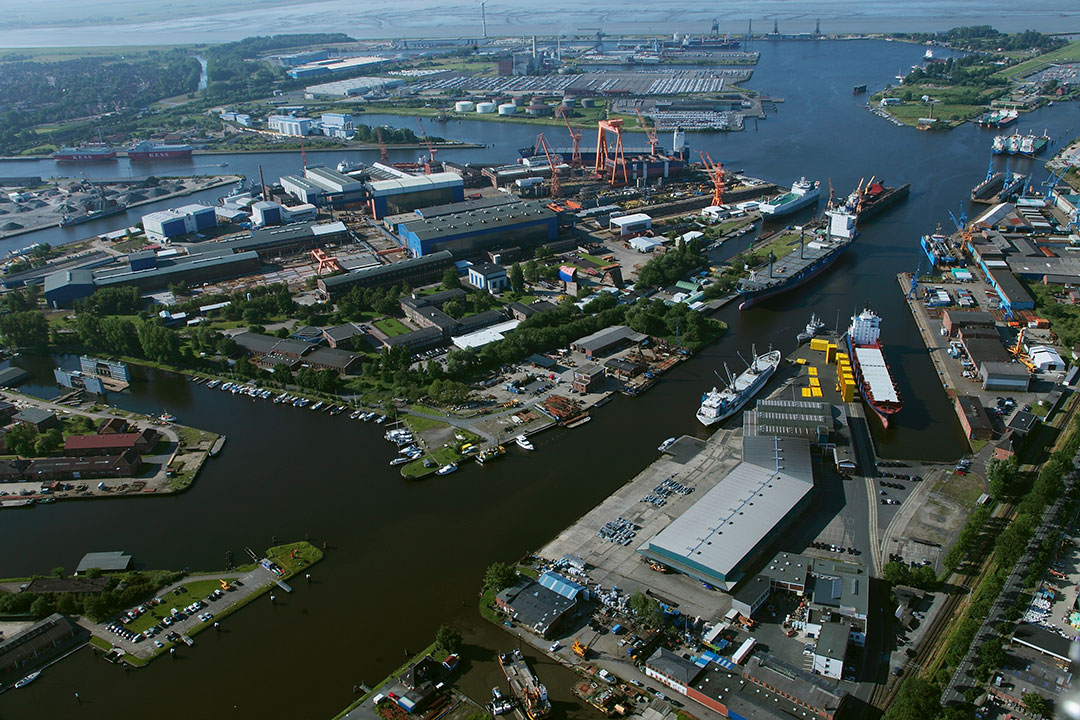 Emden is the third largest Germany North Sea port. It is a modern and highly productive universal facility that has evolved into one of Europe's most significant roll-on/roll-off ports for new cars, and it plays a vital role in the emerging market for green energy, particularly wind energy. Components for both onshore and offshore facilities are manufactured, assembled and shipped in and out of Emden.  The port serves as a base for the pre-assembly, transport and maintenance of the facilities and equipment of multiple wind farms. Here, we interview, Lord Mayor of the City of Emden Mr. Bernd Bornemann, who explains the port's significance.
Can you tell us a little about Emden and its history as a seaport?
In recent decades, the seaport of Emden has successfully transformed itself from being a pure bulk goods port into a powerful universal port. It is now one of the leading ro-ro ports in Germany and Europe: It has 12 excellent ro-ro berths and a floating ro-ro ramp that are well suited for the handling of goods of various kinds. Given the diversity and scale of tasks completed to the satisfaction of customers, one can confidently speak of the port of Emden as Lower Saxony's universal port! The harbour is of great importance to the automotive industry's entire system of logistics services. This includes pre- and post-haulage between the port on one side and the producers and consumers on the other end, depot storage, stevedoring, highly efficient loading and unloading of rail cars, pre-delivery inspection and continuous tracking of individual automobiles via computer.
In the field of customer support for new cars, Emden ranks second in Germany and third in Europe behind Zeebrugge and Bremerhaven. After car shipments, the second most important transhipment goods are forest products: pulp, paper, plywood and sawn timber. These come mostly from Finland but increasingly also from South America. Emden offers top-class facilities, excellent ro-lux devices, specific terminal vehicles for forest products and more than 30,000 m² of warehouse space under one roof. Its status as a universal port is confirmed by its various other transhipment facilities: high voltage submarine cables, military equipment of all types, minerals for construction and civil engineering such as granite and gravel. Last but not least, numerous onshore and offshore wind turbine parts are being produced and or shipped out of Emden.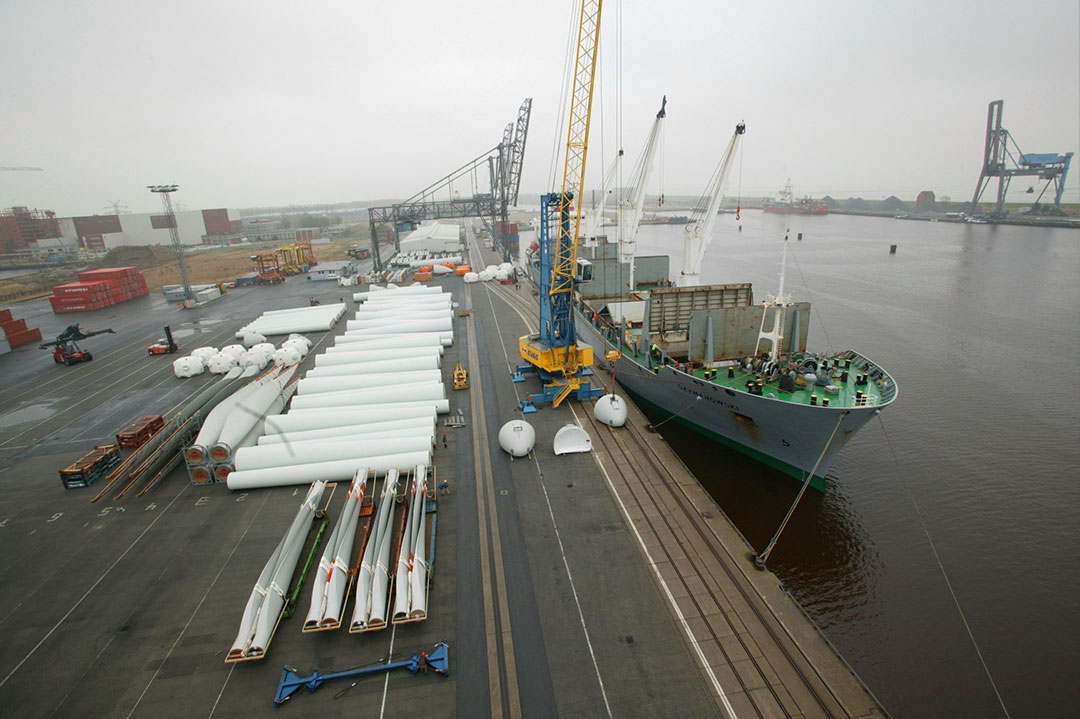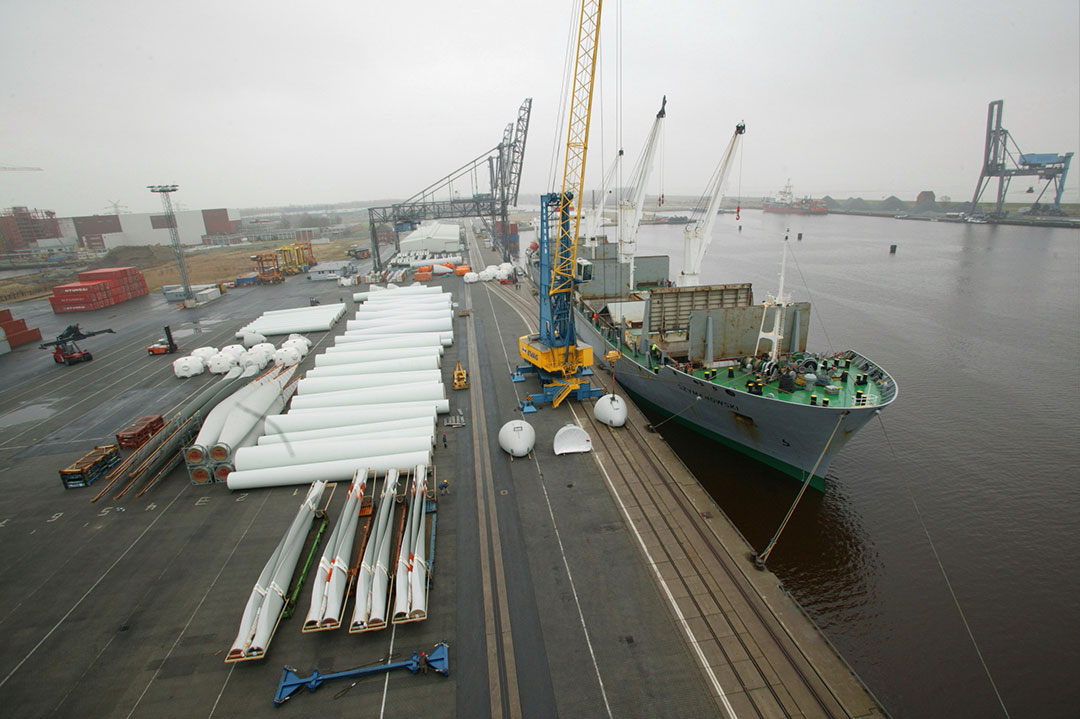 Emden has been selected by several offshore wind turbine manufacturers for their service activities. Why is this?
Emden incorporates all the factors a good location should offer: It has been recognised for many years as an important partner in the market for renewable energy sources. The port is not only the third largest and most western German North Sea port, but it also scores highly in terms of its long-standing experience in the wind energy sector. Components for both onshore and offshore systems are produced, assembled and shipped in Emden. The port is used for several wind farms in the German bay as a base for the pre-assembly, transportation and maintenance of the offshore wind turbines. Emden has therefore prepared well for future investors and challenges. Through many years of use of the Emden hub as a production, service and handling site for wind turbines, service providers have acquired in-depth knowledge from which investors can benefit greatly. In addition to the port area, Emden Airport has become an important base for several helicopter service companies that are attracted to Emden's excellent location.
Following several recently announced initiatives, offshore wind power seems set to go from strength to strength. What makes it so attractive?
Besides the general attractiveness of offshore wind power as a relatively new green industry with high potential from Emden's point of view as a coastal city offshore wind energy offers many chances to benefit from further development.>The numerous offshore wind farms planned for the North Sea or already in existence deliver energy that is independent of fossil fuels, and there is demand for well-prepared coastal regions from which the installation, operations and maintenance can be carried out. Emden is proud to be part of the transformation of Germany's energy mix and to help facilitate the growing importance of offshore wind power.
What competitive advantages does Emden offer in comparison to other locations?
The seaport of Emden can legitimately be described as the hub of the region due to the diverse facilities it offers. It is owned by the Federal State of Lower Saxony. This means that investors have only one contact to deal with. A big advantage is the close proximity to the many offshore wind farms currently being planned or built in the North Sea. Compared to other ports, the proximity of Emden port minimises the time needed to reach the wind farms and maximises the time available for maintenance.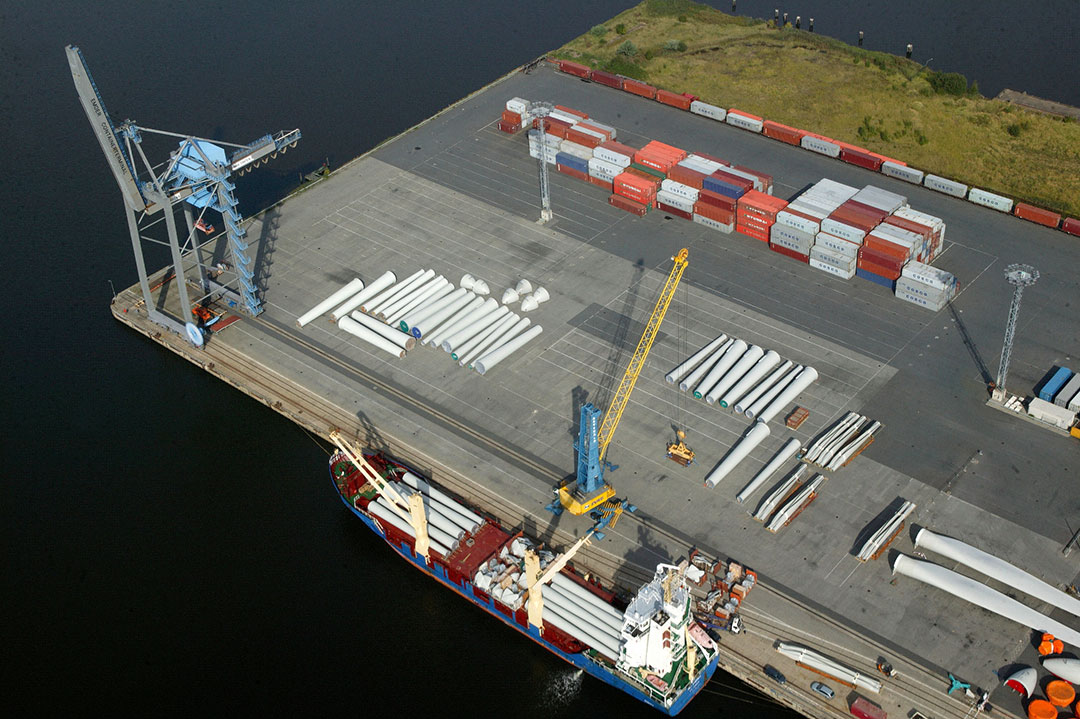 Through this money can be saved! Specifically noteworthy for Emden are the unique free spaces on the German North Sea coast with their deep waters capable of accommodating sea-going ships. Important companies from the wind energy sector have recognised the benefits of Emden and are already present in the area. Furthermore, Emden has excellent transport connections. German and Dutch motorway networks can be accessed at Emden via the A31. The port facilities are connected to the Deutsche Bahn rail network via two freight stations, and a direct connection to the inland waterway network exists via the River Ems and the Dortmund-Ems Canal. Plus, Emden Airport is conveniently located on the A31 and offers ideal commercial premises opportunities, especially for helicopter service companies.
How do you see Emden developing over the next few decades? What role will it play in meeting future energy needs and challenges?
Emden is already very active in the field of renewable energy and will be even more active in the future. Its goal is
to improve energy efficiency and reduce CO2 emissions significantly in the coming decades. Since 2008, the city has been a member of the climate alliance, which has the goal of halving CO2 emissions by 2030 compared to 1990 levels. In 2010, Emden published a so-called integrated municipal climate protection paper in which a lot of the measures required to achieve this aim are identified. Apart from projects such as an energy-oriented city redevelopment, offshore wind energy will play a more and more important part of Emden's future activities as it aims to become an even more green city. As you can see, Emden is very well prepared to meet the future energy needs and challenges.