Field Candy – Better by Design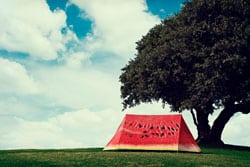 Camping used to be a miserable affair – bourn of the necessity of one following four things:
lack of funds for a proper holiday
a misguided spirit of adventure or guilt-inspired worthy attempt to connect with nature
peer/parent pressure
music festivals
all of the above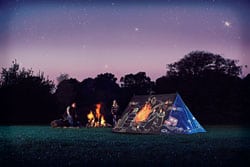 During the latter half of the 20th Century camping was doomed to failure – until some marketing genius came up with the lifestyle concept of Glamorous Camping – or Glamping. Sure it's a hideous distillation – and one I can barely bring myself to type, let alone utter – but it seems to have done the trick.
Suddenly, a whole new generation have bought into the idea and now the *cough* Glamping industry is worth an estimated £500m in Britain alone. At the pinnacle, you can rent exotic Indian or Moroccan tents – hitherto homes to Nomadic Saharan tribal leaders. Suddenly festivals all over Europe are bursting with luxury Glamping packages that's can cost well over £10,000, not including dinner or drinks. Personal butler too sir, just tick that box online and you won't even have to open your bottles or pour, I wonder how good he is at getting mud out of your hair?
Suddenly, campsites and festivals are a rash of 1950's inspired colourful prints instead of the muted earth tones that had traditionally been used for tents.
For an exorbitant fee, the aptly named Delightfully Lavish events company will lay on a sumptuous 12mx12m Maharaja tent for £1800 for the day. Of course, this is the basic price for the tent alone – once you start to factor in the Islamic antique furniture, kilims and Kashan rugs, brass servers and the whole kit and caboodle, you can double that daily rate.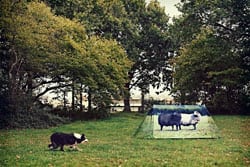 Of course, the trend isn't restricted to the high end of the scale – camping has always been a democratic pursuit after all. And it's to their credit that traditional outdoor retailers like Milletts injected new life into their range with sparkly new designs from hugely credible names like Kath Kidston, Orla Keily, Zandra Rhodes and Ted Baker.
Suddenly, campsites and festivals are a rash of 1950's inspired colourful prints instead of the muted earth tones that had traditionally been used for tents.
Now, with a whole new army of young hip campers Field Candy Tents have taken this inspired campfire creativity to it's logical conclusion and at the same time celebrated camping's simplest form. Using the two-man ridge tent as a canvas, the company has got a raft of designers onboard to inject some fun, colour and wit into our fields of uniformly dull canvas with their range of unashamedly hipster tents.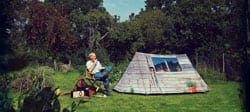 Created by designers such as David Bowie artwork creator Terry Pastor, graphic designer Jonathan Zawada, art director Luke Bonner, and Illustrators Emma Bennett and John Wilhelm, each tent is limited to a few hundred and then deleted to ensure exclusivity.
The designs range from the comparatively understated Rule Britannia to the garish Don't be a Leopard. All the designs scream for attention and are at odds with the understated , naturally coloured teepees and bell tents that have been popular in 2011.
The tent itself is a traditional two man ridge tent with a 100% cotton inner sheet and an impressive build quality that is comfortably reflected in the price. A basic black model is £265, rising to £650 for a 'Terry Pastor'.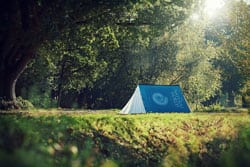 Field candy believe that "a tent should say something about who's inside it", and there are in total 42 different tents to choose from including the watermelon, garden shed, leopard skin, suitcase, strawberries and cream, holey cheese, jelly beans and – our favourite – which features the 'shadow' of a kissing couple.
Inside the tents feature innovations like lantern hanging point, lightweight aluminium poles, lots of storage space (some lockable), breathable cotton inner tent, easy set-up poles and heavy duty zips. Of course, Field Candy tents are waterproof and there is easily enough room for two people, possibly three, depending on how close you are!
The icing on the cake is the company's commitment to social responsibility through their support of several charities including The Prince's Trust, the Australian Indigenous Mentoring Experience, Movember and The Stillbirth Foundation.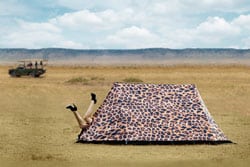 We say get ready for the spring and get over to their site for a closer look.
Field Candy tents are only available from their website www.fieldcandy.com Prices range from just over £300 to £870 (plus post and package). Field Candy delivers all over the world and aims to deliver to the UK within 10 working days (outside Europe 20 days).