FioreQ: Concrete Design Principles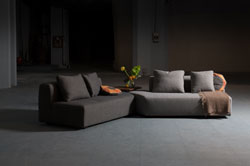 Interior design has been showcasing the industrial look for some time, and although we don't all live in converted warehouses with high ceilings, wrought-iron railings and exposed brick, this inspiring style can look right at home in a variety of spaces.
Concrete – that sturdy industrial material that you may initially associate with a building site rather than your living room – is, in fact, a top-quality choice for indoor furniture design. With its smooth surface offering a unique and stylish look, this versatile material compliments most types of interior décor, from modern to unconventional and minimal to shabby chic. From a design perspective, due to its natural qualities, concrete retains that vital artistic appeal. Using this material to design furniture pieces is as timeless as it is durable and has been given a new lease of life. Introducing FioreQ.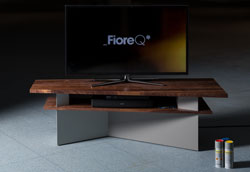 Born in England with Italian ancestry, the founder of FioreQ, Michael Quaia, has connections to both countries. With a wealth of experience, he chooses to work from his London base and manufacture locally in Italy, and he clearly understands interior design. He has developed a range of living-room furniture inspired by exciting graphic imagery. The aesthetic is central to all the pieces, and incorporating thin metal into the design produces strong, sophisticated furniture. Set up in early 2013, FioreQ is making a huge impression in the furniture and design industries. Using concrete with steel in manufacturing generates a solid look, and FioreQ has already received the professional seal of approval.
The Museum of Science and Technology (MOST) in Milan offers a platform to promote forward-thinking design culture, allowing brands to showcase their use of different material and cutting-edge technologies. Therefore, there was no better place for FioreQ, the luxury furniture brand focused on design and producing hand-finished living-room furniture, to have its initial show. Introduced at MOST in April 2013, FioreQ has been gaining speed and receiving professional recognition since. FioreQ also took part in the UK's leading independent design festival, Clerkenwell Design Week (CDW), to exhibit its innovative living-room furniture range. CDW won the Best Festival and Best Cultural Event at the UK Event Awards 2012, highlighting its ability to attract the best in the field.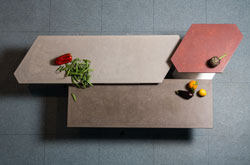 The FioreQ furniture range includes living room cabinets, bookcases, shelving, couches and armchairs. The Angelica 60 couch, aptly named due to its 60-degree angle cut, looks like a comfy place to recline and can be arranged in several different ways, thereby promoting versatility and allowing for personal preference . Yet, Quaia has chiefly revealed his creative spark in designing low occasional tables. The Laila, Alfie, Zaki and Ren tables all offer hand-finished concrete surfaces and are available in a choice of colours. This furniture range is certainly unique and completely bespoke, with a range of metallic and textural finishes available for the items' legs. Quaia is currently based in Italy and is working on various interior design projects, so we can look forward to another FioreQ range next year.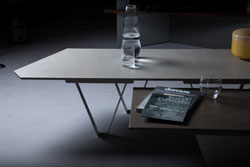 With its novel design and individual angles, FioreQ furniture is sure to add a titbit of urban flair to any interior. This exciting, innovative range is sold exclusively via e-mail on www.fioreq.com. Due to its success, the range will soon be available in London and global retailers thereafter.
FioreQ is one to watch this year, with a real vision on how to decorate your home. Blending function and fashion, fittings plays a central role in any interior design. No longer used solely as a material on a construction site, concrete is revolutionising indoor furniture.