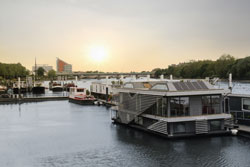 The Danish remain as innovative as ever. They don't do things by halves, least of all design. Sanitov Studios introduced their floating home 'Inachus' at the London Design Festival 2012. The 'sustainable floating home' was launched in the UK by the Danish design studio with consumer electronics brand Samsung. This river boat (floating house) is part of Sanitov Floating Homes Future Cities project which hopes to incorporate the River Thames into London's city living by adopting a more sustainable living approach.  As cities become crowded and space becomes even more expensive, there is no better time to take to the waterways and canals to set up home. There were great expectations for 'Inachus' even before the London Design Festival. So how was it received?
"We found the attention during LDF itself fantastic as we had hoped to get attention not only from design related areas but from most importantly, families, businesses and politicians whom had noticed the potential in not only our first prototype of a floating home, but also the main ideas of creating floating communities as new vibrant and sustainable areas," says Alexander Høst CEO(founder)/Creative Director of Sanitov Studios.
Sanitov Studios focuses on trying to create a sustainable future, and believe that design is an essential component in making this future a reality.
The design of Inachus was obviously of central importance. Sanitov Studios collaborated with Fritz Hansen on furniture pieces for the interior design.  Fritz Hansen's Egg and PK22 chairs can be seen inside. How did this collaboration come about?
"We had many furniture companies on the radar, following our design vision to make Sanitov's philosophy high end, in a minimal and enjoyable way. With Denmark having a whole range of the most respected furniture designers in the world it was a natural choice to work with Fritz Hansen and use old classics in new ways on board. We had a very good team making it all happen and we look forward to further collaboration in the future."
Sanitov Studios focuses on trying to create a sustainable future, and believe that design is an essential component in making this future a reality. They work within an urban environment and are focused on individuals who live in the city. Both design and technology play a part to create their products allowing for a more sustainable future. This combination aims to cause less pollution enabling people to live in these urban spaces. The interest at Sanitov Studios lies in cultivating a more cooperative outlook when dealing with cities and design. They focus on issues related to urban life and urban sustainability. However, Inachus is not the first time Sanitov Studios has worked on sustainable projects.
Back in 2010 they developed the Sanitov BC+ cycle concept. This concept was created at a perfect time, when London was seeing more and more cyclists on the roads, parks and streets. This idea centred on sustainable transport within the urban environment. Sanitov Studios designed a cargo bike, with the intention to accommodate the needs of those living in the city. It combined the old-style Chinese cargo-bicycle with some uber functionalistic Danish design with simple Scandinavian aesthetics. Like Inachus did this year, the Sanitov BC+ cycle project participated in the London Design Festival, back in 2010. So what made them move from the roads to the waterways for their newest venture?
"With the majority of the founders and partners in Sanitov Studio being Danish, waterways are closely related to our history and culture. In the Urdiamonia project we are simply in search of the urban good life. We found that a re-integration of the waterways in London would not only be an city outwards." This is great news for those living in London and other major cities as house prices are rising and getting too high for people and businesses on regular incomes. Inachus is only one element of The Urdaimonia Project developed by Sanitov Studio.
The Urdaimonia Project is a design futures project. What does it mean?  It is a linguistic blend of two words – the word 'urban' and 'daimon'. That is a mixture of 'city life' and 'spirit'. It also conjures up associations with Eudaimonia, which is the 'good life' in Greek. The project aims to establish what the urban good life is and what it could be in the future. Sanitov Studios will incorporate exhibitions, workshops and talks into the project and gather feedback and opinion.
With the majority of the founders and partners in Sanitov Studio being Danish, waterways are closely related to our history and culture.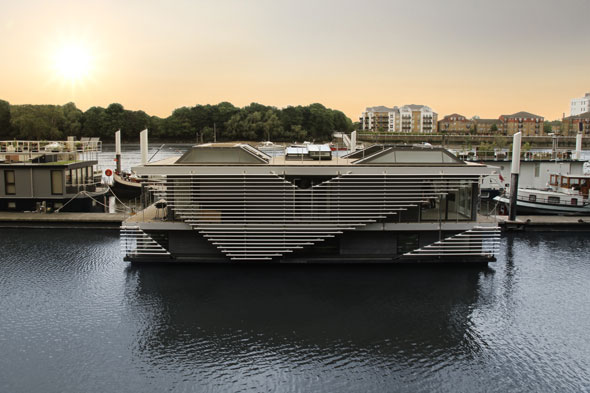 What makes Inachus stand out from any other river boats that are currently two a penny on London canals? Inachus is a fresh, pioneering and sustainable floating home and is named after the Greek river god. That's quite a name to live up to, and in an increasingly modern world, it's so refreshing to see something that embraces all things practical and sustainable. Sanitov Studios define sustainability in two ways; "The very straight forward organic way and the more metaphysical way, where sustainability takes its starting point in feeling healthy and balanced."
It is the perfect solution to the ever increasingly crowded housing market and the overpopulation problems that London is currently facing. Høst adds that it is an environmentally friendly option that will become even more and more viable in the future.
"It is not the only solution, but definitely a very good and innovative alternative which in the future for sure will be more common, seen as well as a solution for the urban fabrics around the world to become more liable and committed to reduction of CO2."
So what is next for Sanitov Studios? What is the next project that we should be looking out for?
"We are currently working on a collaborative secret project in London with the tittle "Sanitov Supermarket", have on-going projects related to boat design and interior conceptualisation from Copenhagen to Shanghai, and the next step of our bicycle brand is in the making," says Høst.
We cannot wait.