Join the fittest and the fastest in London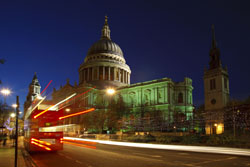 As the starters whistle fires at London's Olympic and Paralympic Games, we explore exciting new opportunities for ambitious businesses and event organisers in this global city.
While the Eurozone debt storm rumbles on, London is working harder than ever to keep its economy thriving.
"London & Partners is like a concierge service for London. Don't hesitate to use them. There's a reason why the UK Government invests in them: they understand the city; they understand who to connect you with; they enable you to move on."
— Mike Grafham, Customer Success (EMEA), Yammer Inc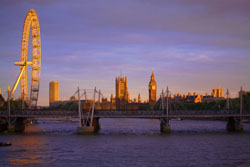 It's a four-pronged initiative: investing billions into infrastructure projects; freeing up credit to help businesses grow; launching tax breaks to encourage enterprise, and paring back business regulation.
As a result, London is one of the most stable, attractive and exciting global cities for international companies seeking to set up.
The 2012 Olympic and Paralympic Games are a catalyst for growth, their legacy of world-class stadia, business hubs and new neighbourhoods generating jobs and contracts worth millions.
London has been voted Europe's number one business city for the 22nd year running, ranking first for city improvement, easy access to markets, qualified staff, internal transport links, external transport links, languages spoken and telecommunications.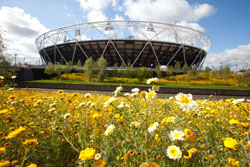 Meanwhile, bringing stealth, wealth and speed are major transport projects such as a multi-billion-pound investment in Stratford International Station and the trans-city Crossrail, which will bring another 1.5 million people within a 45-minute commute of the city.
Other new initiatives include:
£80 billion credit injection: in June, the UK Government and the Bank of England announced the launch of an £80 billion loan fund for UK banks willing to pass on the benefits to business. Some £325 billion has already been spent on the UK's quantitative easing programme.
10% patent tax rate: from April 2013, UK-based research and development activities will benefit from a lower, 10% tax on profits.
Tech cluster: east London's Tech City is home to one of the largest concentrations of fast-growing digital technology companies in Europe. The area's incubators and low-cost offices are now sought-after addresses for ambitious ICT companies.
Entrepreneur visa: entrepreneurs can now enter the UK to secure funding and make arrangements for starting their business before transferring to a full 'Tier 1' (entrepreneur) visa.
23% corporation tax: UK corporation tax will fall to 23% by 2014, making the UK more competitive than Germany and the US. Small firms, with profits below £300,000, will just continue to pay just 20%.
Enterprise investment scheme tax break: companies now benefit from 30% tax relief on investments up to £1 million.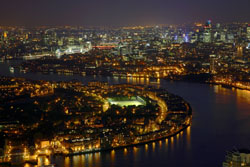 What does the future offer?
Looking ahead, London faces huge expansion over the next two decades, its population predicted to grow from eight to nine million by 2030. The growth will generate major opportunities for overseas companies keen to help strengthen London's social and business infrastructure.
Cleantech and life sciences are predicted to be hotspots. London is already the leading global centre for carbon trading and a showcase for green hubs such as Siemens' sustainability centre, while academic institutions such as Imperial College are investing heavily in innovation and research.
One of the most exciting developments is the cross-fertilisation of ICT, creative and financial services. East London's Tech City is the hub, with social media, gaming and other creative disciplines splicing with traditional post-production and digital animation skills to create entirely new businesses.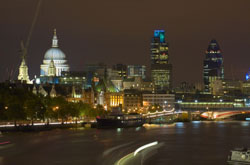 Why expand to London now?
A gateway to world markets, offering access to Europe's 500 million consumers.
First-class international talent pool: 40% of the London workforce was born overseas.
Office hours that overlap with countries generating 99% of global GDP.
More European HQs than any other city in Europe.
A magnet for entrepreneurs and inventors. The city is the number one European city for the volume of patents it registers in healthcare, informatics, nanotechnology, wireless technology and video games.
"One of the strongest regions and cities on the planet is London. It's highly attractive, offers one of the best prospects for business development and innovative thinking. London is the showcase for our work throughout Europe and is paramount in our global strategy."
— Jeff Brennan, Vice President Marketing, Finsphere Corporation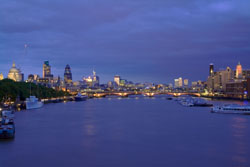 Six new London addresses you should know
The International Quarter: a £1.3 billion project in the heart of Stratford City, east London, offering 4m sq ft of workspace, 350 new homes, 275,000 sq ft of hotels and 52,000 sq ft of retail, all set within parklands.
Canning Town and Custom House: a £3.7 billion transformation in east London encompassing the development of two town centres, new homes, leisure and retail and green space.
Royal Docks Enterprise Zone: some 122 hectares of prime waterfront land adjacent to London City Airport and ExCeL London. Its 'Enterprise Zone' status offers incentives to occupiers and developers.
Hackney Wick: a new creative and high-tech hub, offering 6,000 sq m of affordable and flexible workspace, 130 residential apartments and retail and leisure space.
Greenwich Peninsula: a £5 billion regeneration of 190 acres of Greenwich Peninsula. The scheme will create a thriving new riverside community for London over the next 15 years with 10,000 new homes, a new commercial district, shops and restaurants.
"Why would an expanding company open in London? There are so many reasons. The city offers a potent mix of creativity, technology, ideas and finance. We are one of the world's most cosmopolitan cities, speaking 233 languages. London is also Europe's primary financial centre, providing unmatched access to capital. And there's the prestige of a London office: the city offers a 'must have' address for expanding international companies. Beyond all this, I think the biggest single factor is talent. Some of the world's most ambitious and bright people live and work in London."
— Gordon Innes, CEO of London & Partners, the capital's official promotional organisation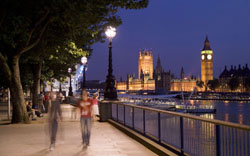 London & Partners can help your business succeed in London
London & Partners is the official promotional organisation for London, attracting and delivering value to businesses.
We are the experts in doing business in the capital. We connect international businesses to London, helping them set up, succeed and grow.
Our service is comprehensive, confidential and funded — therefore at no cost to our clients.
We have offices in London, Beijing, Shanghai, New York, San Francisco and Mumbai.