The World's Youngest Billionaires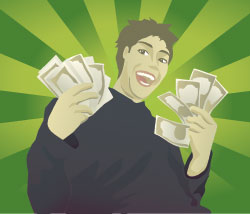 Meet the world's youngest billionaires. According to Forbes magazine, of the world's 1,426 billionaires, there are 29 under the age of 40. These 29 young billionaires are worth a total of $119 billion. Ten of them have built their fortunes in the technology sector (four at social networking giant Facebook) and several others are heirs to massive fortunes. Here is a selection of the very richest of these enviably successful and minted youngsters.
Mark Zuckerberg (Age 28. Net Worth: $13.3 billion)
Computer programmer and internet entrepreneur Zuckerberg is the chairman and chief executive of Facebook. Born in 1984 in White Plains, New York, Zuckerberg launched Facebook from his Harvard dormitory in February 2004. He then spread it to other schools, enlisting the help of roommate Dustin Moskovitz. Zuckerberg moved to Palo Alto, California, with Moskovitz and some friends. They turned down several offers by major corporations to buy the company, eventually taking it public in May 2012. Zuckerberg founded the Start-up: Education foundation, and he has donated millions to the public school system of Newark, New Jersey.
Dustin Moskovitz (Age 28. Net Worth: $3.8 billion)
Dustin Moskovitz, Mark Zuckerberg's former roommate, no longer works at Facebook, which he co-founded. Moskovitz grew up in Ocala, Florida, before attending Harvard as an economics major. He worked for Facebook until 2008. In February 2011, Moskovitz launched Asana, a software application designed to improve the way people collaborate in groups and manage projects. Moskovitz co-founded the philanthropic organization Good Ventures with his girlfriend in 2011. In June 2012, Good Ventures announced a close partnership with charity evaluator GiveWell.
Albert von Thurn und Taxis (Age 29. Net Worth: $1.5 billion)
Albert II Maria Lamoral Miguel Johannes Gabriel, 12th Prince of Thurn, is a German aristocrat. Born in 1983 in Regensburg, Bavaria, he has been listed as the world's youngest billionaire many times since his father's death in 1990. The fortune of the House of Thurn und Taxis derives from the appointment of Leonhard von Taxis as hereditary postmaster general of the Holy Roman Empire in 1595. The family of Thurn und Taxis remains well known as owner of breweries and builders of castles. Albert studied economics and theology at the University of Edinburgh. He is a race car driver and tours with a German auto-racing league.
Scott Duncan (Age: 30. Net Worth: $5.1 billion)
Scott Duncan is the youngest of the four children who inherited the fortune of late energy pipeline entrepreneur Dan Duncan, founder of Enterprise Products Partners. Due to Enterprise's rise on the New York Stock Exchange, Scott and his siblings each find themselves $900 million dollars richer than in 2012. Dan Duncan, formerly the richest man in Houston, grew up in poverty and formed Enterprise Products with two trucks in 1968, selling door to door. Today, Enterprise owns more than 50,000 miles of natural gas, oil, and petrochemical pipelines.
Eduardo Saverin (Age 30. Net Worth: $2.2 billion)
Brazilian internet entrepreneur and investor Eduardo Saverin is one of five co-founders of Facebook. Born in São Paulo, Brazil, to a wealthy Jewish Brazilian family, Saverin graduated from Harvard University with a degree in economics. Saverin and Mark Zuckerberg worked together to launch Facebook in 2004, but Saverin later filed a lawsuit against Facebook due to the dilution of the amount of his shares in the company. The case was settled out of court, and although terms of the settlement were not disclosed, the company affirmed Saverin's title as co-founder of Facebook, and Saverin apparently received a 5% stake. He now lives in Singapore and invests in start-ups.
Huiyan Yang (Age 31. Net Worth: $5.7 billion)
Huiyan Yang, China's richest woman, is the daughter of the founder of real estate company Country Garden Holdings. Yang Guoqiang started his company in 1997 in Shunde, Guangdong Province, and transferred 70% of Country Garden's shares to his daughter before its IPO in 2007. Country Garden focuses on high-end residential property. Yang Guoqiang built the company from scratch, having previously worked as a farmer and on construction sites.
Fahd Hariri (Age 32. Net Worth: $1.35 billion)
Fahd Hariri is the youngest son of former Lebanese Prime Minister Rafik Hariri, who was assassinated in 2005. Born into Lebanon's richest family, Hariri lived his early years in Riyadh, where his father made his fortune as building contractor to King Fahd. He completed an architecture degree in Paris in 2004. Following his father's death in a Beirut car bombing, Fahd and his siblings decided to keep intact Rafik's financial empire, with investments in construction, property, banking, media and telecoms. The jewel in the empire's crown is construction giant Saudi Oger and its related companies, including Oger Dubai, of which Fahd is chairman.
Marie Besnier Beauvalot (Age 32. Net Worth: $1.5 billion)
Marie, along with siblings Emmanuel and Jean-Michel, inherited French dairy giant Lactalis. Lactalis is the largest dairy products group in the world, and it is the second largest food products group in France, behind Danone. Between them, Marie and her siblings own 100% of the company that their grandfather founded. André Besnier started a small cheese-making company in 1933 and launched its Président brand of camembert in 1968. Lactalis also owns brands such as Sorrento, Société, Bridel, Président, Rachel's Organic and Valmont.
Sean Parker (Age 33. Net Worth: $2 billion)
Entrepreneur Sean Parker was a co-founder of the file-sharing computer service Napster and the first president of Facebook. Parker skipped college to shake up the recording industry with music swapping site Napster along with co-founder Shawn Fanning. He served as Facebook's first president at the age of 24, stepping down after a drug-possession scandal but still remaining involved in the company's development. In 2010, Parker invested $15 million in Spotify, and he is now revamping his much hyped start-up Airtime, with the hope that the video chat site will have the impact of his other Web companies.
Yoshikazu Tanaka (Age: 36 Net Worth: $1.8 billion)
Japanese entrepreneur Yohikazu Tanaka is the founder and CEO of social-network game site operator Gree. Gree provides Japan's leading mobile social network and is at the forefront of mobile technology. It reaches over 190 million players and offers over 7,500 game applications for smartphones. Gree aims to build the leading mobile social gaming ecosystem for users and developers worldwide.