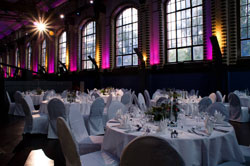 Experience Berlin's most unique event venue in the heart of Europe´s most vibrant city. The owner-managed event location Wasserwerk realizes all your individual desires. The stunning industrial building, with its over 100-years tradition, was completely restructured a few years ago and transformed into a very special location with a contemporary design. Experience an unique event in between historical machines whose charm surrounds your individualism. The heritage protection original Berlin building gives your event an exceptional framework and emphasizes the exclusive ambience.
Close up & Kitchen
This unique location offers you enough space (up to 1,000 m²) for your individual needs. Due to flexible furniture the event location Wasserwerk is the optimal place for your event – of course fully disability-friendly. Depending on the occasion of your event and number of persons, we can offer space for up to 450 guests for banquet and up to 600 guests in a party atmosphere between the charm of our impressive diesel engines. The existing water generators inevitably draw the attention of the guests. Even more creative space offers our 200m² outside area directly in front of the location.
Another special highlight is the integrated cargo crane, which seems to hover at a height of 9 meters above the guests. With a payload of up to 10 tons this crane is perfect for spectacular automobile presentations. However the Wasserwerk is also perfect for receptions and company anniversaries. Also, seminars, parties and exhibitions are held regularly. With a ceiling height of over 13 meters the location gives you plenty of room for inspiration and your individual event concepts. Enjoy the best drinks in town at our 30-meter long bar in the middle of the location, surrounded by stunning water generators.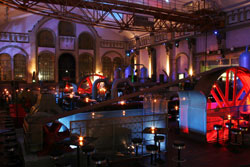 Our individual on-site service also includes partnerships with artist agencies and technical support for the impressive light and soundsystem. Elaborateness illuminations create atmospheric effects, which leaves a long lasting impression on your guests. We are happy to recommend unique aerial acrobats, DJs or bands – suited to your needs.
The in-house catering with our open kitchen offers a variety of culinary options. Whether as a buffet with BBQ, a personalized menu or flying finger food, the event location Wasserwerk convinced you of Berlin regional cuisine to international World Food. We create for each event an unique menu concept, tailored to your needs. A friendly all-round service is self-evident.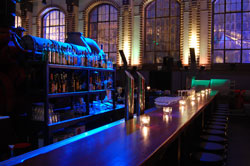 Specials & References
Very popular for our international customers is the all-inclusive special offer. For example, in the period from 7pm to 1am or six hours of your choice, we will offer everything at a fixed price. The food and beverages, the room rental fee and the service personnel, all services are included and you can happily enjoy your event. We ensure to provide you one single contact person, starting from initial inquiry up to your satisfaction at the end of your event. Every single event is individually tailored to the needs and desires of our customers. We are happy to put together a customized quote for your event in the Event Location Wasserwerk.
For over 10 years we inspire our clients from various industries such as automotive, fashion and sports, pharmaceutical and telecommunications industries, film and media industries as well as universities, life sciences, government departments, consulting and insurance industries.
Summary
Individual room concepts, a light and sound system in a class and a customized menu concept realizes the most extraordinary wishes. Experience pure individualism and be surprised by a unique location.
Our philosophy combines event and dinner at one location. Culinary expertise and an unforgettable gastronomic experience in a very stylish ambience.
Welcome to the Wasserwerk Berlin. We'll be happy to do whatever we can to ensure that your event is a great success.