Castilla La Mancha, the best connection
" when the renowned knight Don Quixote of La Mancha, quitting the lazy down, mounted his celebrated steed Rocinante and began to traverse the ancient and famous Campo de Montiel; which in fact he was actually traversing."
(DON QUIXOTE DE LA MANCHA, Miguel de Cervantes)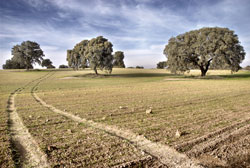 The image of a vast plain comes to mind when we think of Castilla-La Mancha. Its plateau and geographical situation in the middle of the Iberian Peninsula have historically made this region a natural crossroads for transport and commerce between Madrid and the South Coast.
Lately, transport conditions in Castilla-La Mancha have dramatically improved thanks to a new road and rail infrastructure, and the region now has one of the best transport networks in Europe. As well as transport, production and distribution processes have also changed in recent years. The Spanish population tends to be concentrated in big cities such as Madrid and cities on the coast, and urban consumers are becoming more demanding with regard to products and services. Quality, variety and timing are all issues.
Castilla-La Mancha encloses much of the Madrid region, the major consumer centre in Spain, which makes it a very interesting destination for logistics companies dealing with consumer goods and agri-food products, many of which, including wine, are produced in Castilla-La Mancha. In addition, as a result of the increasing use of new technologies among consumers, e-commerce has experienced a boom and has led to an urgent need for more logistics and supply facilities located close to consumer centres in order to optimise timing and costs.
In Spain, goods are usually transported by truck. So it goes without saying that the quality and interconnectivity of the road network is extremely important for logistics. Spain's transport network has a spider web structure, with radial motorways starting from Madrid and extending to the different points around the coast of the peninsula as well as ring roads interconnecting the different radial motorways. This positions Castilla-La Mancha as a natural extension to metropolitan Madrid. Not for nothing do four of the six motorways radiating from Madrid pass through Castilla-La Mancha en route to the different locations of the Iberian Peninsula that have a connection to the main sea ports.
Axis Madrid Barcelona (A-2 Motorway)
The area in the province of Guadalajara on the road to Barcelona that is called the "Corridor of Henares" is the main logistics zone around Madrid. It is just half an hour's drive from Barajas International Airport. In this area, all the biggest logistics companies – DHL Supply, FCC Logistics, UTI, Luis Simôes, Cofares, Inditex, Conway and ID Logistics – have operations, and there is plenty of additional activity related to e-commerce distribution.
Railways also traverse the "Corridor of Henares" during intermodal transport operations. Azuqueca's dry port is a private rail infrastructure that operates as an inland maritime terminal, enabling goods (containers and general cargo) to travel from the seaports to the centre of Spain. In addition to production and distribution areas, there is a customs office and a temporary storage facility. There is a similar intermodal initiative near Guadalajara called the "city of transport" that combines road and rail transportation. This project is still under development.
Axis Madrid Valencia ( A-3 Motorway)
The logistics activity on this trunk road is mostly concentrated around the Tarancon area in the province of Cuenca. A company worth mentioning is Incarlopsa, one of the main Spanish suppliers of fresh meat in Spain. Also present is Docout, which provides documental outsourcing services in business processes and storage with a high technological component.
Axis Madrid Andalusia (A-4 Motorway)
This is the historical route from the centre to the south, and it crosses the biggest vineyard in the world. The logistics area is mostly to the north of Toledo province, particularly Ontígola, Borox and surrounding municipalities. This well-connected area has big plots available at competitive prices, and over the last decade companies such as Ceva, DHL and Gefco have set up big operations in Ontígola. Others such as Delfin Group, which produces frozen fish, moved its facilities to Ontigola because it could gain proximity to Madrid at competitive costs. Alloga, a logistics provider to the health care industry, is based in nearby Borox.
Further south, right in wine country, is Alcazar de San Juan, which has set up an interesting initiative to further its importance in rail transport. It was once the second most important rail hub in Spain and is now returning to its former glory, taking advantage of the new road and IT infrastructures. In fact, the EU has declared Alcazar de San Juan Alcazar a priority logistics node within the strategic Trans-European Goods Network.
Axis Madrid Portugal (A-5 Motorway)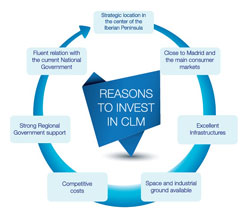 This is an interesting option that allows for access to Portugal, and such companies as Senoble, a French dairy producer, have chosen this axis, namely Talavera de la Reina, as the location from which to expand its business in the Iberian Peninsula.
Besides these four main national motorways, there is another that connects Madrid to Toledo, the capital city of Castilla-La Mancha. On this motorway, the A-42, just 35 km from the centre of Madrid, is the city of Illescas which hosts the production plants of the major players in composites for the aerospace industry, including Airbus, Airnnova and Hexcel. At the same time, Illescas has a unique and vast logistics development named Iberum Central Platform, which has a surface area of over 3.5 million sqm and is the most environmentally friendly and sustainable industrial space in Spain. This space is currently a demonstration project for the EU LIFE + programme, which means that companies establishing operations there are eligible for subsidies.
These are not the only these logistics locations in Castilla-La Mancha. Connectivity has been improved between different radial motorways and major cities, and the further you go from Madrid, the more competitive the price of industrial land becomes. Every business has specific needs for its customers and suppliers. At Invest in Castilla-La Mancha, we will help you to find the most suitable location for your business.
And why Castilla-La Mancha, Spain?
Despite the current economic situation in Spain and Castilla-La Mancha – and perhaps because of it – there are interesting investment opportunities. The dramatic fall in real estate prices and a more competitive labour force are attracting the attention of foreign investors. With these more competitive conditions and all the structural reforms in the country, Spain should soon be out of recession. This is, after all, one of the largest countries of the European Union in terms of population. There are many multinational companies in Spain, which is a reference in tourism as well as infrastructure and clean technologies, with special links to South America for historical and cultural reasons.
At IPEX-Invest in Castilla-La Mancha, you will be given all the information and support you need to do business and keep your business going in our region.