Geared to expansion: Leonardo Hotels expands its portfolio with additional hotels and destinations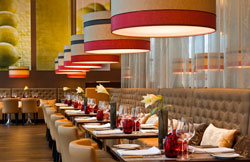 In one of Europe's largest hotel deals in recent years, in April 2013 the Israeli hotel chain Fattal Hotels Group acquired the 20 former hotels of the Queens Moat Houses Holding GmbH Germany, including 15 Holiday Inn Hotels, four Best Western Hotels and one Queens Hotel.
The hotels for which an extensive renovation program has been started, are located in Berlin, Munich, Düsseldorf, Frankfurt, Cologne, Hamburg, Heidelberg, Wolfsburg, Mannheim, Hanover, Baden-Baden, Aachen, Mönchengladbach and Karlsruhe. They perfectly complement the existing portfolio of Leonardo Hotels which make up the European division of Fattal Hotels Group.
David Fattal, founder and CEO of the group, started his professional career at the age of 27 as a General Manager for the prestigious Dan Accadia Hotels in Herzliya. After several managing positions, he took over the direction of the Africa Israel Hotels & Resorts Ltd. Thanks to his leadership the concept of franchise of the international hotel brand »Holiday Inn®« was successfully introduced in the Israeli market.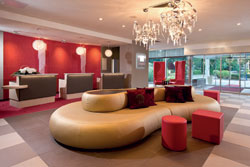 In 1998 David Fattal started his own business, the Fattal Hotel Management Group and opened the first hotel of the chain,
Le Méridien Hotel Eilat. In 2005 Fattal Hotels undertook an expansion project of its hotel portfolio investing in properties located in Europe: Leonardo Hotels was founded as the European division of the group. Nowadays the hotel chain boasts with more than 80 Hotels in Israel and Europe, including 54 properties with more than 8,400 rooms located in Germany, Belgium, Austria, Switzerland and Hungary.
Leonardo Hotels stands for hotels in the 3-4 star category with a regional character and a local touch. The various hotel brands are as individual as the requirements of hotel guests. The Leonardo Hotels, for example, are designed to cater to the special requirements of business travellers as well as those of event participants, travel groups or weekend travellers, while the »Leonardo Boutique Hotel« lifestyle brand stands for smaller hotels that have a captivating appeal primarily created by their exclusive furnishings and individual flair.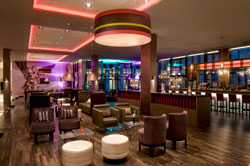 Through the new deal, the opportunity to further develop the brand »Leonardo Royal Hotel« has been created – the former Holiday Inn Düsseldorf City Centre-Königsallee, as well as the former Holiday Inn Köln – Am Stadtwald and the former Best Western Queens Hotel Baden-Baden have been re-branded to Leonardo Royal Hotels. The brand has been designed to provide an experience of hospitality and high level individual service in a relaxed atmosphere. The brand's typical style is defined by an innovative design combined with tasteful interior and a harmonious colour concept. As the leading interior designer, Andreas Neudahm is responsible for the interior design of many Leonardo projects.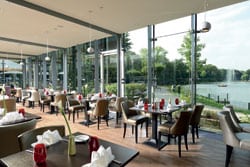 He has created the individual and premium design style for the three new »Leonardo Royal Hotels«. Leonardo Royal Hotels are the perfect ambience for any occasion, too. Modern function rooms and impressive »Royal Ballrooms« turn every event into a memorable experience. There are various possibilities to turn event ideas into reality.
With the »women-friendly rooms« the Leonardo Royal Hotels present rooms which have been designed with today's travelling business women in mind. The rooms offer exclusive room fittings with soft pillows, cosy blankets and fine upholstery. Beside power hair dryers, portable make-up mirrors and safe parking spaces for women, many other special amenities ensure an excellent service and a high level of comfort.
<