Cascais – On the Money for Business Tourism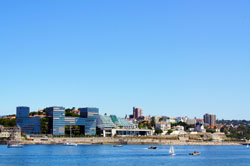 Located right on the central western Portuguese coast just a short drive from Lisbon, Cascais is steeped in history and offers some of the best locations for business tourism in Europe. In Cascais, history, archaeology, architecture and natural beauty combine to create a compelling locale that has enjoyed centuries of popularity. Visitors flock from all over Portugal and beyond to sample the gastronomic delights of its fish restaurants, mingle with the rich and famous in its sparkling new marina and relax on its golden sandy beaches.
Sounds like a great spot for a business event, right? Cascais offers a wealth of accommodation for every budget and taste. Whether you are looking for a town-centre location, a dazzling view of the marina, luxury on the golf course or an isolated seafront setting, hotels in Cascais cover all the bases. There are stately homes and cottages belonging to a bygone age, and there are modern luxury hotels offering every amenity and designed with comfort in mind.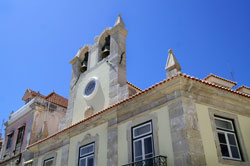 One such hotel is the five-star Cascais Miragem, which offers luxury accommodation right on the shores of the Atlantic Ocean and is just 25 minutes' drive from Lisbon Airport. The conference centre at the Cascais Miragem offers everything needed to guarantee the success of a business event. It has the latest technology and audio-visual equipment in 18 meeting rooms and two banqueting rooms. With capacity for up to 800 people, the Miragem has the largest hotel meeting space in the Lisbon area.
The conference centre at the Cascais Miragem offers everything needed to guarantee the success of a business event.
On the floor where most of the meeting rooms are located, visitors can relax at the Oceanus Bar, which overlooks the ocean and is the ideal place to relax after an event. Thanks to a large direct-access area adjacent to the parking facilities, it is possible to bring big objects such as cars inside the meeting rooms. This flexibility gives the Miragem the ability to turn dreams into reality. The hotel is also famed for its in-house Zensations Spa, and for guests who prefer a little more activity, the hotel offers a gym incorporating workout equipment, fitness studios and an indoor heated pool along with a jacuzzi, sauna and Turkish bath.
The Hotel Cascais Miragem is perfectly situated between Portugal's favourite royal destination, Estoril, and Cascais. This is the perfect spot to down tools, relax and enjoy some pampering and luxury. Kilometre after kilometre of rugged golden coastline provide an ideal playground for delegates after the meeting is over. There are a number of Cascais boat trips available to tourists, from shore-hugging sightseeing trips to deep-sea fishing extravaganzas some 25 miles off shore. Deep-sea fishing trips from Cascais are suitable for both beginners and those who fish regularly.
The beaches in Cascais and the surrounding area are amongst the best in Portugal. Long stretches of golden sand, rocky outcrops and secluded coves characterise the shoreline, offering visitors plenty of choice when deciding where to spend their day in the sun. Heading west from Cascais the landscape becomes more wild and rugged as the sandy beaches and rocky outcrops head towards Portugal's most westerly point. Surfing and windsurfing are popular here and could be a great option for the more adventurous conference delegate.
Portugal has long been associated with golf, with players from all over Europe and beyond visiting to work on their handicap, practice their swing and try and secure that elusive hole in one. If you are wondering what all the fuss is about, why not try the golf in Cascais, where the courses are amongst the most diverse in the country? Prefer shopping to sport? Shopping is almost a professional pastime in Cascais, with plenty of money, old and new, in evidence. The area is known for its artisan craftworks. Basket ware, ceramics and embroidery are hugely popular and have a strong tradition.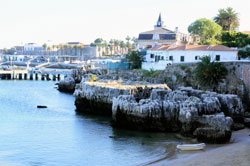 Explore Cascais and you will find the keys to unlocking the secrets of Portugal's regal past, but there are also many aspects of the locality that represent the country's exciting future, especially its art and gastronomy. Take a wander through the Old Town to the fish market, where you can indulge in a couple of fresh oysters before heading to the municipal market to admire the bright, colourful displays of fresh local fruit and vegetables on sale at knock-down prices. Delicious fresh bread, olives and other tapas-style snacks will set your mouth watering and leave you clamouring for more.
Eating at the Hotel Cascais Miragem is also quite an experience. The hotel's sushi bar is the perfect spot to finish your tour of Cascais gastronomy. Here you can sample some of the tasty local fish and seafood with a delightful oriental twist in bite-size portions of sushi and sashimi that won't go straight to your waistline. Get involved!