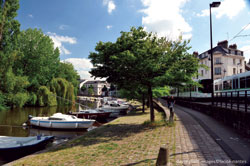 Nantes European Green Capital 2013 will host the 10th edition of Ecocity from 25 to 27 September 2013. The World Summit on Sustainable Cities, bringing together 2,000 experts, will be followed by the 3rd World Mayors Summit on Climate Change, on 27 and 28 September. Urban space will be given a central place in the discussions on sustainable development. Key global announcements will be made and workable solutions proposed on that occasion. Common theme : « Accelerating change ».<
A leading event on the international agenda
One year after Rio+20, Nantes Métropole is reaching out to the world. Designated European Green Capital 2013 for its ongoing commitment to sustainable development and with ECOCITY from 25 to 27 September, Nantes will be the world capital of sustainable cities. The summit, held in the European Union for the first time since its foundation, is very closely linked to the 3rd World Mayors Summit on Climate Change, organized in Nantes on 27 and 28 September.
It opens a crucial round of international negotiations in which cities, with more than half of the world's population, are at the forefront. Representatives coming from 290 cities among the most committed to reducing their GHG emissions are expected in Nantes. The ambitious goal is to build the foundation to the crucial decisions that need to be taken by 2015-2016, for the next decades: the battle against climate change, Sustainable Development Goals and Habitat III… Ecocity will issue key global messages.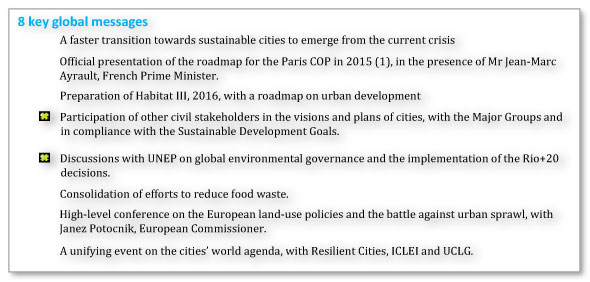 Cities: a key role in environmental degradation and workable solutions
While the crisis tends to overshadow the necessity for sustainable development and curb initiatives, Ecocity will show that, on the contrary, sustainable development is the solution to emerge from the crisis.
In May 2013, the CO2 concentration reached 400 ppm. The water- and biodiversity-related indicators have also reached critical thresholds. Cities are responsible for the damage. In the context of an environmental, financial and societal crisis, they crystallize the challenges of sustainable development: water, food, energy, waste, transport, housing… How can cities initiate and accelerate their ecological transition? How can they deploy local or global solutions on the scale of these challenges? Where can they find the means?…Cities have the answer. Ecocity aims to propose concrete and workable solutions, easy to implement worldwide.
A meeting place for the world's leading stakeholders
Elected officials, researchers, business people, financiers, association leaders… the key stakeholders and driving forces of the sustainable city will come from all parts of the world. Around 2,000 experts will discuss their solutions and share their experiences with a dual aim:
To build a common sustainability culture, on a collaborative basis, necessary for the adoption and the implementation of such large-scale solutions.
To organize and facilitate dialogue between the advocates of the European urban development model and their counterparts in other continents.