Hot Dam – It's In the Top Five!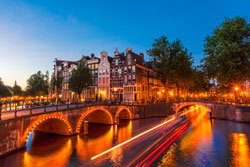 What is the single most important factor to consider when organising a business meeting that will make a lasting, positive impression? The answer lies in the location. A successful meeting always begins with a wonderful setting, and the geographical position and professional reputation of Amsterdam allows it to be a hugely influential city in the Netherlands, Europe and further afield…
Situated in the heart of Europe and known as a major financial and business capital, Amsterdam falls within the top five best European cities in which to do business. Home to the world's first international corporation and stock exchange, this trail-blazing metropolis is definitely not new to business. Mixing traditional and modern, Amsterdam offers historic architecture with pioneering technology, while commerce, culture and art can be found in abundance. Offering a central location, a unique ambiance and more canals than Venice, Amsterdam pitches a perfect balance of work and play.
Situated in the heart of Europe and known as a major financial and business capital, Amsterdam falls within the top five best European cities in which to do business
Not content with the vast amount of 17th-century canal houses on offer and want to find a setting that is a little out-of-the-ordinary? Amsterdam, with its unusual architecture and inspired buildings, is just the place to motivate, helping to rouse that all important professional, productive and proficient atmosphere. Architects are constantly at work, trying hard to outshine each other with their attention-grabbing building designs and projects. It is this remarkable architectural style seen at the Eye Building, the Stedelijk Museum and the Nemo that makes Amsterdam really stand out and sets it apart from other European locations for meetings, conferences and business events. These buildings illustrate that meeting rooms no longer have to be dull, dismal and dreary.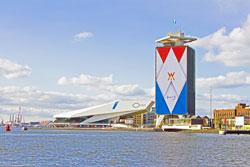 The Eye Building is located on the waterfront, across from Amsterdam Central Station, and it has four film auditoriums ranging in size from 67 to 315 seats. A free ferry service runs visitors across to the Institute. The space-age design is the work of Viennese architects Delugan Meissl, and the 'Room with a View', with its large floor-to-ceiling window, lets you see the river IJ in all its glory.
Designed by Mels Crouwel of Benthem Crouwel Architects and named 'The Bathtub' by locals, the new annex attached to the Stedelijk Museum measures 10,023m2 and virtually doubles the museum's floor space. Guided tours are readily available, and exhibitions and art are continuously on show. If your business event is scheduled before January 2014, you will get the chance to view over 300 works by one of the most influential living artists, Lawrence Weiner, during your break.
Nemo, a building resembling a ship emerging from the water, is another interesting piece of architecture and well worth a visit. Found on the edge of the Docklands, a mere 15-minute walk from Central Station, it is the largest science centre in the Netherlands. Designed by renowned Italian architect Renzo Piano, it is an inspired building open to meetings and corporate events. Various rooms including The Captain's Cabin or The Nemo Theatre are available depending on the size, shape and requirements of your event. Amsterdam has always attracted international attention with original and fresh architecture and design, and hotels in the area are not to be outdone.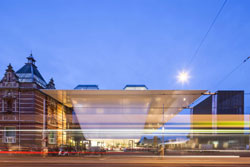 The WestCord Fashion Hotel Amsterdam with its luxurious design rooms is right at home facing the World Fashion Centre in the Leidseplein district, a 10-minute trip from Schiphol Airport. However, this hotel was not mentioned solely because of its appealing proximity. Offering hi-tech facilities, four boardrooms and seven dedicated meeting rooms, each named after famous streets such as Rodeo Drive and the Champs-Elysees, the WestCord Fashion Hotel Amsterdam is a hit. Providing varying event spaces from 16m2 to 256m2, including banquet facilities and meeting rooms, this chic hotel offers the whole package under one very stylish roof. A restaurant with a terrace and a tenth-floor cocktail bar provide sweeping city views, while the indoor pool, saunas and Turkish steam room offer post-meeting relaxation.
Amsterdam holds a sought-after place within the top ten most successful congress destinations worldwide, according to the International Congress and Convention Association. This encouraging result is due to numerous undertakings including the extension of the RAI Exhibition & Convention Centre and the signing of the European Society of Cardiology Congress in 2013.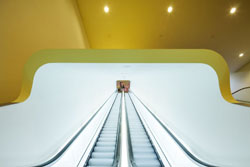 The Dams business reputation is going from strength to strength. Just ask one of the 300,000 additional people that participated in conventions in the city in 2012 compared to 2008. Or better still, find out for yourself and book a flight to Schiphol Airport and discover this strong, prosperous meeting destination for 2013 and beyond.
The Amsterdam Convention Board (ACB) is a free service that offers help and advice to ensure your time in Amsterdam is productive and worth every Euro.