Madrid – Meetings, Majesty and Museums
Madrid, a sleepy backwater town until 1561 when King Philip II declared it the capital of Spain, is now the third-largest city in the EU and a thriving centre of business. Spain was Europe's leading power throughout the age of discovery in the 16th and 17th centuries, a position underpinned by trade and wealth from colonial possessions. Prosperity flowed into Madrid, and a period of exceptional cultural brilliance began. Today, Madrid possesses a modern infrastructure, but it has preserved the look and feel of many of its historic neighbourhoods and streets. Moreover, the city has earned its place among the world's leading meetings and incentives destinations.
Madrid's accessibility is one of its many advantages. It is served by highly developed communication and transport infrastructures, making it the leading logistics hub for both Spain and all of southern Europe. It has an abundance of highly-qualified employees, which along with its excellent location, has made Madrid the financial centre of Spain, with many international companies and banks having their Spanish headquarters there. It has approximately 80,000 bed spaces and some of the Spain's top convention hotels, congress centres and tradeshow halls.
Madrid experienced a 140% increase in the number of conventions held in 2012 and a 58% increase in national and international congresses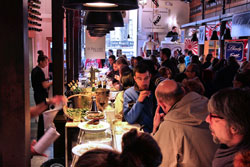 Madrid experienced a 140% increase in the number of conventions held in 2012 and a 58% increase in national and international congresses. The city has just achieved, for the first time in its history, fourth place in the prestigious International Congress and Convention Association (ICCA) ranking. The city hosts more than 6,000 conferences and conventions each year. Madrid has now overtaken Barcelona, thus becoming Spain's top congress tourism destination. It has also surpassed London and Singapore, while Vienna, Paris and Berlin take the top three places in the ICCA ranking.
The Madrid Visitors & Convention Bureau is the entity responsible for promoting Madrid around the world for business tourism. According to the bureau, some recent highlights among the events staged in Madrid were Sapphire TechED (10,000 delegates), the IPSA World Congress of Political Science (4,000 delegates), the National Environmental Congress (4,000 delegates) and the Congress of the Spanish Society for Pneumology and Thoracic Surgery (2,500 delegates). The future International Convention Centre, located in the new financial and business area in the north of Madrid, will provide Madrid with the largest and most avant-garde convention centre in Spain.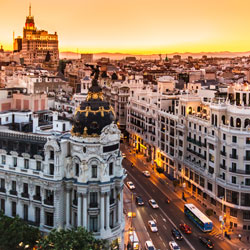 Madrid has enhanced its accommodation offer in order to compete with other European capitals, increasing its hotel supply year after year. The city wants to focus its tourism on visitors with middle/high average purchasing power, and four- and five-star hotels represent the most important growth area. Moreover, the economic crisis has forced hotels to reduce their prices. Madrid is one of the cheapest capitals in Western Europe, in contrast to more expensive London, Paris or Rome.
Whether it be a congress, business incentive or meeting, everything is possible in Madrid. With a broad and eclectic range of cutting-edge facilities, the city caters to all tastes. In addition to its conference facilities, the city has world-class museums – the Prado, Thyssen-Bornemisza and Reina Sofia. The Reina Sofía is currently presenting a great retrospective exhibition on Salvador Dalí featuring 200 artworks. Meanwhile, the Thyssen-Bornemisza is showing the first monographic exhibition in Spain on Impressionist painter Camille Pissarro. With more than 70 works, the museum aims to restore his reputation by presenting him as one of the great pioneers of modern art.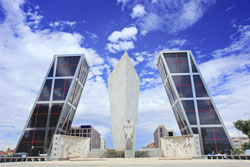 In addition its museums, Madrid has a full cultural programme of plays, operas and concerts of all kinds. The city has numerous magnificent monuments, with the historic centre and the Pardo Royal Palace being a must for all visitors. Additional attractions include top-class bullfighting festivals and football at Real Madrid's famous Bernabeu stadium. Talking of sport, Golf La Moraleja offers a Jack Nicklaus-designed golf course plus a range of other activities in the affluent La Moraleja district of Madrid.
Madrid has an incredibly large selection of restaurants for all budgets, from famous eateries serving the best in Spanish signature cuisine to fast-food outlets. No visit to the city is complete without a tour of the centre's traditional bars and taverns for tapas accompanied by draught lager or vermouth. The Madrid Visitors & Convention Bureau organises a tapas tour of some of the most emblematic restaurants and taverns in Madrid, including the Museo del Champiñón, Museo de la Tortilla, Las Cuevas de Luis Candelas and Taberna de Alabardero.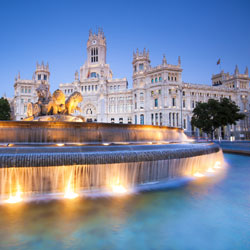 Madrid is charming in many ways, but there is one detail that makes it unique: There are nine UNESCO World Heritage locations situated just two hours away from the city. The monastery and royal site of San Lorenzo de El Escorial was the political centre of King Philip II's empire. Here, he established his palace, library and familial pantheon. He also constructed a large basilica and founded a monastery. The architectural ensemble, which was completed in 1562, is located some 50 kilometres from the capital in the Guadarrama mountain range.
The Aranjuez cultural landscape is located to the south of the Region of Madrid. The city of Aranjuez is a wonderful fusion of architecture and nature where the Royal Palace and the historical gardens are combined with tree-lined avenues, orchards and thickets. Alcalá de Henares was Miguel de Cervantes' birth place – travellers can visit his museum House in the city – and it boasts a university that was constructed over 500 years ago. The city also displays other important monuments like the Catedral Magistral (Magisterial Cathedral), the Colegio Mayor (Halls of Residence) and the Chapel of San Ildefonso.