Dublin: Gateway to Europe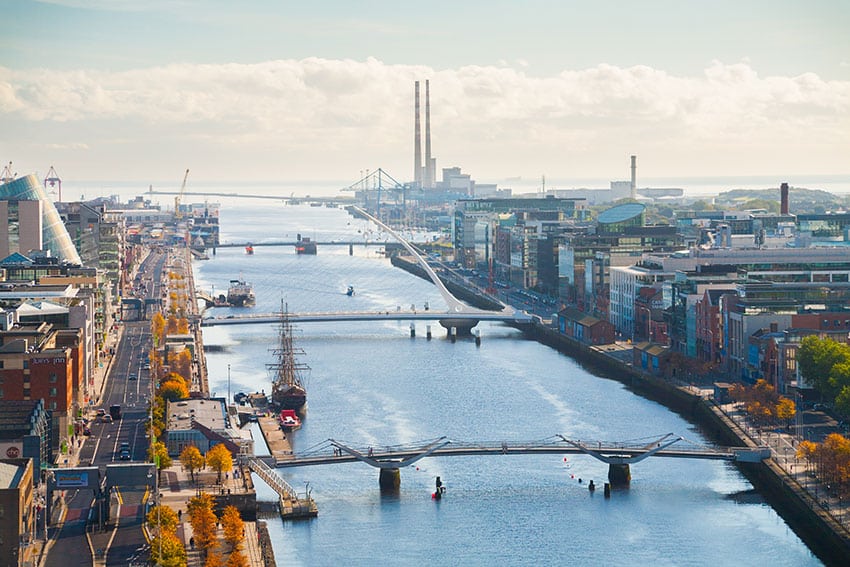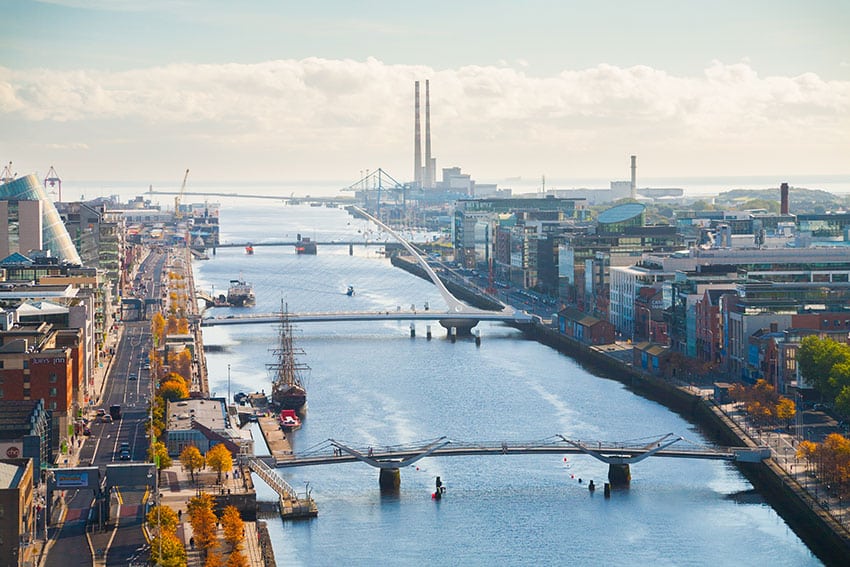 Once considered something of an outpost in a mostly forgotten corner of Europe, the capital of Ireland and chief driver of the country's economy is now seen by many as the gateway to the continent. With the worst ravages of the global recession, which hit the Celtic Tiger so hard, seemingly behind it, Dublin has become an innovative, efficient global FDI hotspot and trade hub to be reckoned with.
FDI
Currently placing third and moving up in the FDI European City of the Future 2016/2017 rankings, it's clear this compact Western European metropolis has much to offer the astute investor, with the software and IT sector showing particularly strong in the stats. So much so, in fact that Dublin Docklands has had bestowed upon it the moniker of "Silicon Docks", given the large volume of major US tech companies the city has managed to attract there, a trend that shows no sign of abating.
Yet, it's not just tech companies seeing opportunity here. The banking, insurance and wider financial sector are also here in numbers; so too the pharmaceutical industry. With Dublin scoring highly on the economic potential, business friendliness and FDI strategy fronts as well, these businesses see having a presence here as a "no brainer", whether they're looking to expand, relocate or establish a new business.
While these investors are certainly drawn to Dublin's educated workforce, the legendary hospitality of its people and the city's "can-do" entrepreneurial attitude, it's fair to say that Ireland's benevolent corporate tax environment is right up there too on the list of reasons. That said, in isolation, low corporate tax liabilities would unlikely prove sufficiently compelling to attract the large numbers of international heavyweights Ireland's capital can point to. Rather, it's the complete package that sees a myriad of government agencies providing essential financial aid and support, and the city working as a perfectly oiled machine to ensure Dublin and Ireland's stock continues to rise, and the country maintains its pre-eminent status as Europe's fastest growing economy.
"Some half of Ireland's trade is handled by Dublin Port, which stands proud in the heart of the city."
Brexit-Resistant
As a fully fledged member of the European Union, Ireland has direct access to some 500 million customers. It comes as no surprise then, to discover that the bloc constitutes the country's key partner, accounting for about 60 percent of total trade for this traditionally export-oriented economy, which has posted regular trade surpluses since the 1980s. Approximately 75% of this figure is with continental Europe, such that the United Kingdom's recent vote to leave the EU, while undoubtedly introducing a level of uncertainty into the equation, is unlikely to prove as significant a hammer blow as some had feared. It is, in fact, quite possible the turn of events could prove to be beneficial to Dublin and the wider Irish economy.
The recent recession hit Ireland harder than most, and, after a brief period of soul searching, compelled the country to adapt to a much-changed landscape. In so doing, many Dublin-based firms sought and successfully penetrated new markets for their products and services, and are likely to be just as resilient and innovative in their strategic thinking on this occasion, should the need arise.
With the UK apparently in existential crisis following its vote for Brexit, Ireland's star is set to rise further, since it will soon be the sole country in the European single market with the international language of commerce as its mother tongue. Its continued EU status could well see Dublin able to attract the best of the continent's talent to add to the international melting pot already working out of the fair city, and strengthen further its credentials to would-be investors seeking predictable and favourable trading conditions with Europe. It would seem Dublin is well on its way to reversing the brain drain which marked the lean years.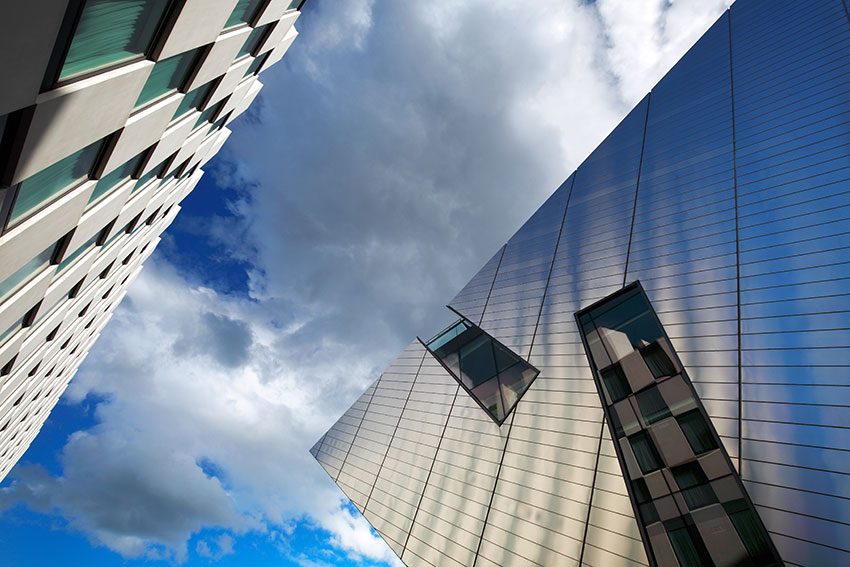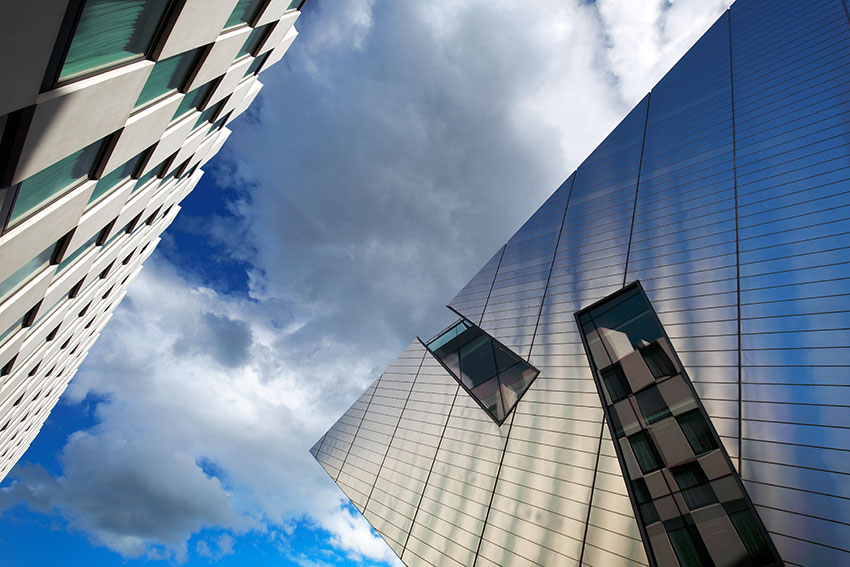 Moreover, Dublin's open door policy for jobseekers is likely to positively impact the city's office occupational market and see an increased demand for housing in the city centre, thereby spelling good news for the residential and commercial property sectors and the construction industry.
Equally, the financial services sector in Dublin could be about to experience a boost, as it looks to capitalise on potentially adverse trading conditions in the UK for servicing Euro financial markets, and leverage its established credentials, geographical proximity to the UK and common law system, on top of its inherent language advantage.
In addition, the UK has, to date, invested heavily in Ireland, third only to the US and Germany, and there is little reason to think that this state of affairs will change. Should it do so, however, increasingly strong links with the likes of China will likely see any slack picked up. Home grown investors too, could look to increase activity in the domestic Irish market.
For those worried about restrictions on trade and movement between the UK and Ireland post-Brexit, which may impact Dublin's fortunes, it's hard to see how this would be in the UK's interest, whether economically, politically or socially. Moreover, with Northern Ireland having voted overwhelmingly to Remain in the EU, any UK government playing hardball could end up delivering a united Ireland, which would mean Dublin likely soaking up even more trade and investment, being the principal portal into and out of the country.
Dublin Port
Some half of Ireland's trade is handled by Dublin Port, which stands proud in the heart of the city. It is located either side of the mouth of the River Liffey on land recently valued at between €25 billion – €30 billion. Operated, managed, controlled and developed by the state-owned Dublin Port Company, it provides excellent strategic transport links to the wider Dublin and national region.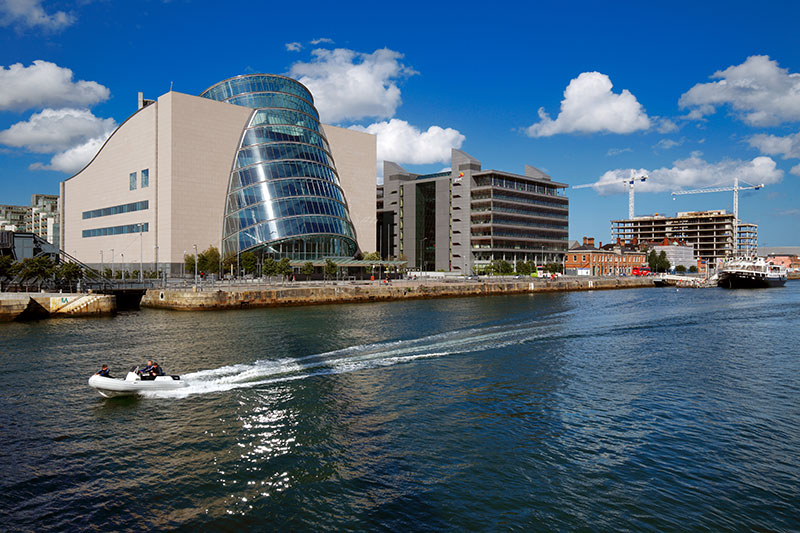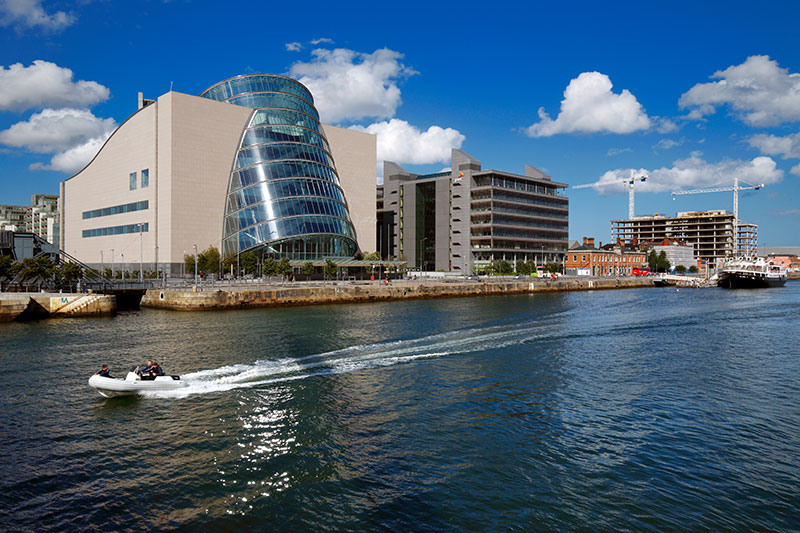 While its main activity centres around the unitised cargo sector, where the lift-on, lift-off and roll-on, roll-off elements account for over 80% of trade, Dublin Port also runs ferry services to Holyhead in Wales, on which route runs the world's largest car ferry, Irish Ferries' MV Ulysses, as well as services into and out of Liverpool and Heysham in Northwest England, and the Isle of Man. Other operators include Stena Line, P&O Irish Sea, Seatruck Ferries, the Isle of Man Steam Packet Company and CLdN. In addition, the port acts as a docking area for cruise liners, assisted by its "Cruise Ireland" initiative, such that, cumulatively, the port handles almost 2 million tourists a year.
Dublin constitutes the largest of Ireland's base ports, exporting 42% of the country's GDP. It offers multi-modal services with connections to transhipment ports such as Rotterdam, and provides comprehensive liquid bulk, dry bulk, oil bunkering and break bulk facilities. Its understanding of the prevailing winds of the day is clearly evidenced in the way in which it has proactively embraced sustainable development and voluntary international commitments under the World Ports Initiative.
With both solid financials and prospects for growth, Dublin Port Company is now looking to realise the next stage of its ongoing self-funded expansion plans, informed by the Dublin Port Masterplan, which addresses how best to develop in harmony with all stakeholders. In this way, Dublin is set to reinforce further its credentials as Europe's western gateway.