A place where industrial innovation reinvents the economy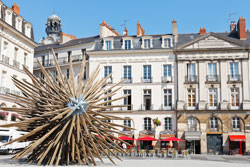 More than a place, it's a state of mind where ideas take control, where a collective approach is paramount; a place that creates the industrial intelligence of tomorrow.
If we were to choose 3 reasons for you to invest in Nantes-Saint-Nazaire we would pick:
1. A dynamic economy and a diversity of activities
Global industry leaders
Advanced manufacturing technologies
Airbus, Aerolia, Daher, Spirit, Arcelor
Shipbuilding industry
DCNS, STX
Marine renewable energy
Alstom Wind power, Alstom Ocean Energy, DCNS, STX Europ, EDF-EN
Expanding economic sectors:
Digital economy
Green economy
Design, culture and creative industries
Exceptional quality of life
Consistently at the top of the French rankings of the best cities to live in, Nantes-Saint-Nazaire is known for providing the best amenities for family life. The cities are the perfect size for balancing work and home life. Nantes Saint-Nazaire (800,000 inhabitants) has one of the highest population growth rates in France: there will be 150,000 more people by 2030.
3. A region connected to the world
• Nantes-Saint-Nazaire Port
With an annual external traffic volume of 30 million tonnes, Nantes – Saint Nazaire Port is the leading port along the French Atlantic shoreline and the fourth largest major seaport authority. Every year, the port facilities at Nantes – Saint Nazaire receive over 3,000 visits by merchant ships. Logistics activities generate 16,000 jobs in the Loire Estuary region, and in total they create €27 billion in added value.
• Nantes Atlantique Airport : top international airport in western France
22 direct national destinations
42 direct international destinations
Connection to the main international hubs, including Paris, Lyon, Amsterdam, London, and Milan
87 destinations, 35 of which are in Europe
• TGV: Fast and easy rail links within Europe
22 return trips to Paris daily

Saint-Nazaire hosts the leading naval industries in France (2,000 employees), which means know-how and skills in the fields of welding, mechanics, and metallurgy. The region also offers the most innovative engineering R&D solutions in structural design, interior design, and automation, among others. Thanks to its excellent infrastructure (docks, a large gantry and wharf), the city is ready to welcome the development of the XXL industry that characterises the renewable marine energy sector. Nantes Saint-nazaire is the second most important region in France for the civil aeronautics industry. Airbus has facilities both in Nantes and Saint-Nazaire (4,800 employees). Saint-Nazaire also has also a strong history in the mechanical industries and materials.
A place where research is shaking up industry
Nantes-Saint-Nazaire has a great concentration of grandes écoles and higher level institutions famous for training engineers for industry: Centrale Nantes, among other thing, has a hydrodynamics and ocean engineering research team as well as a range of unique equipment:
− A towing tank (148m long, 5m wide, 3m deep) equipped with a wave maker.
− A multi-flap wave maker with 48 independent flaps that can create multi-directional waves up to 1m high.
− SEM-REV: An offshore station equipped with oceanographic instrumentation and electrical facilities that links the offshore system to the coast; there is also a shore-based station for monitoring experimental data that can host staff and equipment.
Jules Verne Manufacturing Valley is a research and development institute dedicated to manufacturing, training, and developing skills. It is the result of a very innovative public-private partnership between some of the biggest national industries. Its technologic platforms specialising in complex composite and metallic materials, virtual reality, augmented reality are open to SMEs and SMIs.
A unique concentration of activities linked to renewable maritime energy Numerous maritime companies specialising in renewable marine energy have their headquarters and offices in Nantes-Saint-Nazaire. These include Natural Power, Mojo Maritime, Alstom (soon to be General Electric's future headquarters, creating 200 jobs), WPD, Blue Water, and IDEA.
A new way to outsource and create industrial partnerships: Neopolia is a vibrant business cluster (168 industrial companies, of which 80 are working within the renewable maritime energy sector) that aims to generate additional turnover for its members by working collaboratively with outsourcers. Neopolia offers a new way for industrial business leaders and SMEs to cooperate and address new markets. It groups companies that pool their expertise and collaborate in order to respond innovatively to the needs of the renewable maritime energy market. Enjoying geographical proximity to the Atlantic Ocean and the port facilities at Nantes Saint-Nazaire, the companies offer solutions in six areas of expertise:
− offshore wind and tidal turbines
− foundations and steel turbines
− offshore substations
− tooling for transport and manufacturing
− operation and maintenance
− windfarm support vessels
Advanced education and training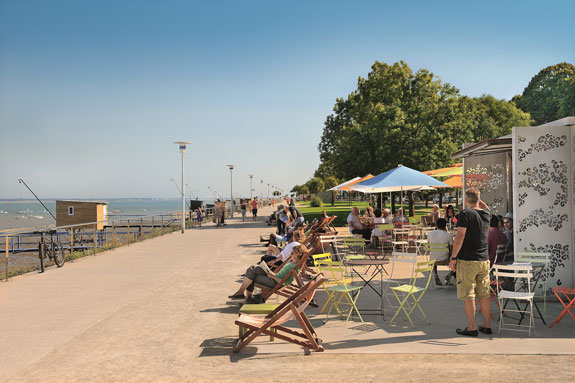 There are 55,000 students, 6,000 skilled students in the maritime sector. There are 77 educational institutions that fulfill every need of renewable maritime energy sector, from the highest grandes écoles to the basic technical degrees, including University of Nantes, Centrale Nantes, Polytech Nantes, and Ecole des Mines. A degree in maritime renewable energy is available offshore plant team leaders in Saint-Nazaire
Marine renewable energy projects in France
Bottom-mounted offshore wind turbines
Two rounds of call for tenders were launched in 2011 and 2013, and six locations were selected. 3,000 MW will be installed in 2020. The six wind farms are the first of several power plants and will create 1,000 direct jobs in the Nantes-Saint-Nazaire! These first rounds of tender will be followed by a third round in June 2015, creating a national industrial base and breathing new life into shipping and port activities while creating several thousand jobs.
Floating offshore wind turbines
In December 2014, the French government announced the launch of a call for expression of interest for June 2015. This is the first step of the development of this technology in France, which has strong public support, and it will lead to new investment, R&D projects and jobs prospects in the coming months.
Tidal stream turbines
In December 2014, the French government chose through a call for expression of interest two candidates (Alstom Ocean Energy and DCNS) to equip the raz Blanchard tidal pilot farm with seven turbines. The sea-based project is slated to begin in 2017 and is expected to operate for a period of 20 years.