Greater Lima, Ohio . . ."Real American Strength"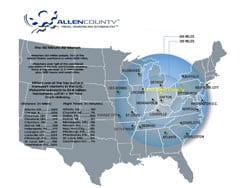 Lima, Ohio's heritage has been a center for manufacturing with a dynamic workforce, excellent quality of life, transportation access and a pro-business climate. Home to strong global companies, distinctive attractions, unique local eateries, cultural activities and so much more make for great site location. Situated in Northwest Ohio at the crossroads of Interstate 75 and U.S. 30.
Perhaps the most visible sign of growth within the Lima/Allen County region is the ever-evolving presence of medical services. It seems that every time you turn around, there is another state-of-the-art facility being built or an existing medical center is expanding. It is certain that Lima/Allen County offers all of the health care services you would normally find in a larger metropolitan area, delivered with the care and attention reflective of that in a small, close-knit community. The compassion, commitment and community integration of each of our hospitals and healthcare providers reflects the core values of which encompass "Real American Strength". Lima/Allen County is host to a multitude of colleges and universities (5) offering students the opportunity to enhance their talents and skills and in turn become a valuable asset to our community. Education is "Real American Strength".
These factors and others are fueling an intense amount of growth in a variety of industries. 5 Reservoirs = 14.5 Billion Gallons of Water = 22 to 25 million gallons daily…"Real American Strength"
Gateway Commerce Park is a SHOVEL READY SITE Industrial Park concentrating on Food Manufacturing. The site boasts the largest supply and one of the lowest costs of water in the Midwest making it ideal for food manufacturing.An agile manufacturing project is a partnership between Rhodes State and American Trim has been funded by an Ohio Third Frontier Grant. The grant has established a Physical Vapor Deposition Chamber that can provide chrome metal coating with zero environmental consequences. The company is also working on using carbon nano fibers to produce steel stamping tools made from polymers and high speed thin metal forming which produces fuel cell plates.
Ohio Energy & Advanced Manufacturing Center (OEAMC) is a partnership between Ohio Northern University, the City of Lima, and the First Frontier program. The center will conduct research into the commercialization of carbon nanofibers, robotics and advanced manufacturing practices.
Ford Motor Company Lima Engine plant just announced a $400 million upgrade for the production of a new engine. This will create 200 additional jobs.Husky Energy Corp. Lima Refinery completed the first investment in the facility as part of nearly $3 billion in upgrades to convert the plant to refine tar sands crude oil.Procter and Gamble recently invested nearly $180 million on a 1.2 million square foot logistics center and $150 million in process upgrades to their HDL manufacturing operation. A $60 million new product expansion is in progress.
The General Dynamics facility in Lima has grown from 400 employees in 2005 to over 1300 currently. Primary products manufactured at the facility are the M1A2 Main Battle Tank, the Stryker, the EFV and a variety of MRAP vehicles. The Lima facility has become the corporate center for Virtual Prototyping of production operations. Ohio Northern University is partnering with General Dynamics in the virtual prototyping project.
Lima, Ohio, USA….."Real American Strength"