Hotel Berlin, Berlin – A unique business and conference Hotel in Berlin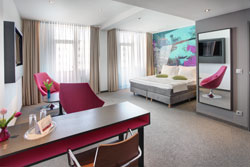 With approximately 116,000 events a year, and an attendance of 9.7 million per year, Berlin is one of the top meeting and event cities in Europe. The Hotel Berlin, Berlin, is one of the largest hotels not only in the city but in all Germany. Today it boasts 701 rooms and suites; a variety of different restaurants and bars; a flexible, superbly equipped and efficient conference and events centre; and one of the few garden restaurants in the city. Its central location in City West, nearby Kurfuerstendamm, Berlin Zoo and Potsdamer Platz is ideal for every kind of business and travel.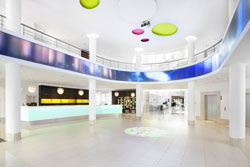 CONFERENCE
Hotel Berlin, Berlin offers a spacious and certified conference venue, able to host events for every kind of business or social group. With a total of 3,000 sqm divided into 48 conference rooms from 20 to 540 sqm and a total of 500 person in the largest room, the superbly equipped facility is ideal for exhibitions and presentations.
Our technical service will support you around the clock! We offer the
Full range of AV media equipment up to the latest standards
Fast and secure high-speed internet in all rooms
Latest CAT7 network
Convenient Plug and Play functionality as well as comfortable central touch screen media control
Personal support for organizers during the event by Conference & Event Assistant's
Technological support by one of the most competent partners for professional conference technical equipment in Germany, KFP Five Star Conference Service
BRANDING
The branding services of the Hotel are unique in Berlin. There is a range of options for effective branding. Present your company and stage your event with assistance from the modern electronics and media team, then welcome your guests with eye-catching integrated decor.
LED Media-Screen Panels – Encircle the entire lobby with a rotation of customized images or text, thereby greeting your guests in an impressive and personalized way – a stadium-like welcome.
Living Surface – Centrally projected onto the lobby floor, graphically designed according to your specific needs. The interactive touch-surface with playful 'living' content is a fresh medium to get your participants involved and take them to an astoundingly life-like world.
Façade, reception desk and bar counter lighting / beamer projections – The outer facade, reception counter, bar area and the event rooms can all be given custom lighting with your corporate or brand colours. Our projectionists can display your presentation and products along with music, all specifically edited for the occasion.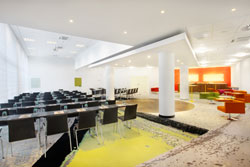 ROOMS
In terms of space, furnishings, appliances and style, all rooms in six different categories are specifically oriented to guest requirements as well as maximum comfort. The versatile ambience and design gives each room its own character. It also makes the rooms just as unique as the personalities of the guests.
Whether choosing a room or suite, all accommodation variations at Hotel Berlin, Berlin convey their own character. Each room is equipped with the latest technology for effective work and inspiring holiday entertainment. Plus, enjoy free WiFi in every room and throughout the central hotel.
Individually controllable air-conditioning unit
Free WiFi
Desk, small refrigerator, coffee-/tea-making facilities, In-room safe
HDTV or LED TV and interface connection for laptop and USB storage media