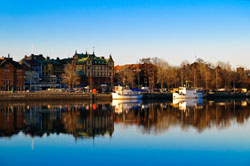 What are the common attributes that link Athens, Amsterdam, Antwerp and Avignon? They all start with the letter 'A'. Check. They are all exciting cities in Europe. Check. And they have all been given the chance to demonstrate their cultural development by delivering a 12-month project dedicated wholly to art and culture through the European Capital of Culture title in recent years. Check. The time is nigh for last year's winners, Košice and Marseilles, to hand over the baton to the new titleholder. Next up: Umeå.
Already described as the capital of northern Sweden, Umeå is a worthy winner and will be treating us to 365 days of cool, cultural creativity. Beating the southern town of Lund, Umeå, a city built on co-operation and collaboration, will unveil a selection of events including, but not limited to, performing arts, dance, opera, photography and architecture throughout 2014. Combine this imaginative, innovative extravaganza with some of the best restaurants in northern Sweden and an outdoor lifestyle that will take your breath away, and Umeå stands out as the place to be this year. Now that you know where to go, the next decision is simply, when?
Common wintertime delights are ice fishing on a frozen lake, dog sledging or skiing.
With clear seasonal differentiation, Umeå, as a location, transforms with the changing months, offering something different at each turn. If you can't warrant a visit every quarter to experience each season, read on to find out what activities are planned and discover what time of year suits you best. Want to visit in the winter to see the Northern Lights? The 14th Feb? Give carving a go and make your own rock painting at an exhibition about rock art in the Museum of Vasterbotten or head to Thilo Frank's mirror installation The Phoenix is Closer Than it Appears at the Bildmuseet, Umeå Arts Campus.
Or would you prefer to visit in early summer and experience 24 hours of daylight and a chance to see the midnight sun? If so, you can explore the wild forests by horseback or go on safari and get close to the elks, beavers and seals. The 27th June? If you are inspired by dance, the Midnight Light Tango Festival 2014 should tickle your fancy, or pass by Art Sets Sail II to see four artists from Finland exhibit at the Holmön Boat Museum on a 15km-long offshore island. This is also the sunniest place in Sweden. Bonus!
An autumnal trip will also bring with it its fair share of delights. Nature and the metropolis live harmoniously side-by-side in Umeå, and you will come across wheat fields, grazing horses and the stunning mountain river just over a mile and a half outside of the city centre. 10th October? Head there to catch the Right is Wrong exhibition, showcasing 40 years of Chinese art, or if you have a passion for fashion, then Umeå's Fashion Week will be right up your street.
How about an early winter trip to the Capital of Culture? Common wintertime delights are ice fishing on a frozen lake, dog sledging or skiing. One thing is for sure – there are plenty of things to do while you catch up on your cultural quota. The 26th December? Check out Anders Sunna's paintings or Geir Tore Holms' light works at Bildmuseet to gain inspiration and ensure that 2014 finishes on a high.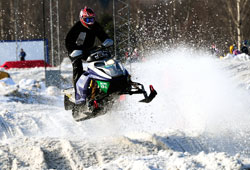 Whatever the season, Umeå' is a fresh, exciting and vibrant location. Only an hour's flight from Stockholm, why not incorporate a visit to the capital of Sweden and the European Capital of Culture into one dream trip? Your 2014 calendar will not be complete without it.
No matter what time of year you choose to enjoy the sights and sounds of this exciting city of culture, make sure you make time for Umedalen Skulptur Park, located 5km from the city centre in a former hospital compound in Umedalen. The park, with more than 20,000 visitors each summer, is one of Europe's most stunning sculpture parks, with works by talented Swedish and international artists. During 2014, the park will offer a range of activities associated with the artists and the sculptures themselves.