Invest in the Alps: An interview with Robert Jérôme of 360 | Vox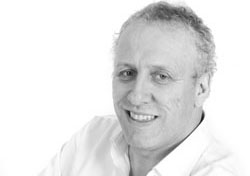 Everyone knows that the Alps are Europe's best winter playground, but when summer comes around and the snows melt, the jagged mountain range says hello to blue skies, warm temperatures and flower-filled meadows. So, ever fancied investing in an apartment in a resort that offers guaranteed snow in the winter and an 18-hole golf course in the summer? Well, read on.
Apartments are now available for purchase at Edenarc 1800, a high-end resort destination in the French Alps conceived by Montréal-based development and operating company 360 | Vox. which partnered with local firm Sotarbat, to develop this project under Sotarbat 360. Edenarc 1800 is located in the heart of the Paradiski area, which is operated by Compagnie des Alpes and has 425 kilometres of slopes that are served by a large network of lifts. Edenarc 1800 is a spectacular destination for both summer and winter seasons, with four-star services and amenities including an 18-hole golf course, saunas, fitness rooms, swimming pools, an underground car park, and ski-in/ski-out access.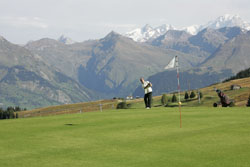 Edenarc 1800 is the brainchild of 360 | Vox, which has extensive international experience in the execution of high quality real estate developments. 360| Vox has a team of in-house industry professionals who provide innovative solutions in every aspect of project planning, development, construction management and operations. 360 | Vox looks to create projects offering an optimized global experience to the customer. Buildings are only the material support for the unique experience that it aims to create. For 360 | Vox, it is all about creating a project with soul, one that offers activities for all age groups whatever the season. The facilities on offer at Edenarc 1800 reflect 360 | Vox's belief that skiers have to be pampered after four or five hours on the slopes and must be allowed to connect with the site and culture of the region.
We want to bring French buyers to the same level of appreciation as buyers in the UK, who want a property that offers the right mix of lifestyle and investment
New European Economy spoke to Robert Jérôme, president of 360 | Vox, development, a division of 350 Voc corporation, about his company and the Edenarc 1800 project. Jérôme is an developer -architect with wide experience coordinating recreational and residential developments in several international markets. He led the team that developed Intrawest's iconic Arc 1950 Le Village in the French Alps.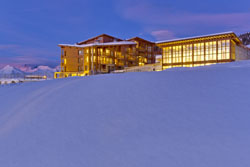 Where is Edenarc 1800 located?
It is located in the French Alps in the Les Arcs resort, Bourg-Saint-Maurice, Savoy.
When will completion be?
The second phase will be delivered in December 2012 and the resort will be completed in 2015.
We are all too aware of the global downturn, what would you say are the main tips for spotting the right property purchase?
Look for the best quality product in the best location within an existing recognized destination resort. A quality resort with the right offerings will survive any downturn. Edenarc 1800 is the cherry on cake in Les Arcs resort.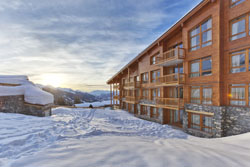 What are Edenarc 1800's main selling points?
Ski-in, ski-out, and golf-in, golf-out.
Exceptional location at high altitude on the great Paradiski Domaine of Les Arcs-La Plagne.
All residences are four-star and are operated by expert lodging operator Odalys.
Experienced developer and builder.
Best quality-price ratio for a new product in the French Alps.
Pedestrian village.
Four-season amenities: skiing, golf, interior pool, fitness.
Modern design
'Plug and play' model. Arrive, park your car, and start having fun.
Outstanding views.
Easy to get to. The Eurostar train from London goes directly to the resort.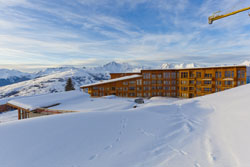 Where else in 360 | Vox buying?
We are always looking for opportunities in Europe, Caribbean and USA
Other activities?
We also provide expertise through consulting mandates in project management, sales and marketing, asset management and hospitality services. This expertise is very much appreciated by groups of investors looking to ensure the success of their project or investment. We have also planned major resorts in China.
What timescale are we looking at from purchase to rental income at Edenarc 1800?
From a year and a half downward, depending on if you purchase at once when the apartments come onto the market or later on.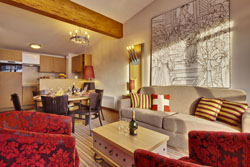 What advice can you give a first time investors when it comes to ski property?
Make a purchase in the best ski resort where the main slopes are at high altitude. This guarantees snow. When it comes to ski property, we don't consider projects below 1600 metres altitude. You also need a good operator. Importantly, at Edenarc 1800, the operator is Compagnie des Alpes, the best ski operator in the world. Edenarc 1800 is privileged to be sitting in its playground. You don't want to end up with a ski operator without sufficient funds to run its business properly.
What other developments have you been involved in?
As leaders of Intrawest, the North-American leader in resort development, 360 | Vox's executive leaders have been involved in executive roles at Tremblant-Whistler-Blue Mountain in Canada; the ARC 1950 Village at Les Arcs, Flaine, France; Stratton- Mountain Creek- Snowshoe in the US; and Yinggeshi in China.
Where are your current purchasers located?
France, the UK, Belgium, Switzerland, Netherlands, South Africa, Russia and Kazakhstan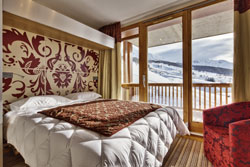 What areas are you looking to seek more buyers?
We are looking for new buyers in Scandinavia but most importantly we're working to grow our French clientele base. We want to bring French buyers to the same level of appreciation as buyers in the UK, who want a property that offers the right mix of lifestyle and investment. French buyers usually t get offered products that meet only one of these criteria. The UK market is more refined: customers want a quality product that makes sense as a financial investment. We want to convince the French market that Edenarc is not just a good investment but also a good place to spend time.
Would this purchase be for the lifestyle choice it offers or can it be a purely commercial interest?
It meets best of both worlds: lifestyle because of the quality of the product and the occupancy you can get, commercial interest because of the guaranteed financial return of the rental pool program and a "leave your worries behind" full-management service.
What are the main build influences?
Whistler, Tremblant, and ARC 1950, all of which are high-end ski resort villages.
What are the long term goals and plans for Edenarc 1800?
Achieve completion of the project for 2015 and be recognized as an iconic ski-golf address in the French Alps. Also, recognition as an intelligently done sustainable development.
Edenarc 1800 is the brainchild of 360 | Vox, which has extensive international experience in the execution of high quality real estate developments.
What are details of each phase of the development?
130 units in phase I and II. 68 units were delivered December 2011 and the aqua centre and 66 units will be delivered in December 2012.
80 rooms (40 suites) in the 4-star hotel of phase III with delivery in December 2013.
120 apartments in phase IV and V with delivery in 2014- 2015.
What type of returns can be expected from this investment?
2.7% up to 3.4%, depending on how many weeks the buyer takes for personal use.
What will the average rental income be?
3.1%, including a three-week personal occupancy of the apartment.
What are the purchase options?
It is a freehold purchase with either a rental management contract running over 9 years (different options with more or less personal use of the apartment) or a classic freehold without any contract for the bigger apartments.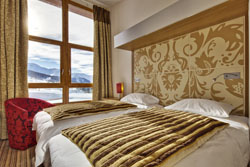 What other cost will be incurred with this investment?
Every real estate investment in France must go through a notary and the total cost (stamp duty, administration, registration etc) for this is roughly 2%-3% of the purchase price depending on if it is a cash purchase or if there is a mortgage tied to the investment.
What tax and VAT related costs must be incurred?
Property tax, approximately 15€ per square metre per year.
Part of co-owner charges, around 20€ per square metre per year.
Property tax, a share of co-ownership charges, a small insurance fee, and accountants' fees.
What partners can assist in the development if investing?
We are always focusing on enlarging our network of strategic partners, from consumers to any business-related individuals with interest in adding value to the success of high quality real-estate projects.
The apartments in Edenarc 1800 are delivered furnished, equipped and decorated. Each has a space in the underground car park beneath the residences, a cellar and a ski locker. To enable residents to stay in touch with the outside world and their professional lives, the apartments are equipped with a flat-screen TV, a telephone and free WiFi access. The resort's contemporary look was inspired by the designs of Charlotte Perriand, follower of modernist architect Le Corbusier. She was the originator of the project to create the resort of Les Arcs in the 1960s. According to the Edenarc 1800 website, the resort is "an ode to the art of living and to cocooning in the mountains."