Property investment – The L-Word is Back…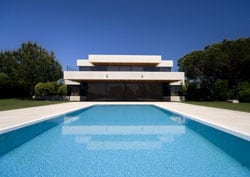 During the boom years, you couldn't move for estate agents, property developers, and TV presenters chanting the property mantra: Location, Location, Location. Now that the market has turned pear-shaped, their chiming clichés are conspicuous by their absence. Except for this timely piece…
We're not in the business of calling the bottom of the markets – we merely report on them. And what we're seeing at the moment is a glimmer of hope for investors with cash to spare or good lines of credit. What we're seeing in the market is the alignment of two very special sets of criteria –interest rates at record lows and property markets in turmoil across the continent.
While this environment doesn't suit all tastes, it does favour those with a strong nerve, a nose for a bargain, and an eye on the long game. In fact, there are some extremely attractive investments to be had in the market at the moment. Providing, of course, you follow the Three Ls; and here are our three top locations…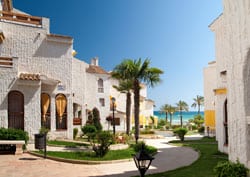 Costa Blanca – Spain
Forget the negative reports and credit rating downgrades – Spain still remains the lowest common denominator in the property market. It's got year-round sunshine, beaches, mountains, historic cities, world beating food and wine, and a rich national culture that's the match for anywhere else on earth. Those are the facts, and no amount of bean-counting from Fitch or Standard and Poor's can take that away.
Independent Property Consultant, Richard A Rooke, agrees with that. "Spain is the number one choice for buyers and investors of all nationalities looking for properties overseas.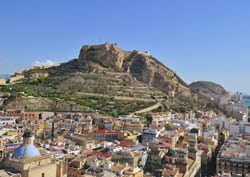 One reason for this region's immense popularity, he says, is accessibility. "Alicante has its international airport with flights arriving from all over Europe, and an ever increasing number of flights from all parts of the UK. The new airport for the Murcia Region will shortly be opening at Corvera, just 30 minutes from the coast."
"This will help to placate the phenomenal demand for flights into the area, caused by the new residential golf-course developments that are now available in both regions."
Of course, the annual average of 320 days of sunshine plays the main part in attracting visitors to this picturesque southern coast of Spain.
"The climate and a new lifestyle that is so different to what one is accustomed to in the UK or the rest of Europe," Rooke points out. "Here one enjoys incredible all year-round weather conditions where temperatures average between 16º and 32º during the day."
It's certainly a far cry from Cardiff, Charleroi, or Cologne. But there's the rub – the Mediterranean lifestyle of simple pleasures like good food and wine doesn't go in and out of fashion. And that's why the potential here along the Costa Brava is considerable, says Rooke. "The demand for property in these regions is enormous. There's an exciting choice of properties at all price-levels and for all pockets."
The recent economic problems have affected prices and after a decade of escalating prices, property in Spain has become more realistic. Rooke is calling the bottom of the market and believes there has never been a better time to buy…
"We have a buyers' market situation which is forcing prices down. There is a wonderful choice, and bargains abound. But with professional advice before purchasing, now is certainly the time to buy"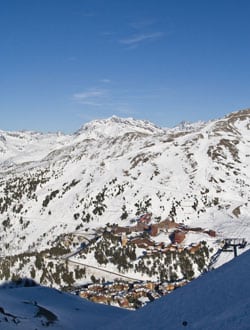 Edenarc – France
Year-round rental potential is also the key concept in the mountains, where property investors and lifestyle buyers have returned to the ski property market this year. According to a recent report from the Financial Times, investors are "avoiding the lure of emerging markets and are instead opting for traditional winter resorts in France which offer reliable skiing conditions and a stable, long-term investment."
Many ski areas in France are located at high altitude, which makes them (on average) more snow reliable, whereas it is hard to find a chalet above 1,600m in the Austrian Alps. In fact, Edenarc – the newest resort in the region – has been built at an altitude of 1,800m which ensures early snowfalls and snow late into the season and consequently provides buyers – whether private or investment – with the best value in any Alpine resort.
Edenarc1800 is a four-star development on the slopes, right in the heart of Paradiski and with an adjacent 18-hole golf course. The complex is car-free offering complete ski in /ski out access. A link will connect you to the existing resort of Les Arcs 1800 and the development is in walking distance. The development has an indoor pool complex and focuses on year-round family requirement.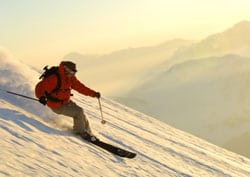 Reduced off plan apartments are available amongst the 40-suite hotel and 252 apartments. The development is characterised by large picture windows with panoramic views across the Tarentaise Valley to Mont Blanc.
"Now is actually a great time to buy because the ongoing negative news about the economy means vendors need to secure sales," says Robin Wilson, head of overseas at Rightmove.co.uk. "The Alps remains one of our top five most searched destinations in France all year round."
Tas-Sellum Residence – Malta
The concept of Portomaso first occurred to George Fenech – chairman of the Tumas Group – over a decade ago. Other property developers in Malta thought he was crazy. Ambitious, maybe; but crazy, no – the development was a huge hit with foreign visitors and Maltese residents alike.
This stylish and exclusive enclave is now one of the most prestigious addresses in the whole of Malta.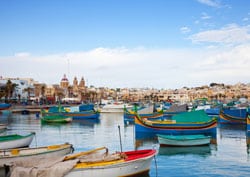 This stylish and exclusive enclave is now one of the most prestigious addresses in the whole of Malta. Portomaso is a stunning seafront project comprised of 420 luxury apartments and penthouses, with its own 5-star Hilton Hotel, 23-storey business tower and conference venue, casino, and high-end bars and restaurants – all built around a breathtaking marina.
This time around, when Fenech launched Tas-Sellum Residence – a development of 120 luxury apartments on Mellieha Bay – people took note. In fact, 85% of the apartments are already sold. So act quickly, because the development counts as one of the best investments in the whole Mediterranean.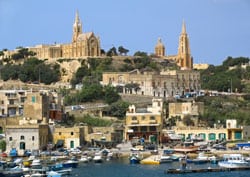 The island has a subtropical climate and one of the highest sunshine averages in Europe. Located in the northern shore of Malta with stunning views across to the Neighbouring islands Gozo and Comino, Tas-Sellum is positioned to maximise on the panoramic views.
The developments building standards are top notch, and the style factor and finish are high. With the final phase of construction finishing this year, the remaining apartments at Tas-Sellum residence won't last long. You have been warned…