With air travel plagued by long security checks and delays,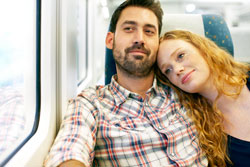 not forgetting the carbon footprint, we talk to Silvia Goerlach, the new Marketing and Sales Manager at Eurail Group, G.I.E. about how best manage your time, and consider the environmental issues when it comes to European travel.
New Europeam Economy: What are Eurail and InterRail Passes and who can buy one?
Silvia Goerlach: Eurail and InterRail are European railpass concepts with a long tradition. They stand for a European holiday experience by train that a lot of people experienced in their youths. Most people are not aware that Inter-Rail or Eurail Passes can nowadays be used in all age classes and that besides rail travel a lot of benefits come along with the pass.
While the Eurail Pass addresses non-European customers, the InterRail Pass is targeted at Europeans. Global Passes, our most popular passes, offer free and flexible travel in Europe. Customers can hop on and off the trains that are running on Europe's extensive railway network, on up to 252.000 kilometres of tracks and profit from a range of extra benefits. Additionally, customers can choose to travel in selected countries.
Eurail Passes for one to five countries are offered, this would be very suited to the business traveller, as well as InterRail One Country Passes. Customers can choose the most convenient option that fits their personal travel behaviour For business travellers, Rail Passes are interesting when they do multiple trips in Europe in a row.
For private purposes our discounts are interesting. Eurail groups starting from 2 are rewarded by a 15% saver reduction, and Seniors starting from 60 get discounts on the Inter-Rail Pass. Additionally, we have regular promotions. For example, starting from November we will offer Eurail Select and Global Passes at a 20 % discount.
NEE: What are the benefits of rail travel for business travellers
SG: Business travellers can sit back, relax and enjoy the opportunity to continue working whilst travelling by rail as it is possible to use the time to access emails and prepare for meetings. Rail travel is less complicated than air travel as 'check-in' simply means getting on the train; making distances of 500-600 kilometres more attractive and easily attainable by rail. Additionally, travelling with a rail pass offers extra flexibility to business travellers as they are not restricted to a specific departure date or time, and they can enjoy the comfort of first class travel whilst they work.
Every city has a train station usually right in the centre, with shops, restaurants and hotels in easy reach. InterRail is especially attractive to the European demographic as it is possible to make several business trips in other European countries without the hassle associated with a predetermined itinerary. Furthermore, when you decide to travel by train through Europe, you choose a sustainable mode of transportation that pollutes far less than most other options.
NEE:What other benefits come with purchasing a rail pass?
SG: Pass holders are entitled to a wide range of extra discounts and special offers; including transport benefits on selected ferry crossings, boat trips, private railways and more. Participating hotels, museums, sightseeing companies and restaurants offer attractive discounts.
NEE: In the age of inexpensive air travel, why take the train?
SG: Discovering Europe by Eurail or InterRail guarantees a unique holiday experience – where else can you sit back, relax and absorb the scenery as the world passes you by? Travelling by rail is all about the journey; meeting new people, hopping on the next train and being whisked into the heart of new and exciting destinations without the hassle associated with air travel.
NEE: Where to buy?
SG: Eurail Passes are available to overseas travellers from our wide network of Authorized General Sales Agents operating worldwide: www.eurailgroup.org/eurail-vendors InterRail Passes are sold to European travellers through:www.interrail.eu and via the European Railway Companies.
NEED TO KNOW
Most popular routes travelled.
Top 5 popular routes for Eurail Pass holders
Florence to Rome
 Florence to Venice
 Milan to Venice
 Florence to Pisa
 Luzern to Zurich
Top 5 popular routes for InterRail Pass holders
Hamburg to Copenhagen
Berlin to Prague
 Prague to Vienna
Amsterdam to Brussels