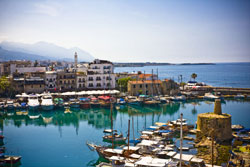 Cyprus is a country of two halves – the northern and southern regions representing two contrasting histories, cultures and traditions, with the island as a whole sharing an unrivalled beauty. You'd be forgiven for failing to notice it while scanning a map of Europe, as Northern Cyprus covers such a minute area of approximately 3,000sq miles, surrounded by the crisp turquoise sparkle of the Mediterranean Sea. Nonetheless, this small business destination has a big character showcasing extraordinary historical and cultural heritage.
The southern part of the island, an independent EU nation, is mainly inhabited by Greek Cypriots, while the previously poorer north has been occupied by Turkey since the war of 1974. The recent banking crisis has brought about a clear reversal in fortunes between the north and south, with the Northern Cypriot economy growing by 5% annually in recent years, reflecting the strength of the Turkish lira.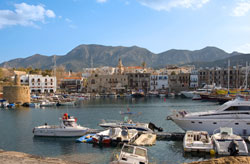 What it lacks in size, Northern Cyprus makes up for in exuberant character. From bustling markets, restaurants and coffee shops to its vibrant nightlife, set amongst pine groves and featuring 396km of beautiful, picture perfect coastline, this unspoilt location serves up the perfect cocktail of business and pleasure. It is an inimitable destination for important meetings, conferences and events. Located at the crossroads of Europe, Middle East, Asia and Africa, it is time to take note of this country. For team-building exercises, client meetings or fermenting those commercial relationships, this island will give you and your business a brighter, sunnier outlook.
Picture the scene – a sophisticated, secure and sun-kissed setting coupled with outstanding infrastructure resulting in a captivating location for a broad range of business events and employee incentives. Northern Cyprus is fast becoming a competitive player in business culture, not least because of the ease of accessibility or the attractive range of business-class hotels and sophisticated corporate services. Crucially, this jewel of an island offers an embrace as warm as the Mediterranean sun. Northern Cyprus has five major towns from which to choose when hosting an event. Kyrenia, Iskele, Famagusta, Guzelyurt and Nicosia make up the urban landscape of Northern Cyprus, with each city offering something unique.
Want culture and medieval architecture to play a central role in your event? Then Famagusta is the city for you
Kyrenia is a picturesque town and showcases every kind of landscape. Mountains? The Five Fingers Mountains, with a 120km course, is a hiker's dream. Beaches? The Escape beach is one of the most beautiful strands in Cyprus. Castles? Kyrenia Castle is well worth a visit, displaying dungeons, a shipwreck museum and the tomb of the Ottoman Admiral. The four-star Dedeman Olive Tree Hotel offers 105 well-equipped rooms, including a variety of executive suites in a stunning setting. This location ticks all the boxes. Likewise, Iskele presents some great venues to host your meeting, including the Bogaz Hotel, which is situated just over half an hour from the Ercan airport. Providing breath-taking views from your room, the restaurant and the 120-person capacity meeting room, this spot will not fail to impress. Schedule your trip to fit with the various festivals, allowing your colleagues the chance to truly unwind. In June, Iskele hosts the largest street festival in the Turkish Republic, while the Mehmetcik Grape Festival is set for early August.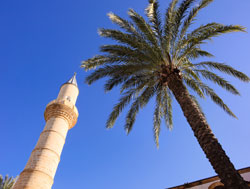 Want culture and medieval architecture to play a central role in your event? Then Famagusta is the city for you. The five-star Salamis Bay Conti Resort Hotel provides three conference rooms of varying sizes and boasts its own private beach. Plan your event around June and treat your colleagues and business partners to the world-renowned Culture and Arts Festival that is held in the city each year. Othello's Tower, Citadel and the old ruins that surround the city are excellent examples of Ottoman architecture and well worth a visit. Explore Guzelyurt, known as the fruit bowl of Northern Cyprus, a town relatively untouched by tourism that will offer your event that authentic feel. It is home to one of the many churches in Cyprus dedicated to St. Mamas, the patron saint of tax avoiders! Coordinate a team-building event with the much celebrated Orange festival, which is held in Guzelyurt from the 27th June – 27th July and gives your employees a chance to see various concerts and dance troupes. Nicosia, the capital city of the Turkish Republic of Northern Cyprus is the economic, political and cultural centre of the island. It hosts the headquarters of Cypriot banks and international companies such as PWC and Deloitte. Restaurants, hotels and conference venues abound that will suit every taste and various budgets.
Named as the no.1 destination to visit in 2013 by The Rough Guide, Cyprus is fast making a name for itself as a business destination. Unconstrained by the Euro, Northern Cyprus is forging ahead. Allow your business to do the same by looking to the North and getting ample lira for your Euro.