Bogotá: A City of the Future for Investors or Future City for Investors
Investors are continually searching around the world for the best locations in which to do business. One city, which in the past may have been overlooked by investors due to security concerns, has today become a very interesting destination. Bogotá is the capital and largest city of a country that has put in place regulations that favor the creation of businesses. This new environment has led to a five-fold increase in foreign investment between 2002 and 2010, and the country is also experiencing an oil boom.
Colombia is today without doubt a very different place in which to do business from what it was a decade ago, and is the reason why the country is receiving international recognition, such as the inclusion within the CIVETS group of nations.
Bogotá a city open for business
Bogotá has a market of over 7 million inhabitants and has the most diverse economy among the major cities of the country, with a highly qualified workforce. The city experienced an economic growth of 6.0% in 2011 and of 4.5% in 2012; it concentrates 25% of all Colombian GDP (US$ 81.8 billion in 2011).
Bogota receives the biggest share of FDI in Colombia. In 2011 the main sector for investment was services (61%) and within this the main groups were: real estate (37%), financial (18%); and transport (2%). Other sectors for FDI include: commerce, industry and construction. The main investors are: Spain, Chile and the United States.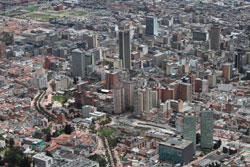 Bogotá today not only offers a greatly improved security environment (with crime rates lower than those of many other major cities in the region and even in comparison to many U.S. cities), but also offers much improved economic and regulatory conditions for investors.
Bogotá is a city that recognizes the benefits of foreign investment in order to develop its economy, and has developed programs in order to attract foreign investment, offering levels of competitiveness and productivity comparable to its main competitors, in the region.
The current administration of the city, which took office in January of 2012, led by Mayor Gustavo Petro, has presented a development plan called "Bogotá a Humane City", which contemplates considerable investments for the city's development.
In total the plan estimates investments of up to 36 billion dollars, 26 billion to come from local government finances and 2.7 billion from the city's utility companies (ETB (Telecom Services), EEB (Energy), and the Water Utility Company). The rest would be financed through public debt and private financing.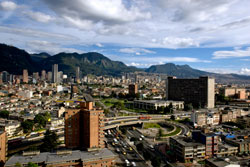 Investment through Public Private Partnerships
Bogota needs to work with the private sector including foreign investors, especially for the large infrastructure projects. The city is interested in contracting infrastructure projects through public private partnerships (PPPs).
The new National Law on Public Private Partnerships (Law 1508 of January 2012) along with its Regulatory Decree (No. 1467 of July 2012) provides an innovative way in which government agencies can contract the construction and maintenance of infrastructure projects in many sectors.
The current administration of Bogotá is keen to attract private investors (both domestic and foreign), to participate in social development projects in the city through PPPs.
At present, the different Secretariats are evaluating the possibility of structuring PPP projects in the areas of: transport infrastructure (mass transit systems embracing clean energies,and new technologies for road construction, etc.); new waste disposal facilities; and for the construction of public housing projects; schools; hospitals; kindergartens and recreation facilities among others. The cities administration is open to receiving proposals from private investors for PPPs, which coincide with the objectives of the Development Plan.