Foreign Foodies Direct Investment – Croatia on a plate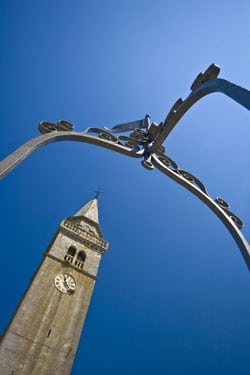 Croatia has been on our radar for many year and its seems 2012 is the year they go platinum, amazing beaches, great architecture and a coast line to die for, we give you the heads up on where to go and what to see.
While Britain's Prime Minister was stage-managing his way towards the bosom of his own political party in Brussels, one nation had inclusion firmly on its mind. As Prime Minister Cameron dashed for the exit, Croatia clinched an agreement to become the 28th member of the European Union. It was symbol of hope against the spectre of protectionism, and proof that optimism for confluence hadn't been snuffed out just yet.
Of course, Croatia's final ascension is still 18 months away, but back home the feeling of optimism is palpable.
The ceremony was attended by Croatia's President Ivo Josipovic and Premier Jadranka Kosor who signed the treaty in Brussels with EU President Herman van Rompuy, German Chancellor Angela Merkel and European Commission President Jose Barroso. The agreement takes what is still the world's largest trading bloc further into the Balkans region.
Croatia's province of Istria is as much a part of the Mediterranean's Olive Oil Belt as Tuscany, Andalucía, or Provence.
It effectively puts Croatia closer to full integration two decades after the region was engulfed in a civil war. According to reports from Bloomberg, Western Europe's biggest investors, including Germany's Siemens and Sweden's Ericsson were all strongly in favour of expansion into Croatia as EU growth stalls over the sovereign debt crisis.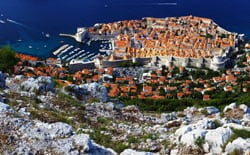 Unlike Britain's leaders, Croatia is resolute in its conviction that the future is Euro-shaped. The nation – which faces Italy across the Adriatic – understands that only good things can come from closer association with the 26 other keen member states.
But most importantly, Croatia is certain that it has more to offer than being a clearing house for investors looking for a steady supply of cheap labour. It's only now that the world is starting to wake up to the treasures on offer.
Essentially, Croatia's province of Istria is as much a part of the Mediterranean's Olive Oil Belt as Tuscany, Andalucía, or Provence. Anyone who's familiar with Italian cuisine will find the food here strangely familiar – there's pasta, prosciutto, olive oil, rosemary in abundance, and straightforward adherence to seasonality. You could almost be in Italy.
According to the New York Times, Istria is the new Tuscany. It's an unlikely brigade of filibusters who are leading the vanguard to bring the nation to wider recognition, but the power of adventurous foodies weary of overpriced and overcrowded tables in Tuscany should not be underestimated. In fact, the NY Times points out that Italians do indeed drive over for a single meal – pointing out that the journey from Trieste deep into Istria takes little over an hour.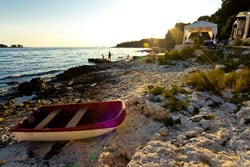 Similar to the ratings agencies, these people have money and influence and the power to turn around a nation's fortunes. The only difference is they determine this over a well presented platter of prosciutto as opposed to the vagaries of the bond markets.
Lidia Bastianich, American chef, TV personality and author was born in Istria. Acting as an unofficial spokesperson to this movement of Croatian neophiles, she says, "in Istria you'll find intensely wonderful pristine flavours from the earth. That's the beauty of the region. One is still able to go around and taste artisanal products almost straight from the family table."
Tourists from Germany, Italy, Slovenia, Austria and the Netherlands have acquainted themselves with Istria, isn't it time you did?
To reinforce her assertions, the region has just been cited by gourmet bibles like the Michelin Guide and its Italian counterpart, Touring Editore. It's warming to know that for once the enthusiasm Istria's indigenous wine, Malvaisa. This sweet wine is styled much like Madeira or Vin Santo – with the added artisan mystique that comes from being completely overlooked, until being rediscovered by opinion formers. Now the Vinibuoni d'Italia 2011 edition, has placed Istria right on the front page.
Istria is a land that inspired James Joyce and Jules Verne, and National Geographic Traveller has also taken note and added to the collective consciousness of Croatia's cool by listing Istria in their 20 Top Destinations for 2012. The list includes cities, countries and natural landmarks which according to National Geographic deserve the title of the most wanted places on the planet.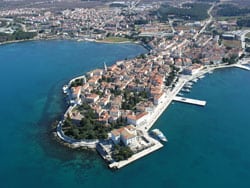 Tourists from Germany, Italy, Slovenia, Austria and the Netherlands had acquainted themselves with Istria – Munich is a five hour drive – but now British visitors are waking up to the region's untapped potential as gourmet and lifestyle destination par excellence. New international routes are being developed between the UK and the airport at Pula – the region's largest town.
In fact, Pula has had a strategic importance long before today's gastro tourists and larder louts even thought of conquest cuisine. Located at the southern tip of Istria, the Romans built Pula leaving one of the best-preserved coliseums in Europe. The Venetians ruled it for five whole centuries before the Hapsburgs claimed it as their own in 1797. Today, Pula's rich cultural history is amazingly intact and lying there begging to be explored.
Leaving Istria and travelling south we enter another part of Croatia that's basking in the warm glow of media praise – namely the island of Hvar, an increasingly popular destination for tourists, which makes Condé Nast Traveller's lists of top 10 islands.
Located just 6km from the mainland, the 80km land was inhabited by the Greeks around 2,500 years ago. Approaching Hvar, the beautiful Venetian harbour nestled against tree-topped slopes and littered with shops and pavement cafés is an unforgettable experience. Hvar today is a bustling cosmopolitan centre with its own stylish boutique hotel – The Riva. Beyond this the town's waterside square is framed by beautiful old buildings, like the 16th-century St Stephen's cathedral and the arches of the 17th-century Venetian Arsenal. It's a sight for anyone who feels there's nothing left in Europe to discover.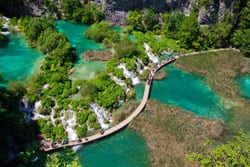 In fact, the British Navy frequented the nearby harbour of Vis during the Napoleonic Wars. They renamed it Port St George and introduced the locals to cricket – a game that, incongruously, is still popular here today as the frequent sound of leather on willow bears out.
Croatia's Dalmatian coast has long been admired and is firmly on the tourist map, but Croatia still offers excellent value for money when compared to other Mediterranean destinations. The brand new Radisson Blu in Split is a perfect example of this with all the style and finesse you could possibly hope for and rooms from around EUR100 a night. The hotel features crystal blue Adriatic Sea, the brand new Radisson Blu Resort in Split is a luxury oasis offering a beautiful pebble beach, two pools, three restaurants and four chic bars. It's the perfect location for conferences, events and meetings, with nine spacious meeting rooms and the capacity to accommodate up to 350 guests.
In the run up to EU accession, Croatia offers superb opportunities for business travellers and bona fide tourists alike.
You can base yourself in Split and charter a private yacht to sail your guests down the Adriatic to Dubrovnik – which seems like a wildly luxurious gesture and one that's only available to Oligarchs. Until you realise you can do it on a supremely manageable budget. Several companies in the region offer week-long excursions on a 30m yacht for around EUR1000 per person based on a party of 10 – amazing value for money by anyone's standards.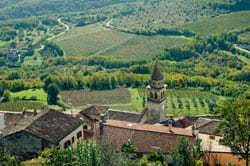 Of course, the Dalmatian Adriatic is a spectacularly beautiful marine playground studded with 1,000 islands, many of them deserted. And then there's Dubrovnik – huddled around a steep peninsula above the azure Adriatic, the ancient Croatian port of Dubrovnik is arguably the best-preserved walled city in Europe.
Once rivalling Venice for trade, Dubrovnik's old town is an experience not to be missed. Freed of all motorised traffic, its pale limestone buildings, topped with their distinctive terracotta tiles, the whole city resembles a film set.
Getting your bearings is easy enough; Stradun, the main drag runs from Pile Gate down to the busy harbour. Bustling streets lined with cafes and shops branch out from here – which ever route you take, you can't go far wrong – pleasant surprises lie around every corner, which actually describes Croatia to a tee.