Shooting from the Hip – Silvio Berlusconi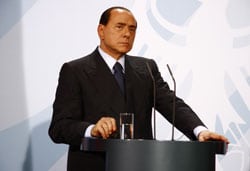 Estimated to be worth $6.5bn (£4.4bn) by US business magazine Forbes, Silvio Berlusconi doesn't care who he upsets. He might have limitless lines of credit, but his controversial lines of conversation are pretty much limitless, too.
Of course, people in the public eye are bound to mess up sometime. The trouble is, Silvio Berlusconi has made a career out of putting his foot in it. Well, I say career – his actual line of business spans media, advertising, insurance, food and construction. He even owns Italy's most successful football club, AC Milan – so, clearly he's doing something right. It just doesn't seem to be happening when I'm watching him on the news or reading about his latest exploits in the paper.
A former cruise ship entertainer, Berlusconi is no stranger to the stage, but many fear he's become estranged from good judgement.
Elected president of Italy three-times, his political speeches have become unmissable – usually for all the wrong reasons. A week is a long time in politics, but a week rarely passes without Silvio slipping up again, live on TV – often in the company of a world leader or VIP with a look of sheer horror etched from ear to ear across their face.
You might remember Michelle Obama giving poor Silvio a wide birth at the G20 summit last autumn. He held out his hands and smiled genially as if to say "it's me, your uncle Silvio, give me a hug!" Unfortunately, the First Lady's reaction was more like being confronted with Joe Pesci's sociopath character in Goodfellas.
For good reason, as it turns out. Back in Italy Mr Berlusconi had previously given a rally of conservative supporters his take on President Obama, whom he memorably described as "young, handsome and tanned". Actually, it's worse. His actual words were: "What's his name? Some tanned guy. Ah, Barack Obama. You won't believe it, but the two of them sunbathe together, because the wife is also tanned."
Berlusconi openly admits going under the knife for liberal amounts of cosmetic surgery, and Italy's leader has fought off repeated corruption allegations and a series of scandals involving call girls and a lingerie model. In fact, gender politics is one of his strongest subjects of diplomacy – or so he'd have you believe… Berlusconi, who split from his wife after alleged affairs, delivered a public gag stating: "This morning in the hotel I fancied having sex with the maid. She turned to me and said 'But Mr Prime Minister we only just did it an hour ago'."
Addressing investors in New York in 2003 he said, "Another reason to invest in Italy is that we have beautiful secretaries… superb girls." He also excelled at foreign affairs earlier this year describing how illegal immigrants were not welcome in Italy, but he would make an exception for "beautiful girls".
He was speaking to journalists after holding talks with the prime minister of Albania, Sali Berisha regarding the trafficking of illegal immigrants across the Adriatic Sea by people smugglers. Of course, he doesn't always wait until dignitaries are out of the way before letting loose. In 2002 he made a horned "cuckold" gesture behind the head of the Spanish foreign minister during an EU leader photo opportunity. It wasn't warmly received.
The 73-year-old raised more than eyebrows at a rally for young members of his People of Freedom Party in Rome in September. Serious questions were being asked about his suitability for office after making a gag about Hitler being raised form the dead during an impromptu speech. The joke ran thus: Hitler's followers urge him to return to power. After resisting, Hitler says: "I'll come back, but on one condition … next time I'm going to be evil."
A former cruise ship entertainer, Berlusconi is no stranger to the stage, but many fear he's become estranged from good judgement.
However, a recent picture uncovered by the Italian magazine L'Espresso suggests that his eccentricity is nothing new. The photograph of Silvio Berlusconi from 1977 shows the then rising businessman with a .357 Magnum Smith & Wesson hand gun lying casually on his desk as he sits s cross-legged in a leather office chair looking sternly into the camera.
Just like most of Berlusconi's public gestures, what it was doing there out in the open is anybody's guess…