Suriname – an ideal location for Foreign Direct Investment…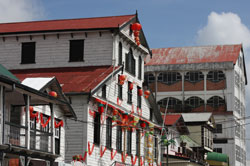 Once a Dutch colony, the Republic of Suriname is situated on the northeast coast of South America. It has had complete independence from the Netherlands since 1975 after rioting over unemployment and inflation caused the Netherlands to cease power. The current political climate, which actively supports and promotes Foreign Direct Investment, has helped contribute to Suriname's growing economy and has put Suriname on the map as a favourable location for business expansion and investment. So where is this promising country?
Suriname borders French Guiana to the east, Guyana to the west, Brazil to the south, and the Atlantic Ocean to the north. It is the smallest independent country on the South American continent and has great diversity of flora and fauna. The country is divided by two landscapes; highlands in the form of hills and mountains and plains and swamps on the coast. So whatever your business objectives, Suriname has much to offer.
Currently there are numerous companies operating in different industries all taking advantage of the highlights Suriname has to offer.
Its geographic location, fiscal backing, tax exemptions and continued economic growth make it an attractive location to invest in. The government in Suriname actively supports Foreign Direct Investment (FDI), knowing that it plays an increasingly important role in the development of Suriname's economy and has introduced new laws to reduce costs of business start-ups. The National Export Initiative (NEI) aims to double exports by 2014, and the government see FDI as the perfect tonic to aid in this process.
This new government was appointed in 2010, and has not only welcomed FDI into the country, but has repeatedly expressed a need for it in order to further develop the economy and promote Suriname as a prime investment location. The Investment and Development Corporation Suriname (IDCS) and the Ministry of Foreign Affairs help support and promote FDI in the country. IDCS is a government run initiative, which supports and encourages business development and is currently predicting a 6% growth rate in the next 5 years. This is mainly directed at the mining industry, but the IDCS is also hoping to encourage growth in a variety of other sectors. New laws that simplify and speed up the process for new businesses and business licenses also have government backing. Suriname's membership in CARICOM, its on-going alliance with the Caribbean Single Market and Economy (CSME) and the positive effects of globalisation on an overseas economy, has given Suriname a much stronger stand to offer trade and investment opportunities.
Suriname's economic growth has been steadily increasing in recent years, with the mining sector taking centre stage. This growth is largely driven by the continued buoyant commodity export prices (gold, petroleum, and alumina), increased government support and funding and large capital investments in the mineral and energy sectors. Unemployment rates have fallen from 12.1% in 2006 to 9% in 2008. GDP in Suriname has risen from 3% in 2009 to 5% in 2011. This is a clear indication of an economy gaining strength and momentum. Suriname is a real gem of a location for FDI and has some key economic sectors to exploit. The mining sector is the most prominent sector in Suriname, with bauxite and gold the main exports. Alumina, gold and oil contribute to over 80% of all exports and a quarter of government revenues. Therefore, gold, bauxite and oil are the main sectors attracting foreign investments, but investment opportunities are not restricted to these industries. The main investing countries are the United States, Belgium and the Netherlands, but due to government incentives and favourable economic conditions, more and more countries are thinking of Suriname as a prime country for investment.
Despite having a relatively small population of approximately 500,000 inhabitants, Suriname is one of the most advanced and independent states of South America. While it is not a heavily populated country, there is workforce availability and the official language is Dutch and English is also widely spoken, allowing for economic relationships to be forged with Europe.
Relocation is an important topic to cover when discussing FDI in Suriname due to this low population rate. Suriname lays claim to one of the most culturally diverse populations in the world and is an ideal destination for relocation. Paramaribo, the capital of Suriname plays host to a thriving and ever growing expat community, not least because of the availability of an American school and affordable property. There has been a steady growth rate of expatriates moving to Suriname in recent years, as the country becomes more cosmopolitan and appealing. Suriname is ripe for relocation and offers numerous advantages for individuals willing to make the move. So don't miss the boat (or the plane).
Currently there are numerous companies operating in different industries all taking advantage of the highlights Suriname has to offer. The Suriname government has liberalized economic policy and this liberation has created more possibilities for the U.S. and other countries to invest in Suriname. The government want to remove subsidies and to liberalize the economy, opening it up to more FDI opportunities and business expansion. This is happening, albeit, slowly but surely.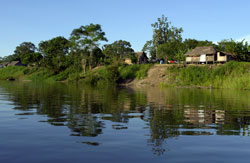 The U.S. remains one of Suriname's main trading partners, and companies including Alcoa (mining), and Alico (insurance) have benefited from this on-going partnership. Alcoa developed their operations in Suriname in 1916, when it founded the Suriname Bauxite Company and have been active there ever since. Since then, it has bolstered Suriname's economy, providing jobs, revenue, and infrastructure development. More recently, in 2011, Kosmos Energy, an international oil and gas exploration and production company, signed a joint agreement to explore particular areas in offshore Suriname. It is very positive about hydrocarbon discovery in the region. There will be increasing opportunities in Suriname for exporters, service companies, and engineering firms over the next 10 years. Whether your company deals with energy, insurance, tourism or exports Suriname has plenty to offer. Whatever your businesses focus, take the time to sneak a peek at Suriname.
If you are thinking of expanding your business and moving it abroad, Suriname is a place of untouched prospects and offers exciting opportunities and great incentives for foreign businesses. Follow the lead of Alcoa and make this bold move to take your business forward. Get in there quickly and get a slice of the action that Suriname has on offer.