Suriname – The Investor's Destination
The Republic of Suriname has only recently begun exploring its vast wealth of natural resources. Although Suriname was long known, especially during and after the second world war, for its role in providing alumina to the world, there is more to Suriname than bauxite.
Despite the world economic crisis Suriname's economy has been growing continuously for more than a decade and thus is a testimony for its attractiveness and focus of the Government of Suriname to develop both resource and non-resource based sectors.
Foreign Direct Investment (FDI) is identified as the primary vehicle for future economic development with special attention for non-renewable resources as a means to diversify the economy. FDI has always been encouraged and currently with renewed intensity.
The Government of Suriname established the investment and promotion agency 'Investment and Development Corporation Suriname (IDCS)' to support the government in its role to contribute in the sustainable economic development of Suriname. It is therefore that IDCS is immediately aligned under the Cabinet of the President and functions as the first point of contact with prospective investors. Together with the Ministry of Foreign Affairs they are responsible for attracting FDI.
IDCS provides assistance to prospective investors which may include provision of all information necessary on potential projects, facilitation of business meetings with local counterparts, site visit coordination, advise on establishing and registering of businesses in obtaining the necessary licenses.
IDCS has also been assigned the privatization of several semi-governmental companies in order to optimize their capacities and to make use of unutilized assets in arable land. In this way there are investment opportunities possible in both the private and public sector.
Suriname's economic prospects for the medium term are favorable given the continued commitment to responsible monetary and fiscal policies and the introduction of structural reforms to liberalize markets and promote competition.
The investment climate improved by eliminating the licensing requirements for many types of businesses and by simplifying licensing procedures. Liberalization of its economic, trade and investment policy has created new possibilities for exports and investments.
Suriname is a part of the South American continent and also enjoys quota-free and duty-free access to the CARICOM and European markets. This makes up for a perfect portal for doing business worldwide.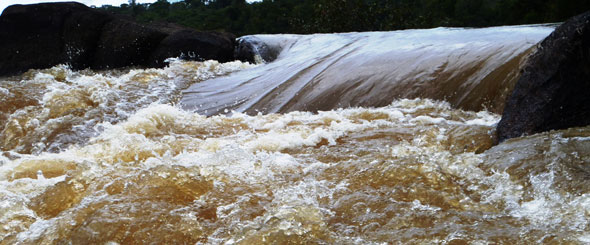 Although the present Foreign Direct Investment (FDI) activities are primarily in mining, such as oil, gold and bauxite, there is plenty of room for other mining investment opportunities in minerals such as kaolin, diamonds, silver and granite.
The abundance of water is considered 'white gold'. According to the World Water Forum, the international Water Poverty Index scores Suriname in 3th place of water-rich nations in the world. This potential also accounts for the large-scale presence of fish- and shrimp related activities.
Roughly 85% of the country is covered by tropical rainforest making it favourable for investment opportunities in sustainable logging and offering a cornucopia of possibilities in extraction of non-timber forest products and medicinal plants.
Some of other the favourable circumstances which make Suriname the Investor's Destination include: Best Performing Port in handling of containers (attributed by the Caribbean Ship Owners Association), no import duties on investment and productive inputs, no money transfer impediments, stable labour market and stable political and economic environment.
Surinam is a country with an emerging market and an undiscovered abundance of potential investment opportunities. IDCS welcomes investors who share the sustainable economic development vision to the benefit of all parties involved.