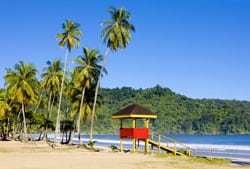 Trinidad and Tobago, the home of Calypso music, is increasingly making sweet music to the ears of investors. The country is one of the most prosperous, diversified and industrialized countries in the Caribbean. It is the leading producer of oil and gas in the region and is marked by low inflation, steady upward growth, a stable economy, falling unemployment, and a well-organized, locally regulated financial system. The strength of the country's economy is evidenced by the presence of over 400 multinationals in services, manufacturing, financial and energy sectors. These firms include Fujitsu, Microsoft, IBM, Bank of Baroda, and BHP Billiton.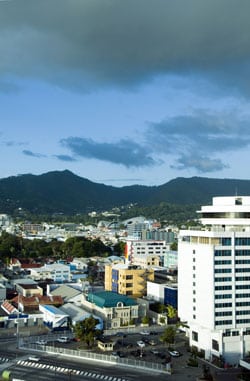 The economy of Trinidad and Tobago is energy based, with large exports of oil, gas and downstream energy products. It has a strong industrial base and a well-established manufacturing and services sector. The government is following a path of economic diversification to reduce its dependence on oil and gas, and with this in mind, it has put in place various incentives and policies to create an investor-friendly environment that can yield significant benefits for firms wishing to invest.
The company invesTT Trinidad & Tobago (http://www.investtnt.com/), which offers investors the knowledge required to efficiently pursue new business opportunities in Trinidad and Tobago, says that the top ten reasons to invest in the country are:
A location at the crossroads of the Americas that enables near-shoring advantages
Strategic location as a transhipment hub for exporters
Access to regional and international markets through trade agreements
Low energy costs
Educated, skilled and competitive labour force
Access to a highly developed communications infrastructure
Access to fiscal incentives
100% ownership of locally-registered private companies
Facilitation of real estate purchases
No foreign exchange controls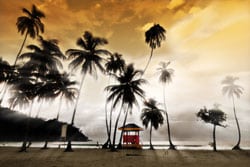 As part of the Caribbean Community (CARICOM), Trinidad and Tobago participates in a market that offers access to an estimated population of 6.4 million. In addition, investors have access to a number of regional markets through bilateral trade agreements between CARICOM and countries such as the Dominican Republic, Venezuela, Colombia, Cuba and Costa Rica. Companies operating in Trinidad and Tobago are subject to competitive tax rates from as low as 25% for businesses in the non-energy and 35% in the energy sector. The country has one of the lowest energy costs in the region, which continues to be a major attraction for manufacturing entities. Industries are located throughout the country and in industrial parks. Real estate for both commercial and private use is widely available.
English is the country's official language, and virtually all of the population speaks it. Small percentages also speak Hindi, French patois, and several other dialects.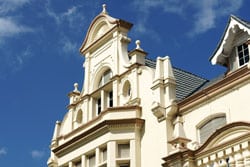 Spanish has been nominated as the first foreign language, and the government is spearheading an initiative to forges closer links with Latin America and other Spanish speaking Caribbean neighbours. The population is highly skilled. Trinidad and Tobago has a literacy rate of 98% and over 7,000 third-level students enter the workforce every year. There are also many vocational schools and skills training programmes, all of which ensures a ready and available labour force.
Trinidad and Tobago has a well-developed banking sector and its importance as a regional financial centre has increased in recent years. Institutional investors – pension funds, insurance companies and fund managers – have a diverse and growing presence in the Caribbean, especially in Trinidad and Tobago, where they have been gaining market share over the past few years. A host of other financial institutions populate the landscape, including finance companies, mortgage banks, development banks, credit unions and building societies.
According to invesTT Trinidad & Tobago, Trinidad & Tobago offers excellent investment opportunities for information and communications technology-based (ICT) businesses. The country's geographic location, educated English-speaking workforce and advanced ICT infrastructure make it suitable for business-process and knowledge-process outsourcing. The ICT industry in Trinidad and Tobago offers advantages to high-tech foreign investors in a variety of fields, including outsourcing, software development, application implementation, radio-frequency identification and call-centre operations.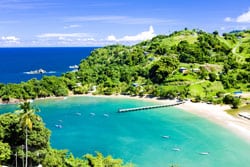 Japanese >multinational information technology equipment and services company Fujitsu, was one of the first IT companies to establish operations in Trinidad and Tobago over 60 years ago. It recently launched of the country's first world class Tier 3 designed Data Centre. According to Mervyn Eyre, President and CEO of Fujitsu Caribbean and Central America, the company's decision to invest in Trinidad and Tobago was prompted by the following:
A governmental vision for ICT demonstrating a seriousness in using IT to create wealth for the nation and its citizens
The high potential for innovative application of ICT within both enterprise and government
The opportunity for practical, value-based collaboration with government and enterprise based on a demonstrable readiness (available skills/capabilities/facilities) and willingness (national/enterprise policy & business frameworks)
The potential for the country to become a significant global contributor of ICT services, including further expansion as a hub for Fujitsu's global operations
A loyal and treasured customer base in both government and private sectors
American multinational corporation 3M has also established operations in Trinidad and Tobago. According to the general manager of 3M Trinidad and Tobago, the main motivating factors for investors interested in establishing business in the country are that there is the potential for growth within the country as opposed to other developed markets, it is politically stable overall and there is lot of good talent in the workforce.
Incentives for those investing in the tourism industry include exemption from customs duties on building materials or articles of tourism equipment, reduced import duty and exemption from motor vehicle tax on vehicles for use in the transportation of guests/visitors, tax exemption on the dividend received by a non-resident shareholder if the recipient is not liable to tax on the dividend in his country of residence and a tax exemption for a period of ten years in respect of gains or profits accruing to a hotel operator from a new hotel.
Due to its geographic location, Trinidad & Tobago is well-positioned for investors interested in the bulk and containerized transhipment trade, dry docking and other ancillary services to the maritime industries. The Gulf of Paria is the destination of all of the country's bulk cargo and container vessel arrivals. Investment opportunities exist in such areas as small vessel ownership and management, marine construction and ship repair. Investment opportunities in onshore operations include ship inspection and certification, crew training, crewing agencies, shipping agents, ship chandlers, ship logistics, and port management.
The food and drink sector also offers significant investment opportunities, particularly for manufacturers who use unique regional agro-products to develop goods such as rum-flavoured chocolate cakes, Caribbean fruitcakes, sauces and spices, soft drinks and exotic fruit juices, specialty rums and bottled water.
Those considering relocating to Trinidad and Tobago should bear in mind that the country has a tropical climate, a low cost of living, a rich and diverse culture and world-class recreational and sporting facilities, including golf courses, water sports, tennis, jogging parks and fitness clubs. It is the birthplace of calypso music and the steelpan, which is claimed in Trinidad and Tobago to be the only acoustic musical instrument invented during the 20th century. It is also the birthplace of Carnival in the form that has been widely copied in the Caribbean and around the world. The country's diverse cultural and religious background ensures many festivities and ceremonies throughout the year.