Valladolid, Smart City with Future to Invest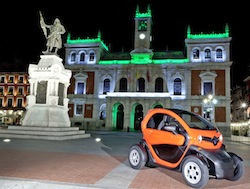 Valladolid is a smart city fully prepared to be dynamic and competitive. The philosophy "smart city" allows cities to face challenges with expectations for improvement. This involves synergy of all public agents and private citizens who, in turn, interact with the infrastructure, information technology and communication, as well as the operating and urban management systems. Our city represents an efficient tool and an opportunity to search for the excellence that enables innovation and generates economic activity, which in turn should lead to economic growth and social development.
The Council of Valladolid, through its Agency for Innovation and Development (www.valladolidadelante.es) is developing several projects with this reference, making us capable of competing at our urban scale, with a high quality of life, and an economic structure that can anticipate challenges, whilst also developing new and productive models. In all this, the aim is to promote social innovation based on technological support.
Valladolid SMART CITY means city of Science and Innovation, the permanent headquarters of the Spanish Network of Smart Cities, with a firm commitment to electric vehicles and sustainable mobility. We are continually developing new urban projects that contribute to the towns ability to anticipate present and future challenges.
Millennium Square is a unique urban scenic expression of innovation, integration and respect for the environment. It received the Certification of GREEN 5 through the Spanish GBC (Green Building Council Spain) and won First Prize in the category of 'Best Performance in Energy 2012', in the First World Meeting on Energy Efficiency in Buildings (EME3).
Rivers of Light route, is a project with three objectives: reduction of energy consumption, lighting buildings of great historical value, and promoting cultural and gastronomic tourism, turning Valladolid night time into a singular experience. This project has won the 'Award for Best city.people.light 2011', World Urban Lighting Project in the annual LUCI Association (International Association of Lighting Urban Community), in collaboration with Philips competition.
Furthermore, Valladolid bets on electric vehicles, and recharging infrastructure, the use of fuel efficient and clean fuel – a strategy aligned with the objectives of Europe 2020, the Covenant of Mayors and the Plan of Action Sustainable Energy (PAES) – also boosting global e-government, or rehabilitation of residential urban spaces to achieve maximum energy efficiency. All these projects are not ideas, they are reality, and very active already receiving numerous national awards, and international and European grants.
INDUSTRY AND TECHNOLOGY
The city of Valladolid has hosted industries for many years from the following sectors: automotive, rail, aerospace and food. Recently we have seen an increase in incorporated technology-based companies
The presence of these companies has not led only to an improvement within the productive sector, but an ongoing collaboration with regional and municipal institutions, university developing frameworks which have helped to establish training programs applied and oriented to R & D + i .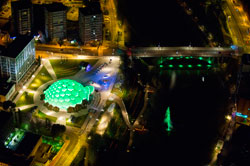 Valladolid has a Technology Park, with great connections with the rest of Spain and is less than an hour by high speed train from Madrid. The presence of the University of Valladolid in the Technology Park has also been instrumental in its development, since its inception, making significant contributions in the fields of scientific knowledge and skilled human resources management, in turn facilitating the staffing needs of technology companies. Proof of this, is the presence of the technology centres: CARTIF, CIDAUT and CEDETEL. The park has more than 130 companies, three technology centers and approximately 5,800 employees. This park is specialized in the ICT sector with companies like ACOTEC, ALGOR, ALVARION, GMV, MICROSOFT, TECSIDEL, TELEFONICA I+D, THALES, VODAFONE
Did you know?
In Valladolid there are two Renault assembly plants . It is also the place where one of the first 100% electric cars was made – the Twizzy. They produce models such as: Modus, Clio and the Megane. In spring the French brand will launch a new vehicle the cross-over Captur and it will be manufactured in Valladolid.
The Iveco plant in Valladolid is the first global efficiency plant of this automotive industry brand. It is the second in rated efficiency of the 58 FIAT group plants and is due to receive an investment of around €100 million.
Michelin has a manufacturing plant and Spanish headquarters in Valladolid.
In Valladolid, the DEIMOS satellite, Europe's first satellite with 100% private capital funding was produced and now of the world for the world including customers like the Ministry of Agriculture of the United States.
Aresa Aciturri: located in ValladolidTechnology Park, manufactures material for the full range of AIRBUS planes most recently working on the next Airbus A350.
The next opening in 2013, will be for the new Renfe railway workshops, makes Valladolid one of the pillars on which balances the infrastructure for the Northwest High Speed Spanish Railway.
Our Ribera de Duero wine was elected last year as the Best Wine Region of the World 2012, in New York, receiving the Wine Star Award. Wine tourism in our region has grown in recent years to 23% vs 6% of the rest of the country.
Other international brands of food, pharmaceuticals and technology in Valladolid and surrounding region, with production centers for Cadbury, Pepsico, Cheese Entrepinares, Helios, Nestlé, Pascual, Christal Pharma, Sara Lee, and Gamesa …
REASONS TO INVEST
Privileged geographic location and excellent communications.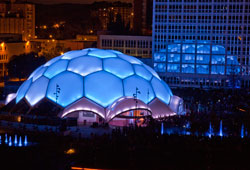 Located in the northwest of Spain, Valladolid is the capital and main economic engine of the region of Castilla y León. Located at a strategic crossroads, both domestically and internationally, Valladolid . is connected by the motorway through the European axis, the E-80 Helsinki to Lisbon and the highway N-VI, and the railway corridor of Europe-Portugal means it really is in a privileged location. It also has a high-speed train link with the Spanish capital in just 53 minutes, and from there to the French border in the shortest of time.
It will soon have an intermodal logistic platform and dry port terminal, connected by the A-67 motorway and a rail link to the port of Santander in the Cantabrian Sea, with the added ability to perform customs inspections. Valladolid can expedite the entry and exit of goods through this port so that doing business by sea from Valladolid is possible.
Open and dynamic economy: Valladolid has established a productive sector that is demonstrated through an extensive network of industrial locations, in addition to new entrepreneurs, Valladolid offers many business opportunities to invest and for start-ups in general.. Between the city and its urban belt there is a population of over half a million inhabitants, making the service sector the number one producer, followed closely by the diverse range of industry in the region.
Attractive investment climate: Valladolid City Council through its Innovation Agency provides advice and facilities for the establishment of new foreign investment in the city. Valladolid is a dynamic, cultural, and safe city -sixth in the European Safe City Index-, enjoying a pleasant climate, beautiful landscape, and good local environment. It also has a modern infrastructure network and quality social, health, and educational services. All this contributes to it being one of the main Spanish cities with highest quality of life
Taxation and e-administration: The tax burden in Valladolid, in accordance with the existing legal regulation in the Spanish State, is one of the lowest in the eurozone. According to the latest report from the Orange Foundation, Valladolid is the first Spanish city whose administrative process is online.
Great future projects: Valladolid is undergoing the greatest transformation in its history, with significant public investment and great opportunities for private initiatives. We talk about The Plan Rogers, made by the British Architect, which involves the urbanization of the land with underground rail in the downtown district.
Competitive Real Estate: A wide range of office, retail and industrial buildings giving excellent value and faciliities.
Excellent Human Capital: A highly skilled, highly motivated highly trained, young population. Valladolid has two universities that act as important training centers: offering a variety of degree programs, designed to meet the demanding needs of specialists from across the business and industry sectors.
Cradle of Spanish: The Spanish language is the main heritage of Valladolid and its province. We are a place for the study and specialise in the Spanish language.
Quality of life and higher employment
Valladolid is also a city culture with events such as the International Film Festival (SEMINCI), street theatre, Teatro Calderón, cultural Festivals and Holy Week the Valladolid Urban Observatory, provides a new online resource www.valladolidencifras.es that provides access to anyone a solid base of information about Valladolid and its environment, all structured into a set of more than 270,000 bits of data and over 1,700 constantly expanding indicators.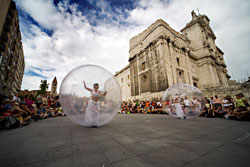 The Agency for Innovation and Economic Development of Valladolid, is the catalyst not only of Smart City projects, the Office of the electric vehicle, the seat of the Spanish Network of SMART Cities, or Wikimedia Spain, it is also the meeting point for entrepreneurs, the Living Lab of innovative projects, the future and channel between citizens and open government and e-administration, in short, the constant search for innovation with a social content in an urban space