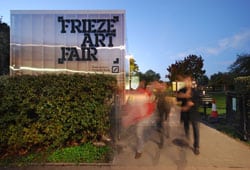 With financial markets still highly volatile and interest rates at record lows, the possibility that art and other collectibles could earn tasty returns is appealing to high net worth individuals. Throw in a post-crisis mistrust of financial instruments and a perception that tangible, scarce investments could provide a stable source of value in uncertain times, and it is unsurprising that an increasing number of investors are having a good look at collecting art.
October 2012 witnessed the tenth edition of the Frieze London, one of the world's leading art fairs. Galleries reported strong sales and high levels of interest in the contemporary market. Some 175 galleries from 35 countries made the fair the most international edition produced to date, and about 55,000 visitors visited the beautifully landscaped Regent's Park for the five-day event.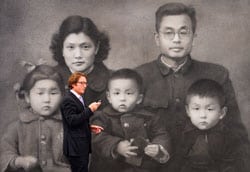 Reported sales highlights included Hauser and Wirth selling Paul McCarthy's White Snow Head (2012) for $1.3 million; White Cube selling Damien Hirst's Destruction Dreamscape (2012) for £500,000; Andrew Kreps selling a multi-panelled installation of paintings by Ricci Albenda for $200,000; and Sprüth Magers Berlin London selling Jenny Holzer's installation Blast (2012) for $525,000 and George Condo's Red Profile (2012) for $325,000.
For the first time, the Frieze Masters spin-off fair ran alongside the original event. Frieze Masters has a more historical focus, offering painting, sculpture and works on paper created from ancient times to the year 2000. The two fairs together were designed make London the focus for as broad as possible international art audience and to help galleries benefit from a crossover between audiences of contemporary and historical art.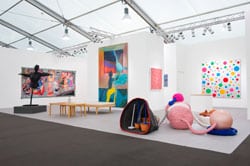 Frieze is an established and reputable brand that has generated plenty of excitement for a decade, and collectors believe that they can trust what they discover there. Many dealers at Frieze Masters reported that attendees took an intelligent interest in their wares. They noted that collectors of contemporary art have a different approach to buying than their usual clients: Instead of connoisseurship based on looking and handling, they want images and information to take home in order to research before deciding to buy.
There were some enormous transactions at Frieze Masters. Wan de Weghe Fine Art sold Pablo Picasso's Homme et Femme au Bouquet (1970) for about $9 million and Salvador Dalí's pencil-on-paper Andromeda (1931) for $250,000. Sperone Westwater sold Bruce Nauman's installation Parallax Shell (1971), along with the drawing for it, to a European collector for something in the range of $2-3 million. According to David Leiber, a partner at Sperone Westwater, visitors at Frieze Masters were pleased with the crossover effect of seeing the past through a more contemporary lens.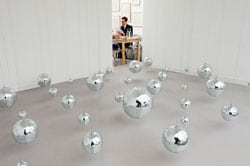 Gaining access to the market for collectible art is now easier than ever. The Internet has opened up a new channel for the auction process, enabling collectors easier access to bid for objects anywhere in the world. More and more, works of art and other collectibles share the characteristics of broader financial markets. There are market indices and specialist funds that enable individuals to invest in art indirectly. There are also asset-backed financing products that allow collectors to borrow against their assets.
The blend of increased investor interest and stronger market infrastructure has led to a surge in activity across a broad range of art markets. According to Artprice, leading provider of art-market information, 2011 was the best ever year for sales of art at auction. Auction house Christie's had a bumper year, with sales up 9% over the previous year to a record $5.7 billion. Christie's CEO Steven Murphy attributed his firm's sales increase to a "growing worldwide demand for art, the quality and curation of important consignments and our consistency in offering the best service and broadest choice to our clients." Competitor Sotheby's did even better, with a 21% increase in annual sales to $5.8 billion.
Frieze is an established and reputable brand that has generated plenty of excitement for a decade, and collectors believe that they can trust what they discover there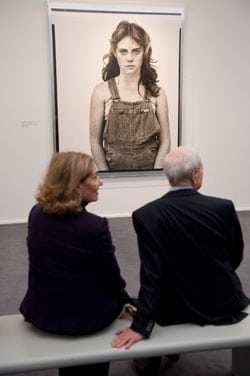 Nonetheless, boom times for auction houses do not automatically translate into strong returns for investors. Collectibles markets are full of inefficiencies. They are often obscure and illiquid as well as very volatile and risky. They encompass high transaction, storage, insurance and appraisal costs. Appreciation in value can also bring about a higher tax burden in some countries. Some categories of art are also open to vagaries in fashion, which can cause prices to fall as dramatically as they have risen.
For many collectors, the cost and financial risk of acquiring art are irrelevant due to the intellectual stimulation and aesthetic pleasure it brings to them. When acquiring art mainly for financial benefit, however, being extremely cautious is vital. Investors in numerous financial asset classes can be susceptible to biased though processes that make it difficult for them to make rational decisions. With art, these biases can be even more pronounced. When purchasing a painting, for example, collectors can very easily let their heart rule their head.
Of the 2,000 high net worth individuals that Barclays surveyed for their June 2012 report Wealth Insights: Profit or Pleasure?, only 10% of respondents said they bought fine art pictures or paintings purely as an investment, while 69% believed that the financial value of art is driven by public taste rather than intrinsic worth.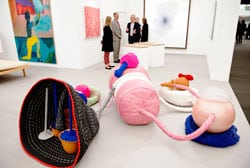 So, still want to invest? There is a current trend for buying established Contemporary artists such as David Hockney. The market for working artists with a strong oeuvre behind them seems likely to improve going forward. New buyers looking at currently popular artists such as Banksy should be careful that over time the depth of such work will come under scrutiny, and its decorative value could wane as the trend dies down. Buying new artists is always a bit of a lottery in terms of making money back in the long term, but that is not to say that it is impossible. For investment purposes, it is recommended to focus on buying artists with an established auction record or at the very least buying from a gallery with a track record of having found artists that have gone on to international acclaim.