Marc Newson – Ways of Seeing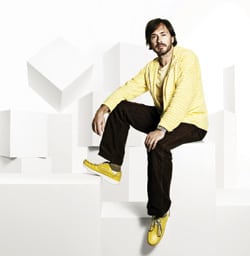 The battle of form and function is a perennial wrangle with design; but not with Sydney-born nomadic, designer Marc Newson. The two sides are routinely balanced in his trademark biomorphic style. We report on his pathway to glory…
It doesn't matter that his unique aesthetic point-of-view often trumps purpose into second place – his stuff just works beautifully on all levels. Take his 021C car for Ford…
Named after his favourite Pantone colour, the boxy, toy-like car was unveiled at the Tokyo Car Show in 1999. It was compact yet roomy and had been designed to for ease of use with inventive features such as rear hinged rear doors, swivel seats for easy entrance and – best of all – a luggage compartment that pulls out like a drawer. The sad thing is it was only ever a prototype.
"The vast majority of products are badly designed," said Newson at the time, helpfully pointing out that it costs the same to design a bad car as it does a good one.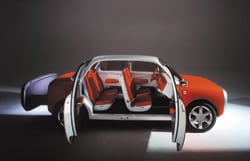 Newson's product design has always tangoed with functionality, like his earliest work – the plate aluminium Lockheed Lounge – which fast-tracked him to wide recognition in 1986. His distinctive biomorphic style is described by one critic as 'something like a naive rendering of a low-slung three-legged dog.
Madonna gave it centre stage in her video for the song, Rain and Philippe Starck bought one for the foyer of the Royalton hotel in New York. A prototype of the Lockheed Lounge sold at auction last year for $2.1 million.
Needless to say, London-based Newson occupies a slightly elevated plain when compared to your average designer.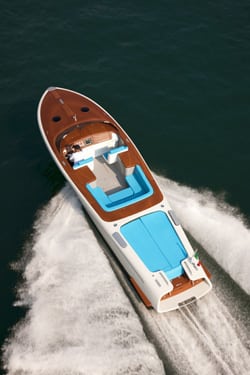 Larry Gagosian – one of the world's biggest art dealers – represents Newson and frequently exhibits his designs, the most recent of which was Transport at his West 21st Street space in New York. The centrepiece was Aquariva, Newson's take on the famous leisure speedboats produced by the iconic Italian boat maker, Riva.
Newson infused the classic model with his streamlined and forward-looking style using ideas imported from his innovative work in automotive and aerospace design. These include the use of phenolic textile composite — a durable laminate made from linen and resin that made its first appearance in Newson's furniture designs in 2007. Here he used it in place of Riva's traditional mahogany for the deck, updating their ocean-going tradition of sleekness with a wrap-around laminated windscreen made from a single sheet of glass.
The modified interior featuring upholstery in Newson's trademark punchy colours includes separate driver and passenger seats, and a functional dining area. The Aquariva was produced in an edition of 22 and available exclusively through Gagosian Gallery for clients with extremely deep pockets.
As with Sir Norman Foster, Zaha Hadid, or Grank Ghery, everything Newson does is iconic – or at the very least, significant. Talking to the Wall Street Journal recently, Newson says describes himself as a 'gun for hire' rather that a design deity.
"Most of the companies I work with are large corporations, whether it's Qantas or Ford or Nike. They all have in-house design capability; it's not as if they can't do this stuff with their own resources. But for one reason or another they choose to go outside their typical way of thinking, because on some level they're not capable of doing things in a different way. They're not only looking for answers to questions they're having trouble with, they're also having difficulty expressing the questions. That's where I come in."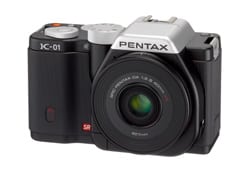 His latest piece of neck-snapping product design is a camera for Pentax – which eschews biomorphic curves for another Newson motif – eye-catching colour rendered in the corrugated rubber covering. The K01 boasts the thinnest interchangeable lens in the world and is compatible with all 214 types of lens in the Pentax range. It has a three-inch digital screen, ridged rubber body and comes in black and yellow, black and silver or – for retro camera-philes – black on black.
I hadn't designed a camera before, so this was a great opportunity when it came along," says Newson. "I work in a visual world, I live my life through images of things. On a day to day basis I'm constantly looking at images of designs, prototypes, projects in progress, so looking at images is really fundamental."
"The inspiration behind this design like many projects I work on is simply the desire to want to create something that I myself would like to own. It's a very purposeful object for taking photographs. It's not gimmicky, it's a serious tool, it looks serious as well and it's different from everything that's already in the marketplace."
Which pretty much ticks all the boxes for another Newson design classic…