Uniform Wares – Right Time, Right Place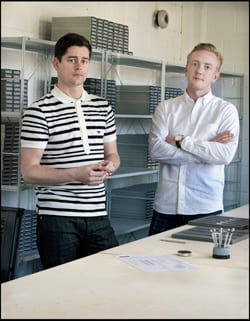 London's East End is the hotbed of art and design in Britain – if not the world. But while much of the energy there is devoted to posing and posturing, two industrious designers blended form and function and came up with a solid success. We report on the timeliness of Uniform Wares.
There's a certain irony in a British contemporary design company using the nation's manufacturing golden age as its muse. The paradox balloons when you figure that Uniform Wares birth came about during the recession providing the final nail in British manufacturers' collective coffin.
Nevertheless, Uniform Wares 100 series watch, created a quiet storm on its release.
The uncluttered, straightforward design was inspired by the 'simplicity and utilitarian functionality of mid-century factory wall clocks' explain the duo behind the company, Patrick Bek and Oliver Fowles. They are big fans of utilitarian British manufacturers like Smiths Sectric and Gent of Leicester.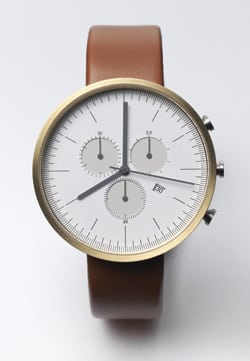 "We have remained true to this simple, legible aesthetic but tried to introduce contemporary reinterpretations of some of the elements found in classic wristwatches," says Fowles.
With a background in furniture design and architectural model making, Bek and Fowles had already gained recognition at the Milan Furniture Fair in 2006 with their playful accordion-style folding furniture. However, a new direction and new company three years later launched them to wider recognition. Uniform Wares 100 series model is the cornerstone from which the company has grown.
In fact, this model was recently chosen by San Francisco's Museum of Modern Art for their architecture and design permanent collection – nothing signifies Design Classic status quite as succinctly as that.
But while their watches are beyond question, the timing of their launch was incredibly risky. So, what's the secret of guiding a luxury goods start up to success amidst the height of the financial storm?
"In times of financial crisis customers' buying habits become more considered and Uniform Wares offers a more considered alternative to other watches at this price point; I think our customers appreciate this." says Fowles.
We try to design watches that could be described as contemporary reinterpretations of watches from years gone by.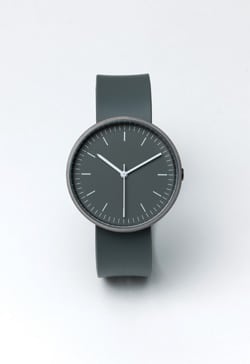 Uniform Wares' watches were undoubtedly an antidote to the bling wrist statements that immediately preceded them – which were suddenly looking doubly obnoxious in the wake of a global recession. While not quite embodying all-out austerity, the Uniform Wares have little time for extravagance or showiness – they instinctively prefer functional stainless steel or brass to showy silver and gold. It's a classic example of right place, right time.
"We try to design watches that could be described as contemporary reinterpretations of watches from years gone by. There are aesthetic elements of traditional horology that will always remain beautiful but we feel that an element of reduction and reinterpretation is needed to create a watch that is relevant for today," says Fowles.
At the heart of all of Uniform Wares timepieces is a specifically sourced movement, hailing from either Japan or Switzerland, depending on the model. "We always design from the movement out, by picking the best quartz movement we can for our intended retail price point," says Bek.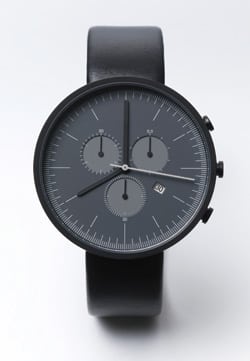 This pragmatic approach makes perfect sense; the 300 Series model is top of their range, retailing at £490. At the heart of the timepiece is a Swiss made ETA, 23 jewel movement featuring timing precision to 1/10 second. The 300 Series was designed to emphasise the elegantly balanced symmetry of this classic chronograph complication. This model features an aircraft grade 42mm 316L stainless steel case in either, PVD Matt Black, PVD Brass, or Satin Brushed Steel finishes.
For comparison, their entry level 100 Series wristwatch sells for £110. It features the same construction and attention to detail as the upscale models using the same aerospace grade 316L stainless steel, but the movement is precision Japanese Quartz as opposed to Swiss.
"We believe in the strength and longevity of our products and I think it's testament to the 100 Series design that people bought into what we believed to be a product that was refreshing in its simplicity and wear-ability," says Bek. "We owe our loyal customers 'a big' thanks for getting behind the brand from the very beginning."
The duo have repaid their customers with reverence. Instead of cashing in on demand, supply has been regulated; Uniform Wares has full control over the outlets who stock their products – effectively safeguarding their brand's integrity and perceived cool (an increasingly ephemeral notion in today's accelerated marketplace).
"We don't want to dilute the brand and we want our product to be sold in the best stores where the retailer will get behind the brand and take pride in their product selection." Says Bek. "We care and we think our retailers should too."