Is Hamburg an option for your next event?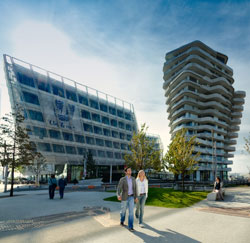 Events at the waterfront In a major media centre like Hamburg, the red carpet is occasionally rolled out. Small wonder, since the city offers endless possibilities for celebrations, meetings and events. Those who are looking for the unusual can find it here: floating lounges on or above the water, generous ballrooms, animal backdrops in the aquarium, historic portside sheds, turn-of-the-century industrial architecture and ships of any size. Often, these places are not only located at the scenic waterfront, but have their own piers and can be reached by boat. No doubt: Hamburg is a cosmopolitan city. Not only the centuries-old trade relations and its importance as consular city are evidence of this, but above all its flair of openness and tolerance.
Excellent conditions for global players
In the course of history, trade and change have given Hamburg the growth, success and the foresight to manage future challenges. The best example of this is the port, which had to adapt to giant container ships and a rising demand for space and still managed to defend its position as one of the top container ports in the world over the years. Hamburg has managed the feat of developing the port in the immediate vicinity of downtown tourist hotspots. The maritime sector and the logistics industry extend their influence far into the surrounding economic centres and form the basis for Hamburg's reputation as an international metropolis for the service industry. 120 German shipping companies alone are represented here. Every two years, Hamburg is host to the leading trade fair of the shipbuilding industry, the SMM.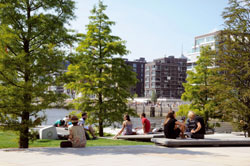 Companies with international reputation Traditionally, global players and well-known brand names have their corporate, German and European headquarters in Hamburg. The list includes everything from mail order companies, coffee roasters, oil companies, banks and insurance companies to chocolate producers and cosmetics manufacturers. Less known is the fact that the metropolis at the Elbe River is the largest civil aviation centre after Seattle and Toulouse. Airbus, Lufthansa Technik, mid-sized suppliers and the airport are among the most important employers in the region.
In addition, there are recognized research and educational institutions, the university, state and private colleges, scientific institutes and important technology centres like DESY, the German Electron Synchrotron. Hamburg is also in the headlines as a media and creative centre. And you can take that literally. After all, Germany's most widely read tabloid, the most popular TV newscast, leading weekly magazines, TV shows, award-winning ad campaigns, popular computer games and well-known films and TV series are produced here. As one of the strongest economic regions in Europe, Hamburg occupies a top position in many important industries. It is above all the great potential of renowned scientists and specialists as well as its global trade relations that make the city an ideal meeting place for decision makers and specialists.
Cultural life for inspiring moments
Mainstream and avant-garde, major stars and unknown newcomers, true Hamburg citizens and people from all cultures intermingle in this large cosmopolitan melting pot. Symphony concerts and nightlife, the Harbour Festival and Jazz festivals, theatrical performances and poetry slams are just as much part of Hamburg culture as are luxury brands and independent labels, haute cuisine and fish sandwiches at the Sunday fish market. It wasn't princes and kings, but cosmopolitan citizens and art-loving patrons who laid the foundation for the arts and culture, art collections and museums, and this is still true to this day. The Elbphilharmonie Concert Hall, too, is ultimately an expression of this philanthropic commitment. Hamburg is the uncontested leader when it comes to endowments for the arts and culture. The city's valuable treasures and unique institutions, such as the Art Gallery, the Brucerius Art Forum, the Deichtor Halls, the Ernst Barlach Museum or the Maritime Museum, are all owed to this generous spirit. At the same time, many exhibition spaces as well as the museum ships »Rickmer Rickmers« and »Cap San Diego« are popular event venues that add a very special touch to any event.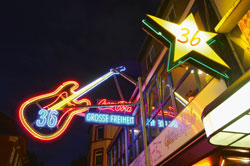 On the trail of the Beatles Even when it comes to music, the city always had to offer a little more than others. For example, Hamburg established Germany's first public opera house in 1678, attracted famous composers like Johann S. Bach and Johannes Brahms to the banks of the Elbe River and served as a springboard for legends of more recent musical history, above all the Beatles, who in the 60s started their unprecedented career in the clubs of St. Pauli. The Beatlemania Museum and various tours remind us of the performances of the undoubtedly best known rock band of all times.
Green metropolis committed to sustainable visions
Hamburg's beauty isn't just set in stone. The city also impresses with delightful natural surroundings, cultivated charm and clean air. Surrounded by tributaries and canals, generous parks and green spaces with many different plant species and old, giant trees are spread throughout the city. You can find a peaceful refuge everywhere – be it on a lakeside patio in the nearby 148 hectare city park, on an Elbe River beach or on a boat dock on Alster Lake. Woods, meadows and recreational areas make up about 15 percent of the city's area. Hard to believe, but Hamburg boasts 29 nature reserves on its relatively small area – more than any other city in Germany.
Less is more With the »Green Capital 2011« award, Hamburg was crowned the most environmentally friendly city in Europe. And for good reasons. One of them is that Hamburg managed to significantly reduce its CO2 emissions despite economic growth. By 2020, emissions are supposed to be reduced by another 40 percent – among other things by expanding the public transit system, which already is exemplary with its fleet of hydrogen-powered and hybrid vehicles.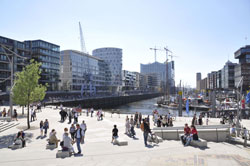 Visionary technologies Hamburg is one of the most important centres when it comes to innovative technologies like electric vehicles, wind power generation or health research. Visionary approaches for a green metropolis with a high quality of life can be found in many areas – not least in the projects of the International Building Exhibition or the 2013 International Horticultural Exhibition on the Elbe island of Wilhelmsburg. The city wants to continue to grow, though not at the expense of valuable green spaces or the climate, but with concepts that are environmentally friendly and sustainable.
Hamburg is more than just an option
A successful event is often the result of many details and perfect planning. Those who can develop their ideas on a secure basis save time, money and effort. Hamburg has all it takes and truly is more than just an option. The central location of hotels and conference facilities, diverse locations, reliable service partners as well as the fact that everything is nearby and can be easily reached speak for themselves. Whether in daylight or at night, the city is unique, its hospitality is perfect and sincere, and its charm will simply blow you away.