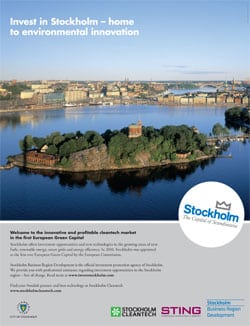 There are many great reasons to invest in the Stockholm region. Stockholm is innovative and globally connected, and has a supportive and stable business environment. Stockholm has received several honoring awards, and among the most recent one is the award for Region of the future in Europe 2012/2013, by fDi Magazine. In addition to this, Stockholm is home to one of Europe's most advanced and innovative cleantech clusters.
Why invest in the Stockholm region?
Investing in the Stockholm region means gaining unique advantages. A few examples of Stockholm's competitiveness within cleantech are
Stockholm having the largest number of innovative cleantech companies in Scandinavia.
Stockholm being the leader in technology development for biogas, ocean power and smart grids.
Stockholm having large public procurements and growing demand for new fuels.
Read More