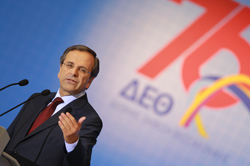 Could there really be an end in sight for the never-ending Greek recession? Prime Minister Antonis Samaras certainly thinks so. By announcing that "2014 will be the year of recovery for the Greek economy", he has sought to reassure citizens that the country's ongoing recession will not reach a seventh year.
Pictured:Minister Antonis Samaras
Amid a backdrop of unpopular austerity measures, resulting in widespread social unrest, what is fuelling this remarkable optimism? Firstly, recent figures indicate that the Greek economy shrank by 3.8% in the second quarter, an improvement on the initial estimate of 4.6%, thus boosting forecasts, figures and fervour. Secondly, a record rise in tourism has made a huge dent in the downturn, injecting the necessary euros into a wilting economy.
Read More