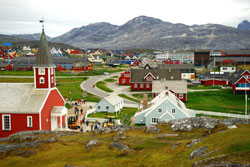 There is extensive political agreement in Greenland that the country's mineral sector should be developed into a principal industry contributing positively to economic development and the creation of new jobs. This objective is a vital element of the plan for long-term economic development, which includes the development of business sectors as an alternative to the fisheries sector. Greenland's government aims to maintain a high level of mineral exploration to further incentivize the mineral resources industry to obtain exploration and exploitation licenses. In an interview, Peter Beck of Greenland's Ministry of Finance and Henrik Stendal of the Ministry of Mineral Resources explain this strategy.
1. Can you provide us with an overview of Greenland's current economic status, including its main industries and trading partners? Economic outlook
There was a drop in economic activity in Greenland in both 2012 and 2013, and the decline seems to have continued in 2014. This is due to a combination of declining shrimp fishing, falling resources activities, a drop in tourism and less building and construction activity. Experimental mackerel fishing is contributing to increased economic activity but was not sufficient to prevent the economy decelerating in 2014.